Disclaimer: The [easyazon-link asin="B001QTXKB0″]Microlink FR160[/easyazon-link] was provided to us by Eton in order to test out the product's capabilities.  The views expressed in this review are mine and mine alone.
The [easyazon-link asin="B001QTXKB0″]Microlink FR160[/easyazon-link] from Eton is a solution for those who like to go backpacking and take their music with them or want to keep on top of the weather. It also doubles as an essential emergency radio due to its ability to hold a long solar charge as well as recharge via the sun or the hand crank. The Microlink has a USB charging station to recharge your cellphone too. To see how all these features worked out watch the video review above or read the written review below.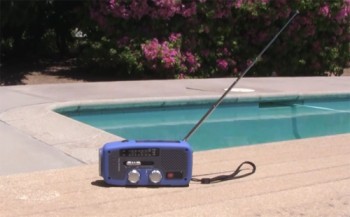 Solar Radio
This is the most stellar feature of the Microlink. The radio was picking up a great signal even though I had a lot of interference and was up in the hills. I hardly ever have to revolve the crank anymore because the Microlink keeps sucking up juice from the sun. So now if my [easyazon-link asin="B001FA1O18″]Ipod[/easyazon-link] fails me, I can easy pop out the Microlink and keep listening to tunes…did I mention it has a little dock to plug in your headphones? I like that!
Cell Phone Charger
Cell phones can be charged by the Microlink via the hand crank only. First make sure you have set the radio bar to "CELL." Unfortunately I could not get my Blackberry to even power on after 15 minutes of nonstop cranking. The manual does say cell phone charge times will vary – but I doubt anyone will have the patience to continually crank. Strangely I did notice the charging light on my Blackberry flash even though it could not manage to juice it up enough.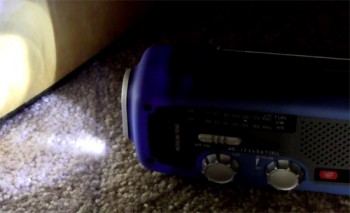 The Flashlight
The Microlink's flashlight is incredibly bright. It's a small blessing in disguise considering all you have to do to power it is lay it in the sun or give it a couple cranks. As I was editing my video review, I left the flashlight on for over an hour. The fact that something powered just by sunlight could stay on that long is amazing to me – the shine hadn't even grown weaker! Can you imagine how helpful this would be during blackouts?
The Microlink FR160 is best looked at as a solar power radio. I was so pleased with how long the device could keep chugging that it won my heart over. The sting of it not being able to power my Blackberry wasn't easy but there are other devices and dedicated solar batteries that can already do that. In fact you may want to keep your eyes peeled this coming week for one we will feature in another product review. At the end of the day, the Microlink is a winner in my book so I will only dock it a star for not being up to snuff as a cell phone charger.
[easyazon_block asin="B001QTXKB0″ align="left"]