We are influencers and brand affiliates.  This post contains affiliate links, most which go to Amazon and are Geo-Affiliate links to nearest Amazon store.
Partitioning your hard drive may not be something you do often. Some people may never do it, yet when you need to do so, you want to be able to do the job fast and efficiently and without hassle.
MiniTool Partition Wizard Professional 9 is just such a tool.
With this one program you can create a single partition in many different formats, multiple partitions, and so much more. What is nice is that you do not need to know any programming codes, just simply point and click, choose what you want to do and apply the results. And if you make a mistake, you can change it again right away.
You can copy a partition to allow for you to in effect make a duplicate of a disk, or even copy a whole disk. One feature that I like is recovering old partitions. I have in the past accidentally deleted my primary partition, and using this software would allow me to recover said partition fast and easy.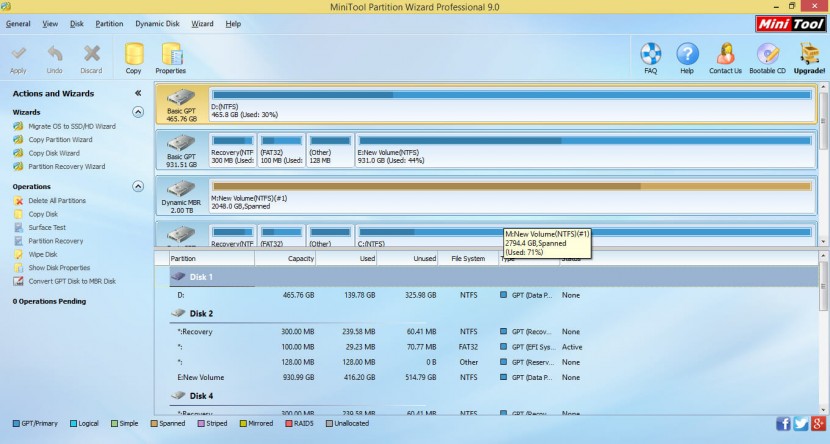 When I first started using computers, we had one standard of partitioning and that was using MBR, or Master Boot record. Now there are several other options, and with MiniTool you can create partitions in those formats as well.
One feature that I have not yet tried but am very curious about is extending a partition. You see, I have a drive that was once the "C" drive and had several small partitions for recovery and such. Basically I had over 500MB of storage space unused. So I deleted the 3 extra small partitions, clicked on the main drive, and selected extend from the menu. I slid the size bar to the right to use all of the extra space on the drive and applied the action. Now I wait to see the results.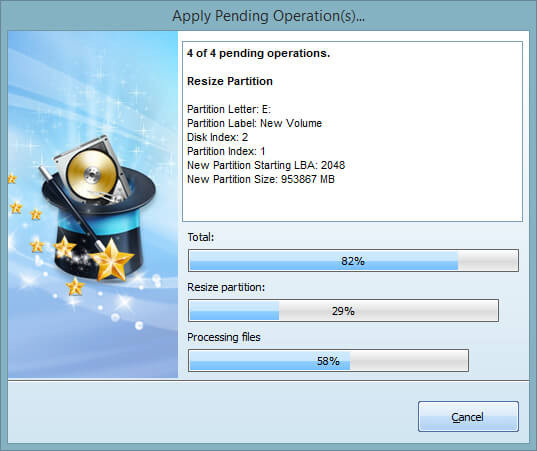 Once it is complete I will look and see how things worked. I will say that the "E" drive that I did this change to, had data already on the drive, and the directions I used to do this resizing, or extension did not say it was destructive so, I did not back up any data before starting. Now, some may wonder why I would blindly make such a big change to my drive without backing it up first, well, the first thing is I trust this program. I have used it in the past, and I know that it works, also there is a second program I will also be reviewing that helps recover lost data.
Ok, so it took about 5 minutes or so to read just the size of the partition, and when I opened the drive after everything was done, it did not destroy my previous data. Years ago, doing anything to a partition meant that the existing data would be destroyed. Not a bit lost with MiniTool Partition Wizard Professional 9.
I still recommend this software program to anyone who may need a powerful partitioning tool. I recommend this program to anyone who knows what they are doing and, even for those who have no real clue what they are doing.
The help topics on this program are excellent. They are easy to read and easy to understand and, the staff are great at taking the time to explain things if you have questions about their product.
We are influencers and brand affiliates.  This post contains affiliate links, most which go to Amazon and are Geo-Affiliate links to nearest Amazon store.
I have worked in and around many different types of computers. In the Navy, I used a magtape drive computer that was a step down from pen and paper. I later worked for a big computer company and after that, taught computer class's nation wide. I had the privilege of teaching 14,000 students in a 2 years period of time. Afterwards, I owned a small computer training and repair shop for a few years. I have owned C-64's, Pc's of various types, Amiga's, and even Mac's. I now have included the android to my collection. At any time, I have close to 15-20 computers or combinations of computers and game systems in the house. I look forward to more.