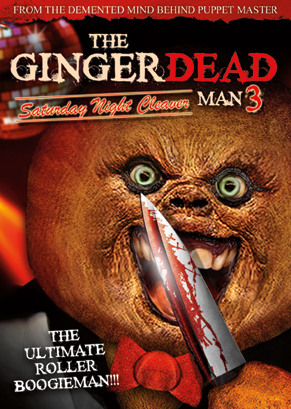 [easyazon-link asin="B0051ZG57Q"]The Gingerdead Man 3 "Saturday Night Cleaver"[/easyazon-link] is a comedy/horror film jointly written by William Butler and Muffy Bolding; and jointly directed by William Butler and Silvia St. Croix and stars Jacqui Holland (The UNsocialites), Robin Sydney (The Lost), Peter Stickles (Shortbus), and Kyle Morris (2012: Ice Age) in a film about a murderous gingerbread man who wreaks havoc at a roller-disco contest after traveling back in time to 1976.
"Another One Bites the Crust!"
The Gingerdead Man 3 is the third installment of William Butler's "The Gingerdead Man" series of horror films distributed by Full Moon Features. "The Gingerdead Man 3" is not your typical B-horror movie. It is a B-horror film—but this may be one of those films you wouldn't mind watching, if you're okay with watching beautiful girls being hacked to death by a foul-mouthed gingerbread cookie, voiced by John Carl Buechler, who has worked on special effects in many famous B-horror genre films; Carnosaur, Demonic Toys, Troll, and Bride of the Re-Animator, just to name a few.
Deep within the Scientific Research Institute for the study of Homicidal Baked Goods (SRIHBG) dwells the most sinister baked goods in all of baker-dom. They are there to find out what ingredients cause them to kill. In a scene that is familiar to that of "The Silence of the Lambs," FBI investigator Clarissa Darling is there to offer a deal to the worse of the worse of society's baked goods—The Gingerdead Man. In a scene that is familiar to that of "[easyazon-link asin="B002CMV1N4″]The Silence of the Lambs[/easyazon-link]," she is there to offer him an opportunity to be housed in a luxury, maximum security, candy-land facility, where he could "walk on brown sugar sand," and perhaps "swim in the lemon-aid pools," if he were to give details on another murder. Just as in "The Silence of the Lamb," some amateur investigator flashing her library card cannot fool the Gingerdead Man.
Then all of a sudden, a mob of bakery-rights activists break into the SRIHBG, in order to free the incarcerated confectionary noms and allows the Gingerdead Man to escape! With security hot in pursuit, he "crumbles" into a science lab where the scientists have just perfected a time machine, geared at making baked goods last longer! Gingerdead Man then kills the scientists and teleports back in time to the middle of a 1976 roller-disco competition.
Queue in film references to Carrie (1976), Porky's—(which is really a 1982 comedy about a bunch of teenagers intent on losing their virginity, set in 1954), including the famous hole-in-the-wall bathroom scene—even a bikini carwash in the middle of the night to raise money to save the roller-disco! Of course, after he takes in the sights of these beautiful roller-girls, they all die, along with many others, who are also cleaved and hacked away by this dangerous cookie. In order to stop him, it takes the telekinetic powers of "Cherry" (like Carrie (1976)) to get him back in the cookie jar—along with help from the world's most infamous serial killers; Dahmer, Hitler (on roller skates), Manson, and Lizzie Borden!
Gingerdead Man 3 has to be the most funniest and the most enjoyable B-horrors to date. Of course, the humor is cheesy and the one-liners are far-fetched, but this is a really good movie. It's not for kids though, that's for sure. But then again, how often do you get to watch an awesomely enjoyable comedy-horror flick with a killer cookie in it? I thought so.
Killer baked goods… This is just the type of movie you would need to see for yourself!
[xrr label= "The Gingerdead Man 3: Saturday Night Cleaver'" rating=4.5/5]
[youtube width="555″ height="261″]http://www.youtube.com/watch?v=uDAvnK8-Wnc[/youtube]
Image credit: Full Moon 
[easyazon_block asin="B0051ZG57Q" align="left"]