Looking for a monitor to play with?
Sceptre Curved is an incredible monitor ideal for playing the most demanding games, with an incredibly high and fluid playback quality, this gaming monitor offers a refresh rate of 75 Hz, it is perfect to play games professionally. The Sceptre Curved 24″ monitor offers a clear and sharp image, this gaming monitor guarantees you to be able to visualize your games in high quality. This monitor allows you to connect different video inputs, this monitor is multifunctional, can play as a monitor for gaming, office and you can even watch TV on it. This 24″ monitor offers an incredible gaming and professional experience.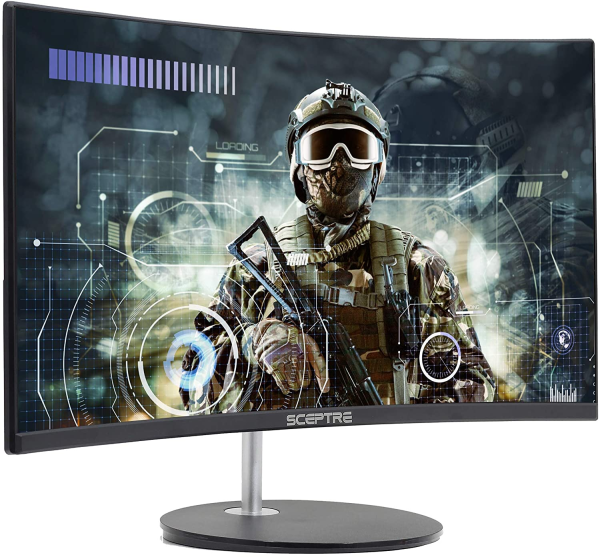 Sceptre Curved feature
This is an excellent curved monitor for the price, this gamer monitor can play your games at full HD quality (1920 x 1080) in addition Sceptre has a refresh rate of 75 Hz, which allows you to play professionally and fluidly avoiding blurred areas, 75 Hz will give you an advantage while playing competitively because the frames of the games pass immediately, without delays, avoiding blurred areas. Sceptre Curved allows you to adjust the monitor according to your needs, this gamer monitor is able to tilt 15 degrees back and 5 degrees forward. Sceptre includes different video and audio inputs, you can use the input by HDMI or VGA, both can play the video in 75 Hz, while you can use external headphones to listen to the audio. This amazing curved monitor allows you to more realistically enjoy your games, this curved screen allows a display of 1800R. Sceptre Curved includes an anti-flicker function, this function provides a more fluid and sharper image, this is achieved by preventing the background image from flickering.
Difference between flat and curved monitors.
The main feature of curved monitors is that you get a deeper dive while using them to play, this allows you to get a better gaming experience. The curved monitor is perfect for gaming and watching movies, while flat monitors are recommended for jobs like editing photos, the curved monitor is significantly superior while using it for gaming, the experience is much deeper and more interactive, both monitors offer incredible results, but if you are looking to have the best gaming experience the best option will be curved monitors.
Summary
If you are looking for a professional gamer monitor Sceptre Curved is what you need, this amazing, curved monitor allows you to get an incredible gaming experience, you can play more interactively and realistically, provides 75 Hz, and this refresh rate allows you to play professionally. This gamer monitor offers a full HD image quality of 1920 x 1080. Sceptre Curved It's an amazing option to replace your old monitor. Sceptre Curved is available at an incredible price.
You can buy this item here: Amazon.com: Sceptre Curved 24″ 75Hz Professional LED Monitor 1080p 98% sRGB HDMI VGA Build-in Speakers, Machine Black 2021 : Electronics
My name is Joel! I love to read, I go to university like most people my age.
In my free time I usually train boxing, I love music, I also know how to play the guitar and the harmonica.