We are influencers and brand affiliates.  This post contains affiliate links, most which go to Amazon and are Geo-Affiliate links to nearest Amazon store.
If you're in the USA, you might not be aware of these Nokia phone series in existence. So first a little history lesson for the folks. Nokia announced and released the X series of smartphones earlier in 2014. The phones run Android Open Source Project (AOSP), with out any official apps from Google, and a heavily skinned version of Android, which basically makes it look like a Windows Phone. Until recently, this family of smartphones contained 3 Nokia phones:
Nokia X
Nokia X+
Nokia XL
These low to mid end smartphones quickly raised to the top in Pakistan becoming the fastest selling smartphone, and third in India. Similar situations were seen in other developing countries, where Nokia holds a firm ground. The phones themselves were no where near being 'High End', they were more of a stepping stone for people migrating from Pure Android to Pure Windows Phone, the Nokia X family of smartphones was a hybrid of these. The cheapest one of the lot (Nokia X) contained 512MB RAM and a 1GHZ dual Core processor. The priciest one, the XL contained 786MB RAM and the same processor.
Difference Between Android Phones and X Phones
The only thing stopping these X devices from becoming a Windows Phone is their ability to run Android Apps. Even though not all apps are compatible and the device doesn't come stocked with the Google Play Store, it has the hardware required to run the apps designed for Android, about 75% apps can run unmodified. Some especially designed apps are compatible with the phone and can be installed without rooting. (after rooting however, even the Play Store can be installed on the device)
The X2
The X2 is simply the next generation of the Nokia X Family. It is highly likely that we will be seeing other products in this generation, like the 3 in he last one. The X2 is an upgrade in the hardware section from previous phones. The X2 also adds a Home button, beside the regular Back button at the lower part of the screen. Here is a quick specifications comparison between the X2 and the similarly priced X+
Nokia X+
Nokia X2
Screen Size
4″ 800×480
4.3″ 800×480
RAM
768MB
1GB
Camera
3 MP FF
5 MP AF + 0.3 Front
Processor
8225 Qualcomm Snapdragon
1 GHz dual-core
8210 Qualcomm Snapdragon
1 GHz dual-core
Memory
4GB Internal, Upto 32GB SD card
4GB Internal, Upto 32GB SD card
We can see that Nokia/Microsoft have really squeezed more juice into the same price bracket, which means a more valuable phone. Of course the phone is still pretty low end, and we're hoping to see more variants in this generation, probably named the X2+ and the XL2/X2L.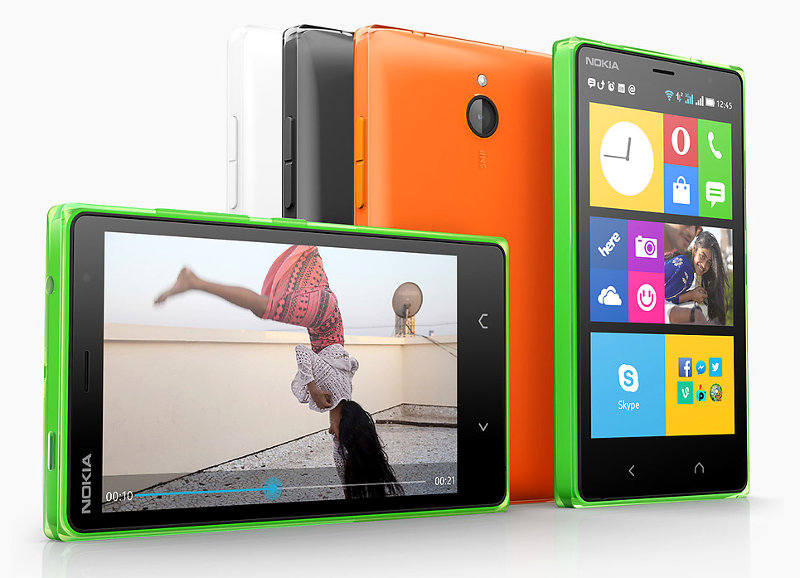 Quick Features
A new back which seems to make the phone 'Glow'.
New Home Button
Dual SIM
Front Camera (missing from 2 out of 3 of the previous ones)
Packed with 4GB internal and Ships with a 4GB SD card
The phone will be priced at about $135
Opinions
Personally, after using the Nokia X a month or so back, Nokia has really created a hybrid. They somehow managed to heavily customize Android, and on top of that keep the UI fairly smooth and lag free, similar to their flag ship line, the Lumia Series. This is one of those phones you want to absolutely avoid if you have a higher budget. However this smartphone definitely is worth the super low price tag, especially if you're in South East Asia. The phone should keep you going until atleast you can afford a better one. This is actually a strategy move on Nokia's part, which encourages people to try the Windows Phone/Lumia layout and UI without technically leaving Android. However, in my opinion this can benefit as well as damage their potential user base. You see, since this is a cheap phone, people might get the idea that all Windows Phones are cheap and have features similar to this one. However, that is not the case, but once you have a bad experience with something, you don't easily remove the feelings from your heart.
The Nokia X2 hasn't been confirmed to be not coming to North America, but its unlikely that it will arrive, since neither of the previous 3, X phones got launched here.
Leave a comment below as to what you thought about this unveiling. If you have something to share or suggest, feel free to leave a comment.
We are influencers and brand affiliates.  This post contains affiliate links, most which go to Amazon and are Geo-Affiliate links to nearest Amazon store.
I'm a teenager, trying to earn a few extra bucks to keep my gaming and tech dreams up to date, Hence I'd appreciate it if you'd read/share and comment on my articles. I've been writing for this website for about a year now and have finally collected enough to buy this ( http://imgur.com/a/fYqPC ) I always welcome feedback and constructive criticism. I prefer writing about the latest gadgets and the happenings in the gaming world.