We are influencers and brand affiliates.  This post contains affiliate links, most which go to Amazon and are Geo-Affiliate links to nearest Amazon store.
I've always been a big fan of large screens, especially when it comes to having a massive screen to be able to project movies and even video games on for a large crowd or even in an outdoor setting. If you are looking for a projector that is going to provide both an incredible display, vivid colors and a long lamp life then look no further. The HD142X by Optoma is perfect for you. This home theater projector provides a very incredible display which features a 1080p resolution for those wanting to have a party out in their backyard. Let me give you some brief details about this projector so that you can be well aware of what Optoma brings to the table.
This projector provides Full HD Resoution which means that you will be able to watch any Blu-Ray in full 1080p. The projector also provides comes with an 8000-hour lamp life which Optoma says will help with maintaining your projector and not needing to replace the lamp sooner than most other projectors out there plus it helps maintain the overall quality of the product without needing to make any unnecessary changes or sending it in for repairs.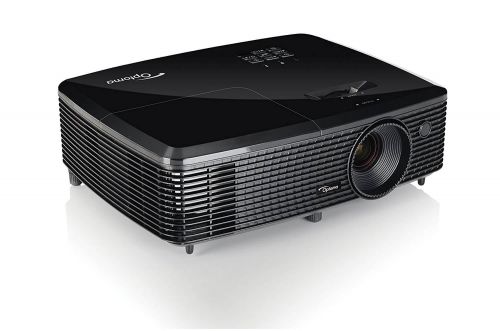 Are you a gamer? Well, this is also a perfect product for you as well. The Optoma HD142X comes with two built-in HDMI ports making games of Halo, Call of Duty and more something that you will be able to enjoy on your Xbox One, Playstation 4 or Nintendo Switch. You can also plug in your PC or Laptop and play games of Overwatch on a massive screen and still enjoy a beautiful display powered by its 3000 lumens.
Another great thing about this projector is that it also comes with a USB port where you can plug in your Chromecast, Amazon Fire Stick or any other USB device and be able to share images with your friends or even play music from your smartphone making any get together or outdoor activity easier with so many options to choose from this projector will satisfy any need be it watching movies to playing video games. The project is also very lightweight weighing in at only 5.5 pounds making taking it on the go very easy. It only comes in one color which is black so no real other color options than that, but I'd say that is pretty standard for the majority of projectors.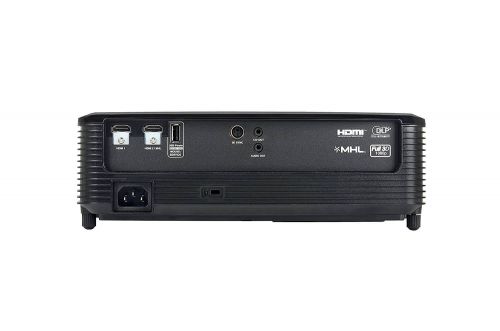 As far as the image size is concerned, Optoma states that you will be able to enjoy a picture size of anywhere between 27.88 to 305.5 inches. Although I'm not quite sure how far away you would need to set the projector for 305 inches the display will still hold up to it's 1080p display. This projector is one that I believe will satisfy any person looking for a product that covers all the bases whether it be for gaming, movie watching and especially those late night backyard movie marathons.
Be sure to head on over to Amazon where you can pick up the Optoma HD142X for only $549.00 which is a very good price for a projector such as this. You definitely cannot miss out on a product that will deliver for all of your entertainment needs.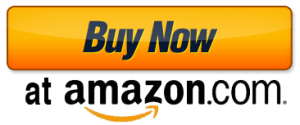 We are influencers and brand affiliates.  This post contains affiliate links, most which go to Amazon and are Geo-Affiliate links to nearest Amazon store.
I've been writing and covering many forms of entertainment such as comedy shows, and arcade bars as well as reviewing video games and more for the past decade. I love to write and I am blessed to be able to have the opportunities that I have had in the entertainment and technology fields.