We are influencers and brand affiliates.  This post contains affiliate links, most which go to Amazon and are Geo-Affiliate links to nearest Amazon store.
Traveling is something I have always loved to do. Being able to do so at a cost that is quite affordable is also something that one can find to be a quite daunting task. Here in my hometown of Indianapolis, travel from Chicago to Indianapolis has been pretty challenging when it comes to offering various options. Recently, Amtrak decided to pull the Hoosier Spirit rail that provided service to and from Downtown Indianapolis to Chicago, Illinois leaving the only real options to be the expensive Greyhound and of course, taking a plane.
That's where OurBus decided to step in. OurBus is a company that has been providing cheap travel to and from many destinations almost exclusively in the New York/Pennslyvania area for several years and they decided to give it a go and set up a route from Indianapolis to Chicago and take advantage of the Amtrak no longer servicing the area. OurBus was able to provide me a trip last month to be able to see for myself just how easy it is to use their service, but also experience the ride to and from Indy to Chicago. First things first comes the easy-to-use OurBus app, which is available on any iOS and Android device. This app is incredibly easy and all you have to do is first sign up for an account and then choose your destination as well as where you are riding from so if you're traveling from Indianapolis, for instance, then you would set Indy as your starting point and then choose Chicago since that is the only available route at the moment. Then you choose what day and time. As it stands the current options seem to be leaving from Indy early and leaving back from Chicago late afternoon to come back. Once you have decided your travel dates and paid you don't have to worry about printing anything off.
The app does a fantastic job of showing you exactly where the bus picks up and even provides you with a picture of where the pick up/drop-off point is for your bus. OurBus has contracted out Gold Shield, a local bus transportation company based out of Indianapolis, as their premium choice for bus travel. Having never used Gold Shield before, I was quite impressed with how comfortable the ride was. The bus provides free WiFi, albeit a slow connection due to others being connected, as well as two charging ports, one for each seat per aisle. The bus does have two stop from Indy to Chicago with one stop in Charlottesville and the other in Lafayette before reaching its destination in Chicago. The bus drops off passengers just one block away from Chicago's own Union Station which I believe is a great stop for those wanting to purchase a Ventro day-pass, which allows travelers a full day's use of unlimited rides on all L trains and city buses.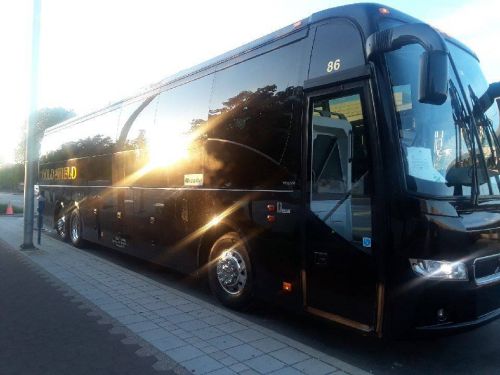 As of this week, OurBus has decided to their route from Indianapolis to Chicago a permanent fixture here and one that makes for a great addition to the city. Tickets from Indy to Chicago one-way will end up costing you anywhere from $10-$20 depending on the day with a round-trip being as low as $20 which makes for a great day trip for those on business needing to leave early. OurBus is a company that I highly recommend anyone here in Indianapolis take advantage of especially those looking to get away for the weekend to experience all of the incredible sights and sounds that OurBus has to offer from Navy Pier to the Field Museum and I do hope to see OurBus provide other routes to cities such as Louisville, St. Louis and even Washington D.C.
We are influencers and brand affiliates.  This post contains affiliate links, most which go to Amazon and are Geo-Affiliate links to nearest Amazon store.
I've been writing and covering many forms of entertainment such as comedy shows, and arcade bars as well as reviewing video games and more for the past decade. I love to write and I am blessed to be able to have the opportunities that I have had in the entertainment and technology fields.