We are influencers and brand affiliates.  This post contains affiliate links, most which go to Amazon and are Geo-Affiliate links to nearest Amazon store.
Today we're going to take a look at an Android TV box by Probox2. Probox2 is a new brand for us, based in Hong Kong, but they've been around for quite a while now and have their share of products in the TV box market.
And today we're going to take a look at the Probox2 Air which is an Android 6.0 TV Box which also supports 4K resolution videos. So without any further ado, let's start the review.
Probox2 Air Specification:
| | |
| --- | --- |
| CPU | Amlogic S905X Quad Core ARM Cortex-A53 CPU up to 2GHz |
| GPU | Penta Core ARM Mali-450 GPU up to 750MHz+ |
| Memory / Storage | 2GB DDR3 / 16GB eMMC |
| Wireless Connectivity | 802.11ac Dual Band WIFI (2.4Ghz / 5.8Ghz), Bluetooth 4.0 |
| OS | Android 6.0 Marshmallow |
| Video Output | HDMI 2.0b, up to 4K*2K @ 60fps, Support HDR, HDMI-CEC, HDCP 2.2 |
| Audio Output | Via HDMI 2.0b, optical SPDIF (5.1CH, 7.1CH) |
| Power | DC 5V 2A adapter (CE, FCC, CCC Certified) |
| Peripheral Interface | RJ-45 Ethernet Port (10/100Mbps), USB 2.0 Port x 2, OTG Port, TF Card Reader, IR Sensor (Remote included) |
| Supported Video Format | UHD 4K 60fps HW decoding, supports multiple formats including H.265 10-bit, H.264 & VP9 DAT/MPEG/MPE/MPG/TS/TP/VOB/ISO/AVI/MP4/MOV/3GP/ FLV/MKV/M2TS/MTS/M4V/ WMV/ASF/RM/RMVB |
| Supported Audio Format | MP2/MP3/WMA/OGG/FLAC/APE/AAC/WAV/OGA/ALAC Programmable with 7.1/5.1 down-mixing |
| Packing Included | PROBOX2 Air, Power Adapter, IR Remote, Dual-Band Antenna, HDMI Cable, User Manual |
| Dimensions / Weight | 99mm * 107.5mm * 16.3mm / 190g |
Unboxing:

So, as you can see in the video, the Probox2 Air is a square black colored TV box which will easily mingle along most of the TV setups. And the Box is also physically feature packed with antenna support for better Wi-Fi performance, 2x USB port, 1x TF Card slot, 1x HDMI port, 1x Ethernet port, and 1x optical sound port.
Some random pictures: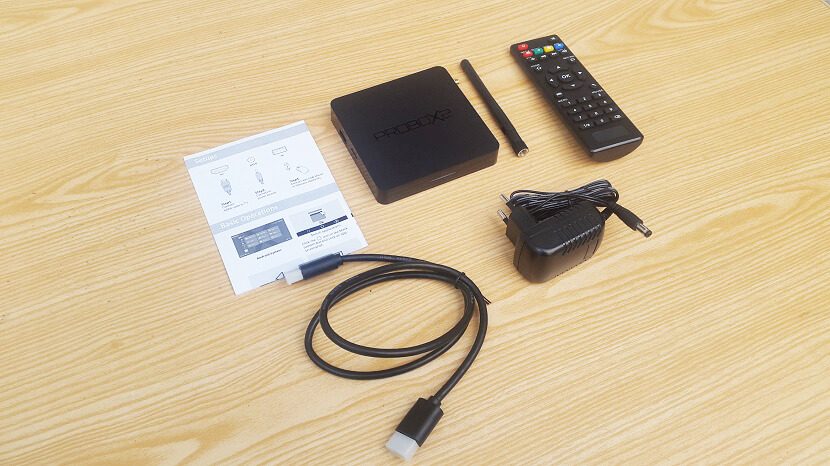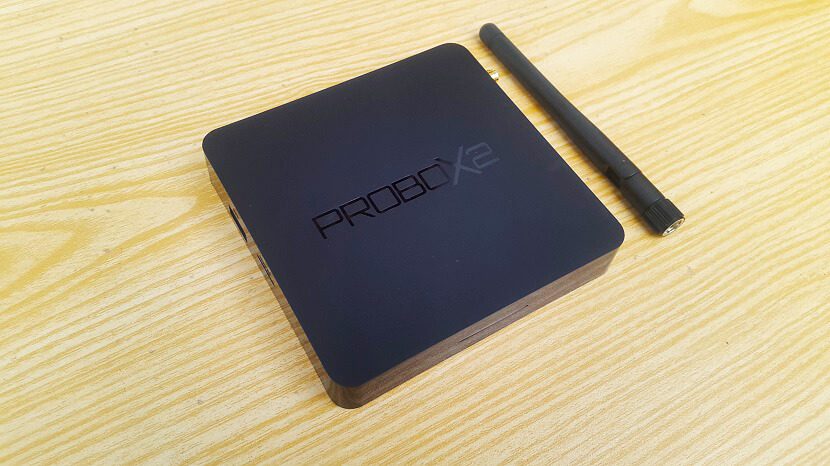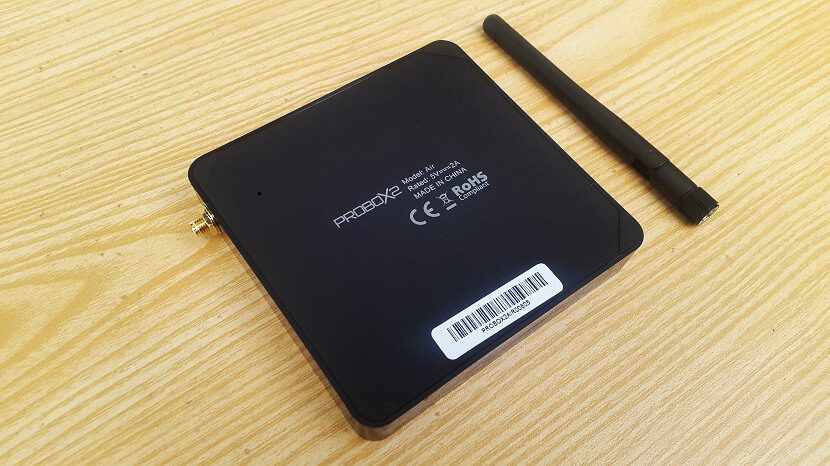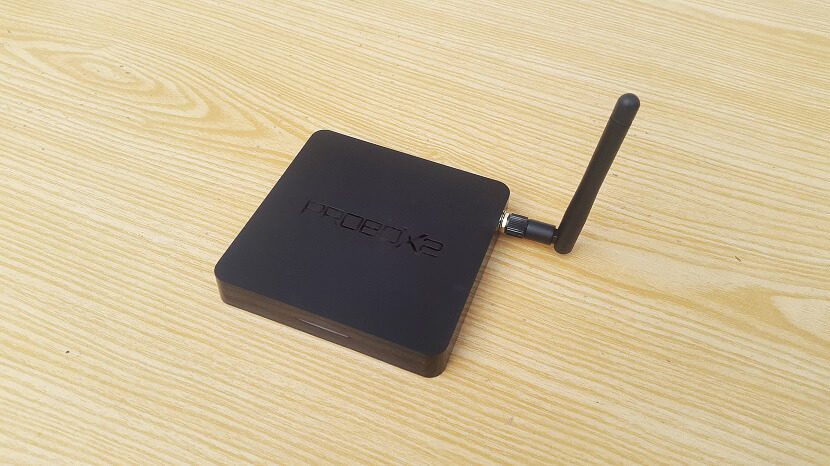 First Boot:
First boot of Probox2 Air takes about 30 seconds, and you're taken through a process to decide the language, sync Google and stuff like that to make your experience user-friendly and familiar. It's like setting up a mobile phone after first boot.
Apex Launcher User Interface: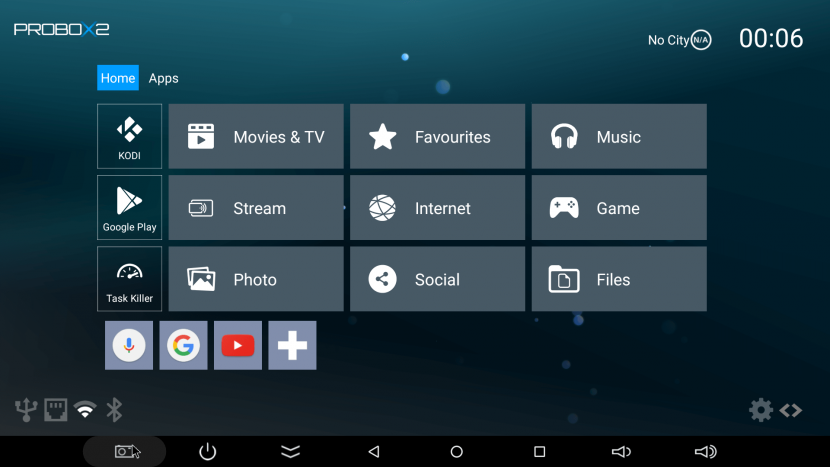 The Probox2 is using their all new APEX UI as the default launcher. The navigation through the Apex launcher is pretty easy with things divided into sub-category on the Home Page. And we also have various shortcuts at home like the KODI, Google Play and Task Killer on the left-hand side.
On the bottom-left corner, you can also see the connectivity types. In the picture above, the USB, Ethernet, and Bluetooth icons are grayed out while the Wi-Fi is highlighted as we're on a Wi-Fi connection.
We can also access our installed applications from the Apps menu. And since the Probox2 Air is an Android device, you can also install almost any app from the Google play store and run it on your TV box.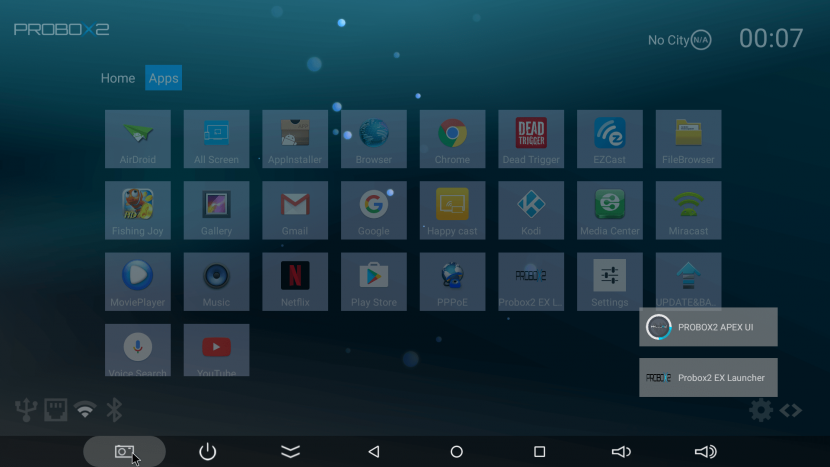 On the bottom, right corner of the screen, you can see a Greater-than and less-than sign, this is the "1 click swap button". From here you can access the 2 different launchers (APEX UI and EX) pre-installed on the Probox2 Air. Or you can install other launchers and it'll also show up here. A very convenient and easy to access feature.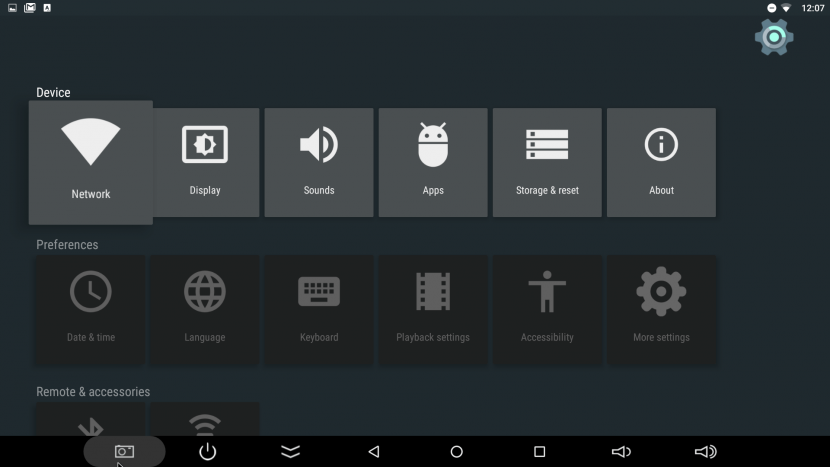 Just beside the 1 click swap button, there's a cog to access the device settings. Clicking on it takes you the customized setting tab of the Apex UI launcher for the device. The settings layout of the Apex UI launcher is pretty simplified and well thought. You can access almost of the settings you'll need to play around the device with. Like the Display, Wifi, Sound, Applications, etc.
Within the Display setting, you can set your desired screen resolution as long as the TV supports the max resolution. You can also re-position, and play with the colors of the output from the Daydream and HDR mode.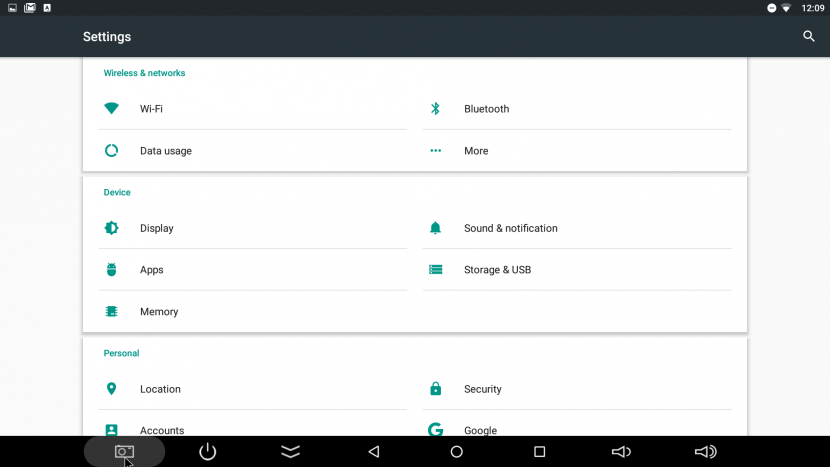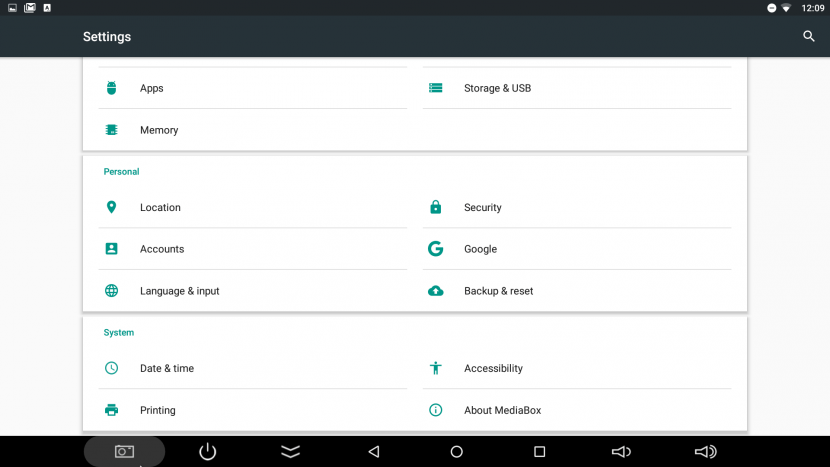 But if you want to switch to the traditional settings, just click on the "more settings" tile (can be seen in first settings pictures) and you're back to the standard Android settings.
Bundled Remote and Remote+: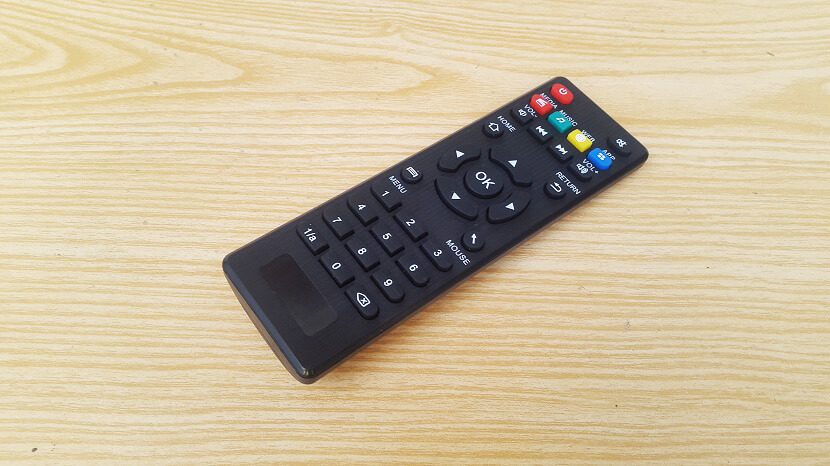 Despite the Probox2 Air is being sold with its own standard remote, it's also being sold in a bundle with the Probox2's well known Remote+.
The one that comes with the Air has most of the multimedia functions you would need and is identical to most of the TV remotes. But along with multimedia buttons, it also includes a shortcut for application tabs, internet browser, and an air-mouse function.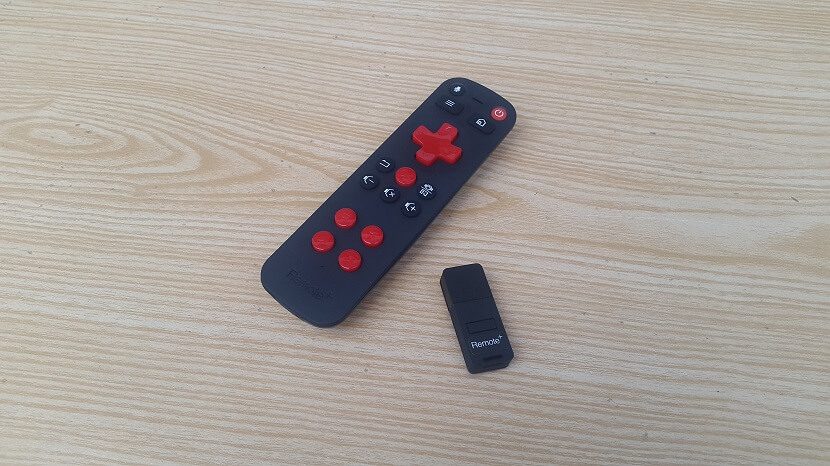 As for the Remote+ goes, it's a more stylish, spacious and a classic console controller looking remote having a matte finish. By the looks of it, it's easy to tell that it's aimed towards the gaming sector. But it also includes a microphone so you can also use Google search or other voice controlled assistants. And basic buttons like menu, home, OK and back for the standard Android functionality. Unlike the remote included, you need to plugin the Remote+ USB adapter into the TV box make it work with the TV box.
The remote+ has 4 different modes. Navigation or normal, Air-mouse, horizontal gaming, and vertical gaming mode. There's a dedicated button to switch between all the modes.
In the normal mode, you can use the d-pad for navigation and OK button for accept/click while in the Air-mouse mode, a mouse cursor will appear on the screen and you can navigate through the OS by using the remote as an air mouse.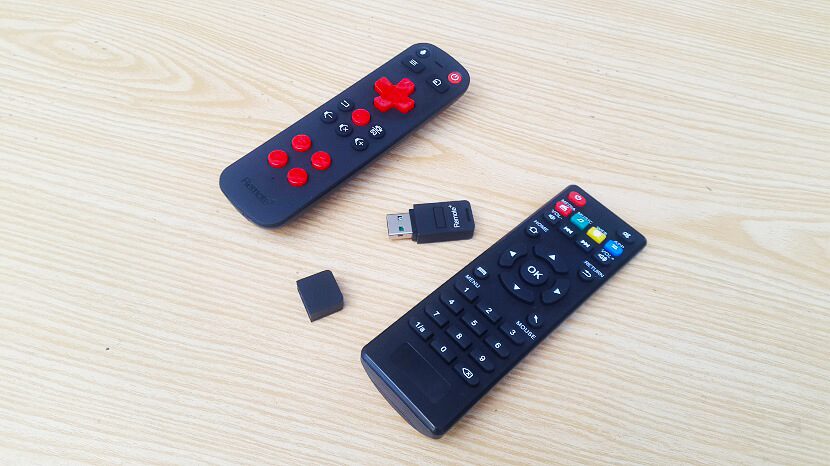 As for the gaming experience goes, it's far better than playing with the remote included. The fact that you can hold it like a classic console controller which imitates a D-pad and 4 buttons might be nostalgic and much appreciated by some. Though the best gaming experience is achieved by using an android supported gamepad like GamerSir G4s which we will be reviewing shortly.
Both the included remote and the Remote+ requires 2x AAA batteries.
OTA Updates:
The Probox2 Air has 2 way for updating to the latest firmware. First, via an SD card and second being the on-the-air (OTA) updates. Having OTA update options is always more preferable than the alternative since there's always the risk of bricking a device with physical material.
During the time of our review, we came across one OTA update by the developers. So we launched the OTA update from the device, and initially, we were 4G for the update connected via a mobile hotspot, and the update got corrupted. But no harm was done, other than the data usage. So next time, we tried the update via the Wi-Fi, and it worked like a charm. Once the update is downloaded, for the installation to complete, you'll need to reboot the device.
Probox2 Air Media Playback:
The Probox2 Air comes pre-installed with Kodi 16 so you can stream your videos directly to your TV box and more. But you can also you other Media playback applications from the Google Store. I primarily use VLC for media playback when it comes to watching downloaded movies and anime.
As for the playback quality, the videos work fine without any issues whatsoever up till 4K30FPS, but some delay and stutter is noticeable at 4K60FPS.
As for the image quality, I was able to test it side by side with the Google Chromecast, and I found the colors on Chromecast more vivid and lively. But that doesn't mean the quality of Probox2 Air is bad, but comparatively a little dull.
Probox2 Air Gameplay:
I've played a few games on the Probox2 Air, but most of the time was spent on Dead Trigger and some classic titles. Most of the games run smooth on the device, but there's some minor stutters or lag when there's too much action on the screen on some modern-day titles. Overall, the gameplay performance is average when it comes to the Probox2 Air for modern titles. Check out the benchmarks below.
Probox2 Air Benchmarks: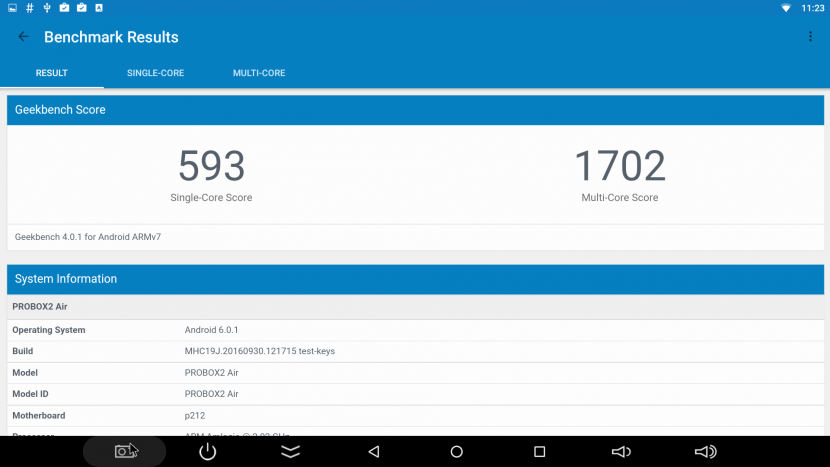 The Probox2 Air TV box scored 593 points in Single-Core and 1702 points in Multi-Core category in the GeekBench3 benchmark test.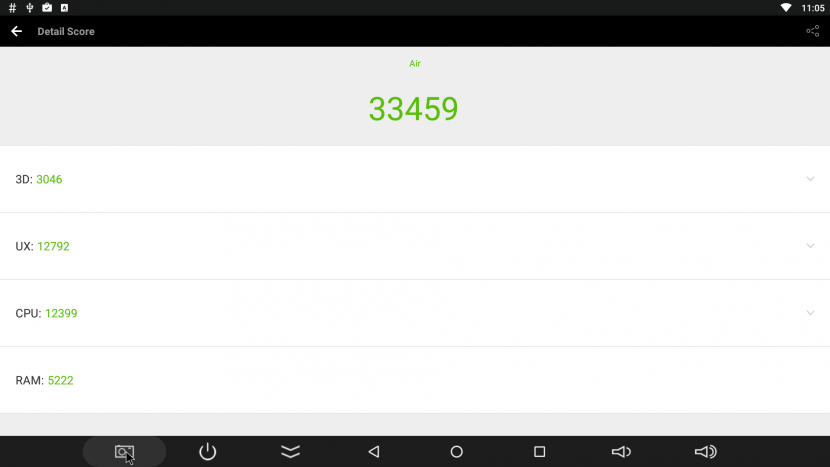 In the Antutu Benchmark, the Probox2 Air scored 33459 points.
Conclusion: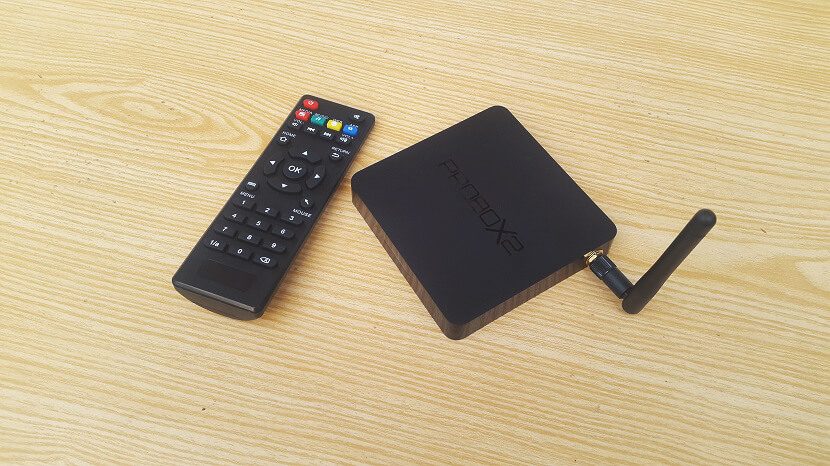 The Probox2 Air seems like a decent streaming/TV box running on Android 6.0 Marshmallow platform with decent media playback and average gaming performance. The design is also well thought and should easily mingle along with any TV setup. The Probox2 Air bundled with Remote+ is priced at $99 and without Remote+ at $80. At this price point, the standalone version might not be the cheapest TV Box in the market using the similar specifications but the Remote+ bundle seems like a great deal, and I would definitely recommend it.
I would like to rate the Probox2 Air Remote+ bundle 4.5/5 stars and give it our Recommended award.
We are influencers and brand affiliates.  This post contains affiliate links, most which go to Amazon and are Geo-Affiliate links to nearest Amazon store.
Hi, I'm Ahmed Kazim and I've been a gaming freak since like 7-8. I'm also a geek-o-nerd who keeps looking around for latest development in hardware/tech/gadget industries so expect some quick news from me. I'm also interested in anime (Japanese animation) and can't stand a day without music and gaming.