We are influencers and brand affiliates.  This post contains affiliate links, most which go to Amazon and are Geo-Affiliate links to nearest Amazon store.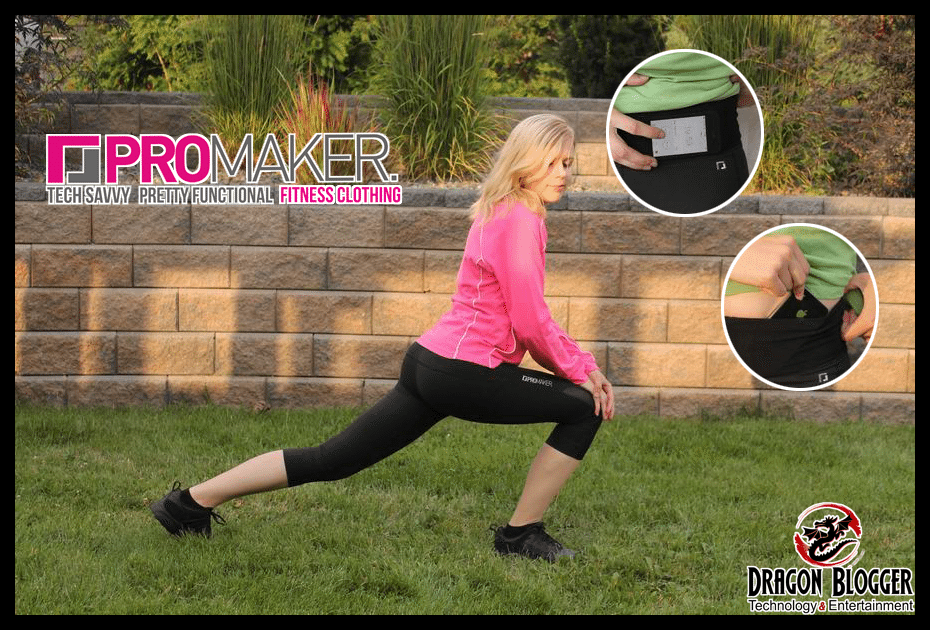 As many of our regular readers may notice, this review is a little bit different. This is the first time DragonBlogger has done a review for a fashion item, and even we were a little bit surprised at the request. Now that we have done one, though, there is more likelihood for another down the road. We all see how fast technology is advancing, and with how integrated these increasingly versatile gadgets are in our every day lives, it makes sense that everyday fashions would start meeting the functionality needs that we have, in order to transport, use, or otherwise enjoy these gadgets.
For the sake of keeping with DragonBlogger's technology focus, I've divided the review into two topics: Functionality and Fashion. The Functionality section will focus on the overview and my review specifically about the tech-related features. The Fashion section will include the overview and my review of the product as a clothing item, including considerations such as aesthetic and comfort.
Functionality
Features
2 Interior storage pockets
PROMESH waistband pocket
Headphone/cable ports connecting interior pockets and PROMESH pocket
Due to the tight-fitting and streamlined nature of women's fitness-wear, it is rare to find a pair of bottoms that have any type of pocket. As much as this may be helpful for the aesthetic of such clothing, it is inconvenient at best when it means that you will have to carry around a bag or coat in order to have essentials, such as your phone or keys, within reach. The X-Pro Tights have four pockets – two each of two different types – and each offers multiple options for functionality. You get enough pocket space to carry what you need, and you still get a streamlined, comfortable fit.
Inside the waistband you will find two interior pockets. You can use the interior pockets to conceal cash, cards, and keys, but they will comfortably (for you and the pants) hold devices as large as an iPhone 4 or a Samsung Galaxy S4 Mini. I found that the interior pocket contents, even phones, are hardly noticeable through the waistband. I went biking with my iPhone 4 in one of the interior pockets, and though I was nervous about my phone popping out of the pocket as I was biking, the X-Pro Tights provided enough pressure to keep the phone securely in place.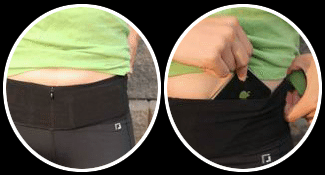 For an even more secure option, there are also special, touchscreen-friendly pockets that span from hip to hip on the outside of the waistband. A small zipper in the centre opens, what amounts to, a pocket on either side and though the pockets are connected, the X-Pro Tights are designed to hold your devices in the position you want them. These PROMESH pockets allow you to secure your devices while still being able to manage them with their touchscreen controls. Switch between songs on a playlist, start and stop a timer, and even answer phone calls without having to pull out your phone.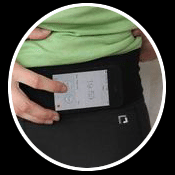 You have options when it comes to headphones too. Between the PROMESH and interior pockets on either side, there is a button-hole port for your convenience. You can store your device in the outer pocket, and feed the cord through to the interior pocket to keep it tucked away. This positioning is convenient if you want to feed your headphone cord through your top to keep it safe from getting caught on anything while you go through your exercises or other daily activities.
Fashion
Features
Body Structuring Technology (aka. Shaping)
Elongated Cooling Panels
Pill-Resistant Fabric
There is a lot more to the X-Pro Tights than just the tech-related features. They were designed to be stylish and comfortable at the same time as functional. The interior pockets are completely hidden, and even my iPhone 4 was hardly noticeable when stored in an interior pocket. The headphone ports are positioned in a way that allows you to feed the wire under your shirt which keeps it hidden but also away from opportunities for snagging and entanglement. The PROMESH pocket keeps your devices accessible but not entirely visible when stored, and the zipper was sewn to be invisible. These are just a couple of examples and I haven't even gone past the waistband!
Many styles of pants and leggings are made from 2-4 pieces of fabric that have no real shape to them, except for straight. Meanwhile, X-Pro Tights were designed with more pieces and to accommodate and accentuate a woman's curves. Heck, they even put enough thought into the design to include a triangle of fabric between the legs and butt which prevent the discomfort of a center seam that rides up and also serves to help improve the fit.
I would have never gone out intending to buy myself a shaping garment. I'm a tiny lady (5'4" and 110lbs), and I'm in good shape, but was still very impressed with the results of the "super butt, thigh, and leg shaping" as Promaker advertises. Having never used a shaping garment, aside from a slip, I was a bit concerned about the snug fit. I'll admit, I did have to wiggle a bit to get the leggings pulled up over my butt, but once they were on I felt like Goldilocks – not too loose; not too tight; just right. Though they are exercise-wear, they will pass for everyday-wear and even work-wear.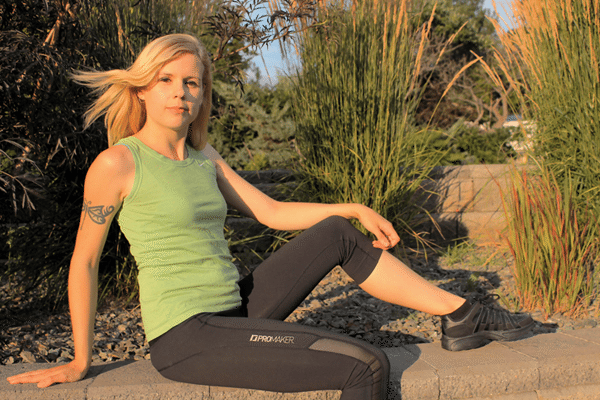 My first time wearing the X-Pro Tights, I filled my pockets, and left for work on my bike. I spent 6 hours on my feet working and by the end of my shift I hadn't had any issues regarding my comfort (with all those items in my pockets) or my mobility. The leggings stretched and moved comfortably with me as I went about my usual work activities, and not once did I have to stop and pull my pants up, as I find to be an issue with most other pants. At the same time, with all the activity of working and the 30 degree (C) weather, I didn't overheat. To my pleasure, mesh cooling panels, that go about halfway up the thigh on each leg, counter any heat gained by the extra weight of the fabric. I felt practically ecstatic about how well the day had gone in these tights, and when I got home it didn't occur to me to take them off. I just kicked my shoes off and sat down.
I should mention, now, that sitting down in my house is not to be taken lightly. This is especially precarious when one is wearing black. You see, I have 4 cats… Yeah, you guessed it. Cat hair everywhere! I'd only been sitting for a couple minutes when I realized what I had done. I jumped up and looked at my, now furry, derriere in horror. I started running my hands down the fabric in an attempt to brush the cat fur away, an action that never really works on standard fabrics, and was absolutely amazed to see the cat hair actually coming off. It took less than a minute to remove the majority of the cat hair from the X-Pro Tights, with only my hands! Laundering the tights was about as easy, requiring only a cold wash and a cool tumble dry. Fabric-pilling was not an issue after the initial washing, and it shouldn't be for a long while since Promaker specifically uses a pill-resistant fabric for the X-Pro Tights.
All in all, Promaker's X-Pro Tights are great. I loved wearing them, and received a number of positive comments about them, (including me being in them, which is never a bad thing!) Whether you do yoga, run, dance, have kids – or not – the comfort and functionality make these leggings ideal for just about anyone. Plus, your butt will look great in 'em! ;)
Follow the link to go directly to where you can check out the X-Pro Tights and order some for yourself:
http://www.promaker.com/store/x-pro-tights/
Make sure to check out all the other awesome garments available on the Promaker website at www.Promaker.com, including a variety of tops, and even Smart Socks with Blister Resistant Padding!
We are influencers and brand affiliates.  This post contains affiliate links, most which go to Amazon and are Geo-Affiliate links to nearest Amazon store.
Artist / Model / Gamer / Crazy Cat Lady