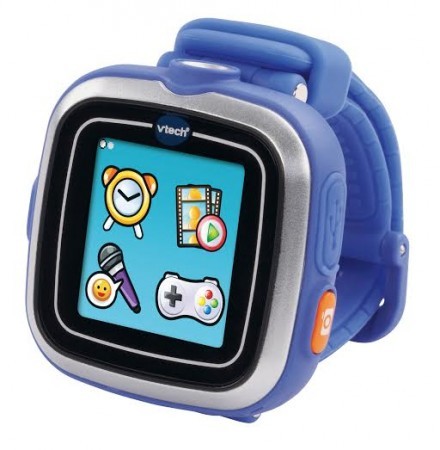 I recently got to try the new Kidizoom Smartwatch from Vtech.  This is the perfect thing for my 5 year old son who loves computers and gadgets.  This smartwatch allows your child to play games, take pictures, videos, record voices and tells time.
When I received this the battery was still half charged so my son could use this right away. It took a couple minutes to do the initial set up of time and language and it was ready to go. There are a couple of buttons, one is the home button and one is a shutter button.  The shutter button launches the camera action in 1 easy push. The camera is situated at the top of the watch. It looks small but it takes a good picture. The watch can hold about 800 photos. Its has a 128mb built in memory. Video length records in 60 second increments and can hold approximately 6 minutes at 320X240 pixels or 15 minutes at 160X120 pixels.  You can upload everything onto your computer and save it so you can free up more space on the watch.
The smartwatch included 3 built in games, Super Detective, Rotating puzzle and Finger dance.  All 3 of these games were perfect for my son to play.  If you do the online setup for the smartwatch at vtechkids.com/downloads you also get 1 free download. You will need to install a program that is free called Learning Lodge in order for the downloads to work. There are more games that can be purchased online. The touchscreen is perfect for their little fingers.
For me the best thing about the Kidizoom Smartwatch from Vtech is how portable it is and the battery life. This is great as it stays on him so I don't have to worry about him leaving it somewhere. It is very lightweight for him and makes the car rides much more fun for him. The battery is built in and just needs to be charged through the micro usb cable that comes with it. A full battery lasts about 2 weeks and that is with a lot of use making this great for me.  When the watch is not in use it will shut down automatically to help save the battery.
My boys are kinda rough with things so I like that this is very durable. They have dropped it a few times and nothing has gone wrong. This is also sweat proof and splash proof so don't be alarmed if it is hot out and they are sweaty. This is not waterproof though so make sure they do not submerge it in water.
Overall this was a great new learning toy for my son.  You can find out more about this and other Vtech items HERE
Features include:
 Camera with photo effects
 Video recorder
 Voice recorder
 Touch screen
 4 learning games
 Durable design
 Connects with VTech's Learning Lodge™
 Available in blue, green, and pink
 Splash and sweat proof
 Rechargeable
 Digital and analog watch displays
 Timer and alarm clock
 50+ clock face designs
 Exclusive white colour for Walmart