We are influencers and brand affiliates.  This post contains affiliate links, most which go to Amazon and are Geo-Affiliate links to nearest Amazon store.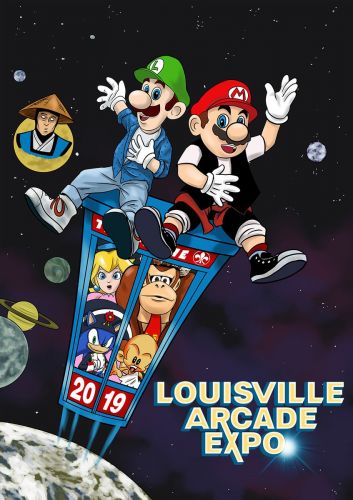 It is a new year and time once again for me to go out and do what I love, attending conventions and giving them a proper review. Last year after really enjoying my experience and time, I made the decision to make Louisville Arcade Expo the way that I kick off every single convention/expo year and what a better way to do that than playing a ton of video games and pinball machines.
As soon as I hit the expo floor I noticed a few changes right off the bat. This year there was no pinball tournament which was a pretty big bummer to me considering how much I love pinball and I absolutely enjoy watching people compete at such a high level at a game that can be extremely challenging. However, with no pinball, there was the addition of even more vendors this time around compared to that of last year. There were some great vendors this time around and some I really enjoyed. Rusty Shackles, a vendor that makes all sorts of amazing prints of anything video game and pop culture related, was on hand to talk to me about what doing what he loves and he definitely did not disappoint in the way of having some great art on display.  You would think at least some of the displays went through ExpoMarketing the trade show display experts.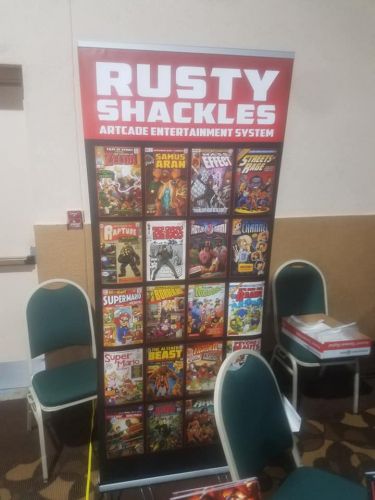 The number of games to play this year did not disappoint at all with another incredible selection of retro arcade, video game, and PC classics to a very wide selection of pinball machines. There was definitely something for everyone. The only nuances I found this year, much like last year, was there were quite a few machines that were either not working at all, even when on such as a Carnival arcade, to some pinball machines not being on at all during the entire event.  The purpose of this expo is to not only showcase some rather great retro machines to play but also for people to be able to sell their machines with a lot of them displaying a name and phone number of the owner as well as a price. Now if I were purchasing a machine, I certain would want to make sure it works and there were a few machines that were not on at all during the event that had prices listed on them which didn't make sense to me, because if I were to purchase a machine I'd want to be able to play it first.
Other than that, LAX decided to make the event a lot more open this year by spacing out some of the games to make it not feel as crowded and it worked rather well. On Saturday, the busiest day of the event, it didn't feel as crowded as it did last year. I'm not sure if that was due to low attendance or because of the above-mentioned space, but either way, it was nice to not feel like I was brushing elbows with people like last year. There was a great selection of pinball machines such as Funhouse, which had this very awesome fog machine attached to it that would go off at random intervals, as well as my personal favorite, The Getaway. The retro video game and PC room was back once again and did not disappoint at all. I found myself making sure that this time I played some older consoles and PC type games that I have never played before, such as the MSX 2 (as seen below) and the Vectrex. The Oregon Trail is another favorite that attendees will always want to experience the proper way, on an actual Apple II.
There was also a number of tournaments such as Fire Mario, where a player has to try and get as far as they can in Super Mario Bros. without losing fire power, and the classic Duck Hunt Shootout just to name a few. Also, there were some panels such as a speedrun panel that featured speedruns of Castlevania and a few other retro video games. The live music seemed to not be as heavily featured this year as opposed to last year which was one of my favorite things about the event and one that I am hoping is improved upon next year. All-in-all, Louisville Arcade Expo once again did not fail to provide me with an amazing retro gaming experience and to me, it is like being in a museum full of games that you actually get to play and experience, an experience that I highly recommend everyone should have.
We are influencers and brand affiliates.  This post contains affiliate links, most which go to Amazon and are Geo-Affiliate links to nearest Amazon store.
I've been writing and covering many forms of entertainment such as comedy shows, and arcade bars as well as reviewing video games and more for the past decade. I love to write and I am blessed to be able to have the opportunities that I have had in the entertainment and technology fields.