We are influencers and brand affiliates.  This post contains affiliate links, most which go to Amazon and are Geo-Affiliate links to nearest Amazon store.
HBO's Game of Thrones and Prime Video's Good Omens Attract Thousands On-Site at Conference and Interactive Festival
Steve Winter talked to "Good Omens" crew members at the South by Southwest festival ahead of the show's premiere.
Pretty much everybody these days is using virtual reality either as an end product, in and of itself, or as an enhancement to augment their promotion of an emerging product or service; but at South by Southwest earlier this month, virtual reality took on a whole new meaning.
All throughout Austin, several entities and organizations created entire new worlds, virtually creating a complete "new reality" through which to showcase – in most instances – entertainment properties.
Last year, the installation company Giant Spoon, transformed three acres of land outside Austin into the town of Sweetwater from the popular HBO television series Westworld. In that town, visitors could interact with dozens of actors portraying characters from the series in scenarios virtually identical to that on the show.
"We essentially recreated Westworld 30 minutes outside of Austin, Texas," said Adam Wiese, Giant Spoon's VP of Strategy. "We had 60 actors working off a 144-page script so as the visitors arrived, they stepped off the actual train from Westworld into Sweetwater. We created 16 different structures and the opportunity to go to the Mariposa saloon, have a drink at the Coronado Hotel, write a post card at the post office and ultimately just to have a face-to-face interaction with all of the actors."
The motivation behind this approach, Wiese said, was to create highly personalized touch-points between the fans and the brand. "When we designed the park, we wanted to do two things," Wiese said. "If you're a fan of the show and you've seen Westworld and you love Westworld, you can come into the park and essentially learn more about season two, so there are different clues and Easter Eggs planted throughout that give a hint to what might potentially be coming in the next season. But also, if you're someone who has never seen Westworld, you can still come into this, you understand some of the tropes of Western towns and how you can interact.
"We had so many people who came and said, 'you know I've never seen Westworld before, but I am going to watch it right away.' It was such an unbelievable introduction to the show for those who have never seen it before."
So, what do you for an encore?
Well, this year Giant Spoon took its talents to Westeros, recreating the Kings Landing castle along with a feudal village environment from Game of Thrones. With the final half season of George R. R. Martin's Song of Fire and Ice adaptation about to air in the coming weeks, a visit to the Seven Kingdoms was perhaps the largest single attraction this year in Austin.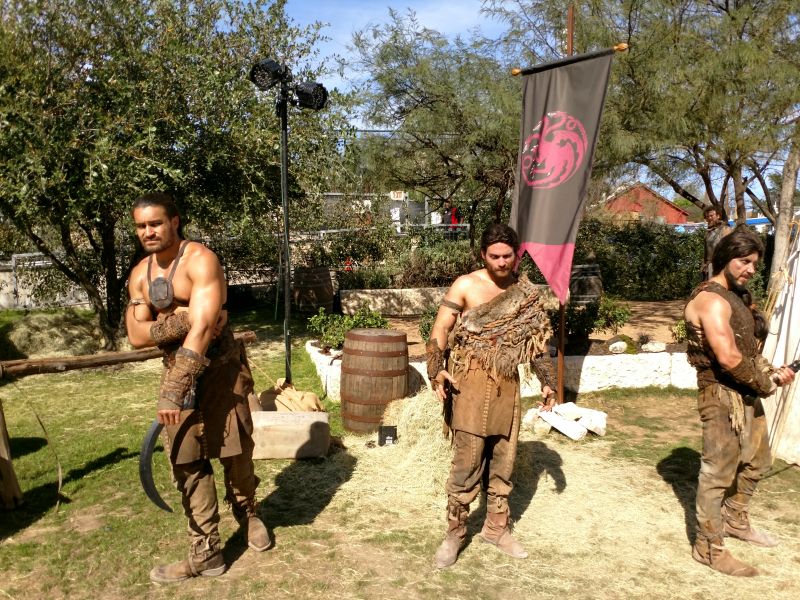 And once in Westeros, there was really no escaping.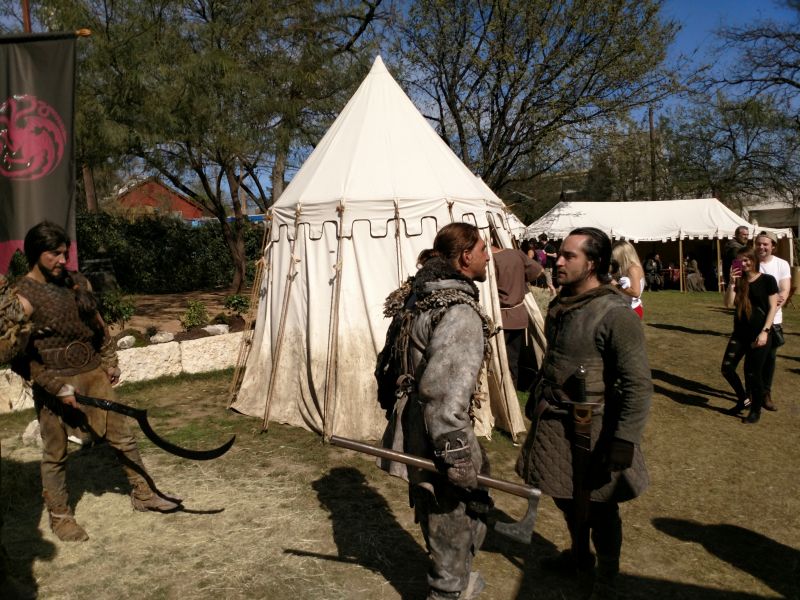 "Who are you loyal to?" asked a fierce looking warrior who drew his sword when the guest was slow to answer. He then asked the visitor to identify the King of the North and ultimately appeared satisfied when the guest recalled Robb Stark as the prior king and Jon Snow as the present ruler. But when the soldier accused the visitor of being a Lannister on account of his tunic color, only quick thinking by the guest, positioning himself as a spy for the North, seemed to satisfy the guardsman.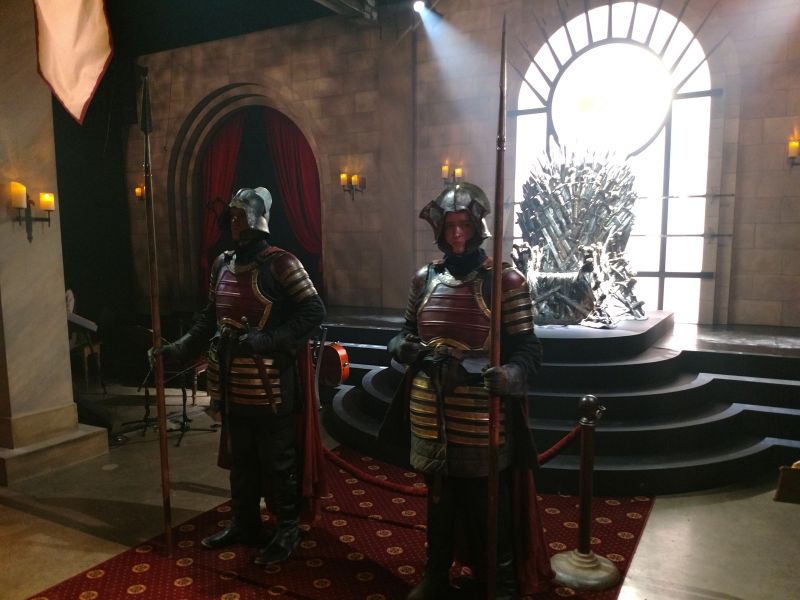 Talk about a narrow escape!
But HBO was not the only media platform to whisk visitors off to a whole new environment. Later this spring, Prime Video will air an eight-part series call Good Omens, based by the 1990 novel, Good Omens: The Nice and Accurate Prophecies of Agnes Nutter, Witch, co-authored by Terry Pratchett and Neil Gaiman. At South by Southwest, Amazon Prime created a full-city-block-long installation featuring sets, scenarios, imagery, and yes virtual reality adaptations, of the upcoming show.  A comedic collaboration between the right-hand men to God and the Devil, the show's protagonists must work together to defuse the coming apocalypse. Throughout the installation both characters, the angel Aziraphale and his demon counterpart Crowley, were featured prominently interacting with guests in mock scenarios.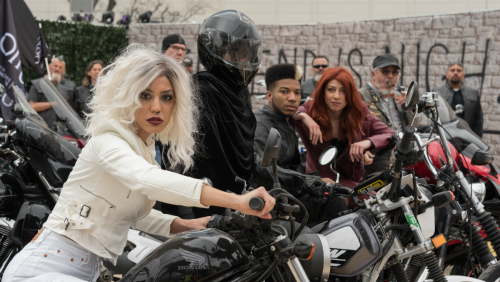 AUSTIN, TX – MARCH 08: Amazon Prime Video's 'Good Omens Garden of Earthly Delights' activation during the 2019 SXSW Conference and Festivals on March 8, 2019 in Austin, Texas. (Photo Courtesy of Amazon Prime Video)
Podcasts also had a hand in delivering new forms of reality. In a retrofitted restaurant, Audible and Broadway Video recreated the medieval Night Realm Tavern, complete with signature cocktails and giant turkey legs, to promote their audio podcast Heads Will Roll, starring Meryl Streep, Peter Dinklage, Tim Gunn, Kate McKinnon and Emily Lynne. There was certainly no hesitation by the guests, even those who were held captive within the stocks, especially while holding a tequila laced cocktail in their hands.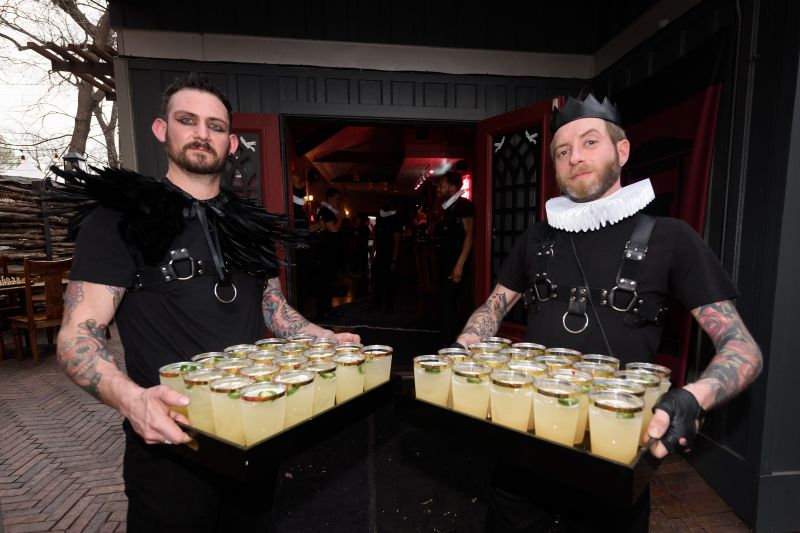 Do these installations accomplish their objectives?
"Absolutely," said Heather Mahoney of Rockville, MD, who visited the Good Omens showcase on Rainey Street. "In many respects it's like being in an adult amusement park. For 20 to 30 minutes you forget where you are and get to immerse yourself in an entirely different world where, if you are a fan of that particular show, you would really love to be.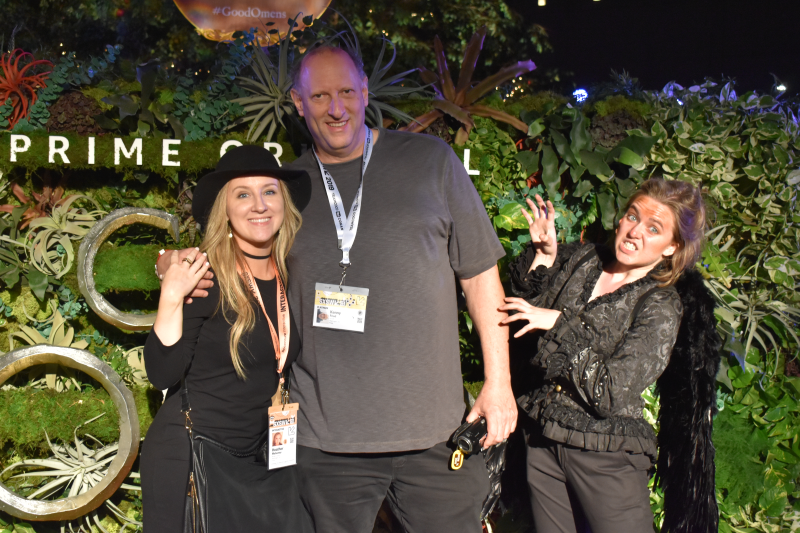 AUSTIN, TX – MARCH 08: Heather Mahoney checking out Amazon Prime Video's 'Good Omens Garden of Earthly Delights' activation during the 2019 SXSW Conference and Festival in Austin, Texas. (Photo by Travis P Ball/Getty Images for SXSW)
"Personally, I can't wait until Good Omens comes out."
For the thousands of visitors who joined Mahoney at the various virtual recreated worlds, they no doubt agree.
We are influencers and brand affiliates.  This post contains affiliate links, most which go to Amazon and are Geo-Affiliate links to nearest Amazon store.
This is the Dragon Blogger Guest Bloggers account for author's who want to submit articles and only have credit in the post instead of having to manage their own WordPress profile.