We are influencers and brand affiliates.  This post contains affiliate links, most which go to Amazon and are Geo-Affiliate links to nearest Amazon store.
The 1st AI Smart Exercise Bike producing a Revolutionary Workout Experience
Exercise from home is the new trend that is taking over the world. The whole concept of living a healthy life has been shifted from the gyms and health clubs to our very own homes. You no longer need to travel to a gym or health club to exercise. All you need is to buy an exercise bike for your home and you can stay fit by doing easy workouts right there in your room every single day of the week.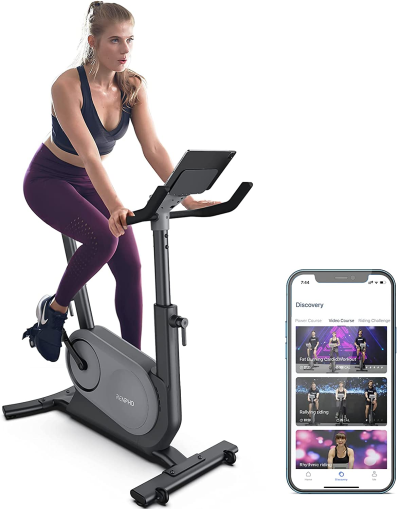 Unlike professional gyms, home gyms have no problem with crowded spaces. You have a room full of space and direct access to your workout equipment. This is also because gyms usually have members who use the equipment or go for working out sporadically. At home, you don't have to deal with this because you can find enough time for yourself for exercising. A smart example is the new RENPHO AI smart exercise bike which we will be discussing its features in this article.
With thousands of people looking to get fit every day, the new RENPHO AI smart exercise bike has emerged at the right time. This unique AI exercise bike has been manufactured to provide you the kind of comfort and privacy you crave in your home with intelligent technologies aimed to help you make your exercise more efficient and accurate, helping you achieve your workout goals every day.
About RENPHO
Located in a part of Spain (Dènia), RENPHO Limited is one of the best-rated companies in the world. With a focus on electronic shopping and mail-order houses, RENPHO has aspired to make smart and healthy living accessible to everyone and has created an ecosystem of being the number one best-selling Amazon health and wellness product that is adored by millions of people across the globe.
Features of the New AI Smart Exercise Bikes
With a weekly training program tailored for you, one of the benefits of having the new RENPHO AI smart exercise bike is that it allows you to work through your exercise routine at your own pace. With all the guides and tips outlined for you to follow, it gives you all the whole time in the world to progress according to your preferences and pace.
The RENPHO AI smart exercise bike comes with exclusive AI-powered features that help you get fit anytime while connecting and sharing your fitness journey with thousands of users across the world. The bike tracks your progress and directs you through a custom workout that caters specifically to your needs based on your goals, fitness level, and previous activity. Once finished with your workout, you can share it with other users or keep it private. You can also connect with others who share your interests or goals.
Imagine having to attend premium classes without having to lose sweat over a long walk or ride to health clubs? The video coaching feature added to the new AI exercise bike allows you to be trained by the best of the best Les Mills professional trainers around. Be it fat burning, steep hills with intensified leg jump, rides for a thrilling cardio burst, whether you are leisurely looking for a scenic ride, the new smart exercise bike ticks all the boxes for the best it can give.
Dynamic Digital Auto-Resistance Preferences
The new RENPHO smart exercise bike has a knob-styled feature coupled with an 80-step fluid that digitally passes commands on resistance. This helps by automatically adjusting your resistance in line with the trainer's guides as it has been programmed to follow digital instructions rather than manual commands.
Enhanced Bluetooth connectivity.
Be on the go with the best cycling apps. The RENPHO AI exercise bike allows you to connect with other great cycling apps like Kinomap, Peloton, Strava, Zwift, Map My Ride, and others as you enjoy your ride.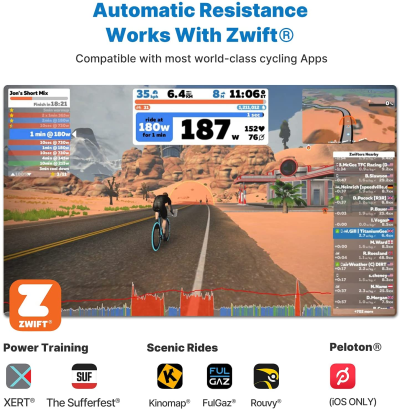 Smart Motor Damping Technology
No more creaks and clangs during exercise. Unlike other exercise bikes, the RENPHO AI exercise bike comes with the exclusive technicality of a permanent magnet brushless servo motor, which provides both self-adjusting and auto-adjusting resistance as you ride. What does this mean? It means you won't have to wake the whole household up, even at night, as the smart AI bike is awesomely smooth and quiet.
The AI smart exercise bike is so special because you can change the pedals to fit your own feet and pattern of riding. With more power than other AI exercise bikes, It allows you to ride faster. The new AI smart exercise bike comes with subtle pedals that let you adjust the pedal distance and height, and choose between Look Deltas or toe cages to protect your feet.
The smart exercise bike comes with a more comfortable seat, extra comfy. It's 10 inches long, 8 inches wide, and 3 inches high. You get a different feeling. The cushions embedded in the seat saddles make you feel relaxed as you ride.
The RENPHO AI smart exercise bike is a household exercise bike suitable for everyone in the family. It comes with a saddle that fits people of all sizes by changing the height and distance.
Transport Wheels and Stabilizer Feet
This particular feature of the new RENPHO AI smart exercise bike makes it easier to move around than most other exercise bikes. This part is useful because it prevents it from shaking.
It comes with a smart USB port around the bottom of the handlebar. You can charge your smartphone while you ride, enjoying your workout with cool music.
Pairable with the Apple Watch Heart Rate Monitor
If there is anything to cap the exquisitiveness of the new AI smart exercise bike, this is it. This feature lets you connect your smart bike with an Apple Watch heart rate monitor to use in monitoring your heart rate during workouts. You can use your real-time heart rate to understand and optimize your cadence during a training course. The best part is that you can also use your smart bike with this app to measure how hard you are working out. This helps you get more fit and stay in shape.
The new RENPHO AI Smart Exercise bike is a must-have. It proves beyond your money's worth.
We are influencers and brand affiliates.  This post contains affiliate links, most which go to Amazon and are Geo-Affiliate links to nearest Amazon store.
My name is Alice and I have been into gaming since I first got the Nintendo 64 in late 1996 and enjoy writing about all things relating to entertainment, gaming and streaming. Lately you can find me playing mostly MMO's like WoW, FFXIV or Black Desert Online when I have time to game.