Tired of faults in the Windows Command Prompt , then you are gonna like this software very much especially  if you are programmer . How many command prompts do you open up when you are coding? For me it's many around 6-7 , even while using IDE ' s  there is a real need for them for debugging and other stuff.
Keeping in mind the short comings of the traditional windows command prompt , a new command prompt , nicked Console2 has been created . It is FOSS (Free and open source software ) so it is free to use and a lot of professional companies like Rapid7 already use it in their products because of it's versatility.
Features
It is incredibly small just under 1MB.
It works with Cygwin bash , Ruby interpreter and nearly all the used compilers and interpreters.
Tabbed mode ( you can open different shells in each tab ).
Highly customisable , you can change everything from Colour ,Font used to the directory in which it starts !
Supports tranparencies  so you have a cool bash like in Linux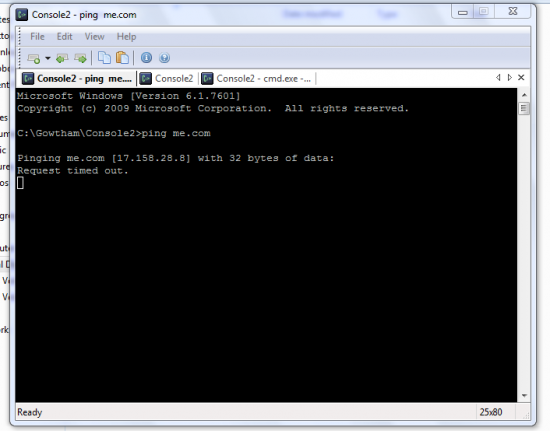 You can see that I have opened up many tabs and I can switch from one to another easily.You can also add custom tabs by going to Edit > Settings .
Have any funky ways of using Console 2?
Share how you use Console 2 to make your life easier with us.
[easyazon_block asin="157231995X"]