We are influencers and brand affiliates.  This post contains affiliate links, most which go to Amazon and are Geo-Affiliate links to nearest Amazon store.
I was pretty excited when I got this package in the mail  because I had heard some good things about the Tesoro Gandiva gaming mouse. Right off the bat I was hypnotized by the box. The Large printed name in a fine design with the picture of the mouse right on the front as you can see below.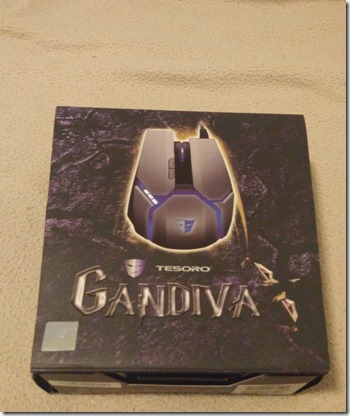 Then you flip it open,  you get a glimpse the user interface software picture on the inner flap. Then as you look down you see the mouse you get to work with which looks like something out of a Tron movie or a futuristic tank to which I love.
As you look around on this well thought out box you see that the mouse can change LED colors on it. Then on the top of the flap you realize there is a story of how the mouse got it name which is way cool.  Most companies don't bother giving you insights on how they come up with the product names.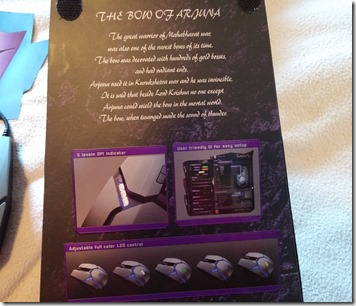 THE BOW OF ARJUNA
Gandiva, the bow of Arjuna, the great warrior of Mahabharat war, was also one of the rarest bows of its time. The bow was decorated with hundreds of gold bosses, and had radiant ends. Arjuna used it in Kurukshetra war and he was invincible. It is said that beside Lord Krishna no one except Arjuna could wield the bow in the mortal world. The bow, when twanged made the sound of thunder.
Like I said a great little tid bit of how it was named they thought this one through  that is for sure
SPECS  & FEATURES
8200 DPI Gaming Laser Sensor with high speed motion detection and acceleration
8 independent programmable buttons
Adjustable 5 levels dpi control. 800/1800(Default)/4000/6400/8200
Adjustable polling rate control from user AP up to 1000Hz ultra-polling rate
Adjustable liftoff distance tracking technology
User friendly UI for easy setup
5 programmable mapping sets, with full color LED indication
40 macro keys, up to 1600 actions recordable
128Kb onboard memory
Human ergonomic design with tuning weight-in system
Adjustable full color LED control
PP. braided cable with gold-plated USB connector
Compatible with Windows® XP/Vista/7/8
TECHNICAL SPECIFICATION
5 Mapping/40 Macros/Game Script Setting
128KB Memory
8200 dpi
Full Colors LED Illumination
1000Hz Polling Rate
DIMENSIONS & WEIGHT
11.6x 7.2 x 4.4 cm
Net weight: 0.135 Kg
Watch my Unboxing and Review of the Tesoro Gandiva Laser Gaming Mouse Here!
Now you can see in these next few pictures the contents of the box and the mouse it self.
Now as you can see in these next few pictures you can see the lighting and Tesoro logo that lights  up this beautiful Mouse.
Now  I bet you want to get down to the steak and potatoes of this review which is on how this mouse feels and works. Well simply put the fell took me a few days to get use to. Now if this is your first gaming mouse it does get better as you use it. This will take some time for the fit to get use to that is for sure. The functionality of this mouse is great with the macros and the separate settings for the DPI. The coloring is nice too, I just wish when changing through the colors it changed more then just the scroll button and the logo but hey I'm picky when it comes down to looks when matching my PC.
I went and played some Watch Dogs, Neverwinter, Hearthstone, and a little bit of Darksiders 2 with this mouse. I will say they all worked well when setting macros except Watch dogs which I guess I just prefer a controller with that game.  The Gandiva delivers what is says it will a great gaming mouse for  most games that for sure. Would I buy other products for Tesoro? I sure would based on this great product thus far.
Now let's show you what the user inter face looks like. As you can see you have many options and 5 mapping settings to save to which is a nice touch.  Each button has it own function which can be switched at any time to a new function.You get a color chart to change your logo and scroll wheel. You can also adjust your shooting speed which is something I wasn't expecting to come with this mouse.  It makes for some fun times on long killing sprees that's for sure. I know a lot of you will love  that feature.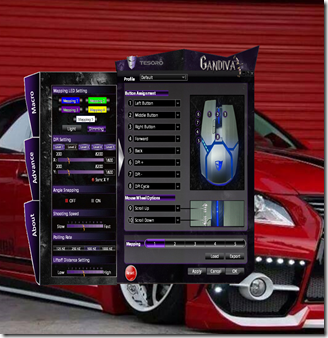 Now you can pick this up for around $50 plus shipping but I'm sure one certain days you can find shipping free. For this price you cant go wrong with this gaming mouse. If you a first time buyer of  a gaming mouse this is a nice addition to add to your arsenal.
I give this  mouse a solid four and  half stars. A nice 4 stars for fit, function, and  ease of use. A half star for  the changing of led lights would have went higher a little but  like I said you can only change part of the lights which is a draw back for the people who want to match there themes of there systems like me. All and all a great  mouse from Tesoro that is for sure.
We are influencers and brand affiliates.  This post contains affiliate links, most which go to Amazon and are Geo-Affiliate links to nearest Amazon store.
Hi everyone I'm James Braga. I was born in Oregon and moved to New Hampshire a few years back. I love most things that have to do with video games and electronics, It doesn't matter if it for a car or a house, if it has electricity in it i will love it . I'm also in school for Information Systems Technology.