I have enjoyed comic books and adaptations for years and now that I have two sons myself we enjoy delving into the worlds of DC and Marvel every now and again and being entertained with Superheroes fighting villains in grand style.  To this day even cartoon comic based movies are still quite entertaining and a good story and decent voice work can prove that you don't need live actors and a two hundred million dollar budget to make an entertaining film.  Justice League was one of my favorite all time collage of heroes and includes Superman who is my all time favorite superhero as the lead of a squad of superheroes bent on assisting the planet vs. the many villains that arise.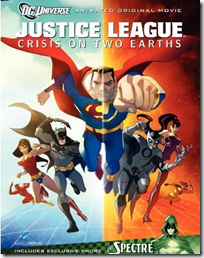 The original and core Justice League members are Superman, Batman, Wonder Woman, The Martian Manhunter, Green Lantern and the Flash.  The movie Justice League: Crisis on Two Earths tells the tale of a parallel Earth where Lex Luthor was the leader of this alternate world's Justice League which was decimated by a crime syndicate lead by their worlds Superman equivalent known as Ultra Man.  Each superhero has an equivalent who is just as powerful and when Lex Luthor escapes to our regular Justice League dimension to ask for help the Justice League cannot refuse to lend aid.
The story is not unique if you are a Sci-Fi and Comic Book fan, you would have seen variations of the story of parallel dimensions with each choice leading to a new dimension being created.  It is however entertaining and for most of the comic book movies lately has less violence and blood than some of the other films like Hulk Planet.
If you are a DC Comic book fan or enjoy watching superhero flicks, then Justice League: Crisis on Two Earths will keep you engaged.  James Woods plays the voice of Owl Man the evil equivalent of batman who is hell bent on destroying all life as we know it.  William Baldwin does a good job as the dark voice of Batman, with Mark Harmon playing the voice of Superman.
The creative story and engagement of the characters was enjoyable and I thought this movie was one of the better recent Warner Bros DC Comic based movies.  Dragon Blogger gives Justice League: Crisis on Two Earths 3.5 out of 5 stars.
-Dragon Blogger