Few things beat having a fresh smoothie at work, and the Riiai blender helps make that experience even better. A blender and a vacuum seem like an unlikely combination, but it works. The point of the vacuum is to remove the oxygen from the container, giving the smoothie the chance to stay fresher longer.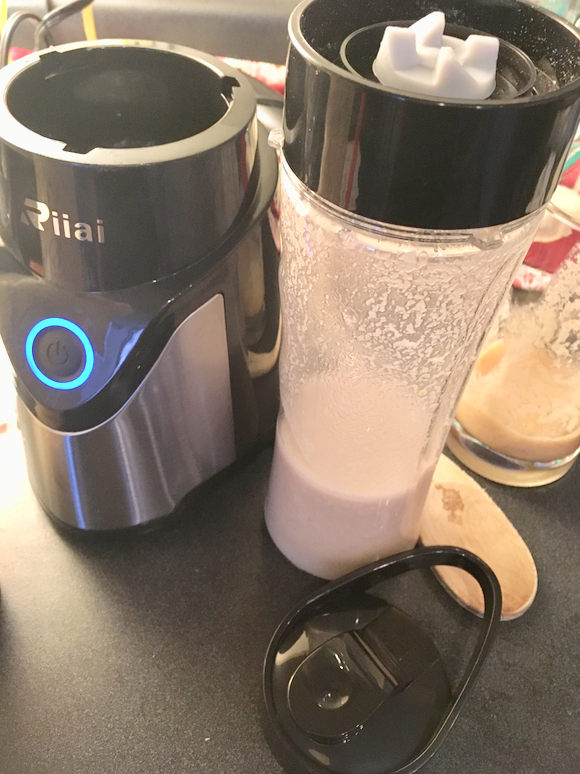 Using the Riiai blender
When you first set up the Riiai blender, you choose which container you want to blend in. There's the regular blender, a regular to-go cup, and a cup with the vacuum. The plastic to-go cups are BPA free. It's easy to use since there is only one main button that you can hold for up to 2 minutes to blend everything. I had some struggles getting everything to blend, even with the blade specifically made for apples, so be sure to chop everything into smaller pieces.
The vacuum
When you first set up the vacuum, you have to make sure it's pushed in and secured or else it won't completely suction. My first attempt didn't work, but I realized that it's essential to make sure the cup is completely closed. Make it really tight on the top and the bottom so the suction is perfect. The vacuum plugs into a USB, so be sure to have one nearby. I thought that was interesting since there aren't always USB outlets in a kitchen, but it wasn't a big deal to bring one over.
Oxidation
You know how when you cut open an avocado and by the end of the day the half you didn't use is brown? That's oxidation. It happens when oxygens interacts with fruits and veggies and it speeds up the ripening. When you use the Riiai vacuum, it keeps your drink vacuum sealed until you're ready to drink it. So when you blend it and go to work, when you open it there it will be completely fresh.
Cleaning
One of the best parts of the Riiai blender is that everything comes apart and cleaning is easier than any of the other blenders I've used. You simply undo everything and wash and dry it.
Here are the specs:
Model: BL-15
Rated Voltage: 100-120V,60Hz
Rated Power: 500W
Wide Mouth Blender:85mm
Package Weight:2.08KG
Package Size:440*180*230mm
I received this product at a discount for the purposes of testing it and reviewing it.  All opinions expressed are truthful and 100% my own.