We are influencers and brand affiliates.  This post contains affiliate links, most which go to Amazon and are Geo-Affiliate links to nearest Amazon store.
What Etekcity advertises with the RoverBeats T3 Bluetooth Wireless Speaker is: 7hrs/charge, 30ft Bluetooth range, Mini, Mobile & Rechargeable with Enhanced Bass Resonator, 3.5mm audio jack, carry bag and it works with any Bluetooth enabled device: iPhone, iPad, iPod, Android, etc…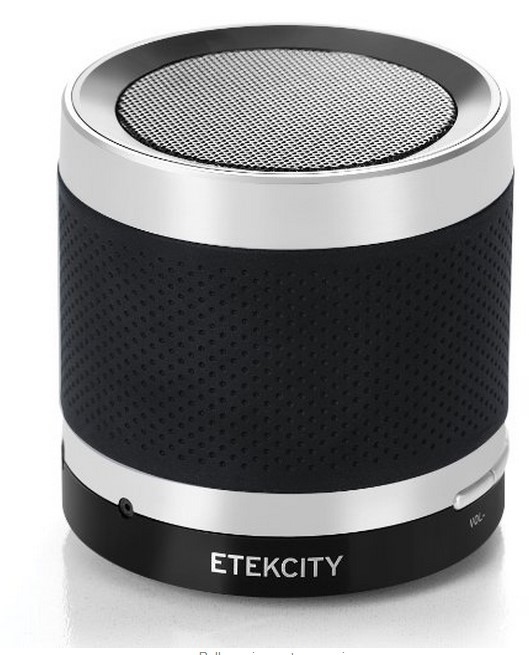 The Roverbeats T3 showed up on the door step ready just waiting to be used, and I took some time to read the instructions first.
Unboxing the Roverbeat T3s
The packaging is small and compact as would be expected for a small device such as this Blue
Inside the box I found the RoverBeats T3 plus:
A little carrying case

A mini USB cable, not micro, but also not proprietary, but a little strange.

An aux cable for plugging in you phone or table into the RoverBeat T3, nice little addition.

Instructions booklet.
The RoverBeats T3 is compact and pretty sleek looking.  I like the black and silver coloring of the device.   It is light and ready to be thrown into a back pack to carry around in its little case with no fear of getting scratched up.  I have to admit if I am putting something into a bag where other objects are I like having a case for it to keep it from scratching or rubbing against something else.  I like to keep my gadgets in the best shape possible.  Sometimes the ability to keep a device in good shape is the difference in my wife allowing me to spend some money on the next version or not.  Keeping it in shape helps if choosing to release, sell or donate at a later date as well.  As I mentioned the RoverBeats T3 Bluetooth Speaker is compact, so it is not a desk hog if that is where you want to place it.  With Bluetooth you have the flexibility to put it almost anywhere in the room you are in and wanting to listen to your music or a podcast.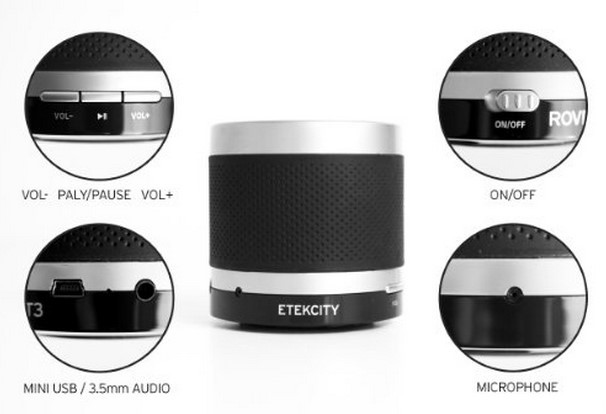 Devices I will be testing the RoverBeats with:
Samsung Galaxy S3 (wife's phone, temporarily replacing her little HMDX Jam Plus she uses around the house)
Apple IPhone 5s
Nexus 7 (2013)
Samsung Galaxy S3 with RoverBeats T3
As a quick test I had my wife use her phone with the RoverBeats T3 via Bluetooth.  Being that she has a little Bluetooth speaker already this was pretty straight forward for her.  It paired fairly quickly but it took 2 attempts to connect and start streaming music.  She usually streams Pandora on some random Country station or today's current music favorites.  We compared it to her little Jam Plus and we both agreed the RoverBeats T3 was crisper and cleaner sounding.   The range was right about 25 to 30 ft and with a wall or two in the way you lose a couple feet which is to be expected.  There were some random drops that I couldn't determine if it is was distance related or not.  The drops seem to happen at about 20-25 ft and then  still at about 10 ft.  The dropping was fairly random even when the speaker was left in one spot.  One addition I was a little excited about was the microphone function.  But unfortunately I was a little disappointed after testing it out.
So while listening to music a call comes in and the music stops and the speaker rings, not the ringtone of the phone but an audible indication.  You can then hit the play/pause button on the speaker to answer the call.  On the speaker things sound fine, you can hear the caller clearly.  On the other end the person using the speaker as a microphone sound distant, almost in a tunnel like and choppy.  At first I thought does not apparently have a very good microphone and certainly lacks the ability to filter out background sounds.
iPhone 5 Test with RoverBeats T3
This may have been due to me doing it VS. the wife, (hope she doesn't read this) but the iPhone paired right away and connected.   As with the Galaxy S3 the sound was pretty good.  Pretty crisp and clear.  I did not have the odd drop outs we saw with the S3 so the Bluetooth may be stronger with the iPhone itself or there could be another factor why there were some intermittent drops with the Samsung Galaxy S3.   Distance was as expected, good to around 25 or 30 feet depending on what was in between the speaker and the phone.  Even the speaker phone function worked a lot better than it did with the Samsung Galaxy S3.  I could hear the caller very well and the caller could here me.  You do need to be a little close to the speaker, about within 12 inches, but it didn't feel uncomfortable.  The ringtone also played through when the phone rang.   All in all the interaction with the iPhone made me feel better about the speaker.  This made me think that maybe the Bluetooth on the Samsung Galaxy S3 isn't as good as the iPhone 5S, so I wanted to test with another Android device.
Nexus 7 2013 Test with RoverBeats T3
There is not a whole lot I can add from what I have said about the S3 and the Iphone 5s.  The Nexus paired up pretty quickly and connected.  Music was also clear and crisp.  The bass isn't going to please those that really love the heavy boom but I danced around feeling the music whether it was R&B, rock or rap.  I did also use the provided AUX cable.  Music was pretty good, it seemed a little different than the Bluetooth but not a huge difference.  Maybe the cable provided.  I tried another aux cable and it seemed a little better but again I preferred the Bluetooth stream overall.
The battery on this thing is good.  I got it Wednesday and me and the wife have been playing with it on and off since.  Music, Podcasts, YouTube and even a TV show I watched on my tablet all sounded good.  I even used it instead of the iPhone dock speaker (old school use an aux cable to connect the Nexus) I have in the bathroom for showers and it was louder and clearer.  I would guess we have 5 hours on it now and is is still playing without issue.  I foresee 6-7 hours of stream time no problem.
So the appearance is good, the sound is good, the buttons do as advertised.  It is compact and easily thrown into a bag or even a purse.  For a device you can get for $28.99 on Amazon it is well worth it.  My wife's little Bluetooth speaker cost more with less peripherals/cables and not speaker phone ability. So for the RoverBeats T3 by Etekcity I am going to give it 3.5 stars.  for the price it does the job and it does it pretty well.  I do wish the microphone/speaker phone was consistent on both phones I tested it with, which may not be the devices fault but that is the biggest ding I have.   I would like a little more bass for some music but what I did hear was doable and certainly at the price a customer wouldn't be disappointed in my opinion.
We are influencers and brand affiliates.  This post contains affiliate links, most which go to Amazon and are Geo-Affiliate links to nearest Amazon store.
I am just a geek getting older but keeping up.