Earlier this year Samsung released it's newest flagship, the Galaxy S6 and the S6 Edge.  According to Samsung tradition, now is the time to start preparing for the newest additions in the Note lineup, that is, for the Galaxy Note 5 and presumably the Galaxy Note 5 Edge. Here are all the rumors so far collected, most of these are probably true but still treat them like rumors and take them with a grain of salt. Let's get started.
The Design
As already stated, it is most likely that the Note lineup will follow the S lineup and release two 'Phablets'. Also, along with getting two versions (Non Edge + Edge) it is also likely that we'll be getting a glass and metal body, again like the current flagship (The S6). The Smartphone is rumored to be 7.9mm thin which is quite sufficient considering the large battery Samsung adds in the Note series. As far as connectors go, the Note 5 is rumored to be the first smartphone to ship with the new USB Type C connector for charging and basically everything else. Other than the ability to plug the connector any side up, it will allow for smooth 4K streaming and high speed charging. Finally, the Note 5 is rumored to be equipped with a new S-Pen (stylus) eject mechanism. According to the sources, this mechanism will allow the phone to automatically eject the stylus after receiving a gesture or a voice command.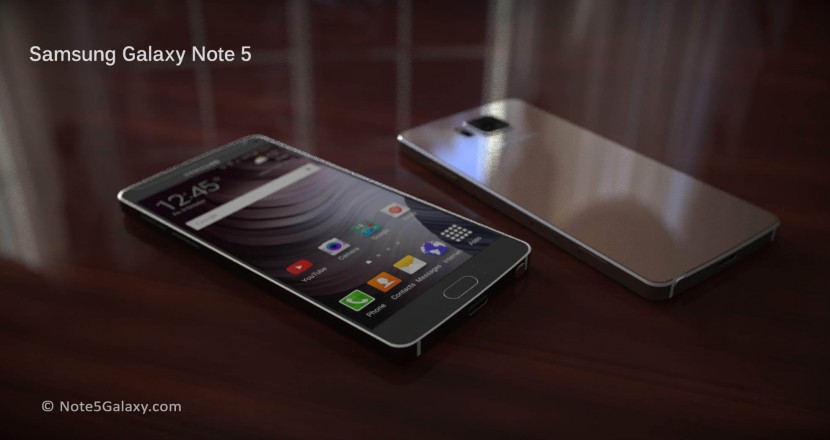 The Display
The biggest and most prominent rumor sticking with the Note 5 is that this smartphone will become the first ever commercially available 4K smartphone. However, this is most likely false due for a few reasons. Firstly, most of the market is still running with 1080p let alone 4K. Secondly, 4K will is hard for Samsung to do along with a curved and AMOLED screens. A more sensible rumors to follow is that the Note 5 will boast a 2K (2160 x 3840) super AMOLED display.
The Inner Hardware
Rumors say that the Note 5 will be running on an Exynos 7422 chipset. Which will enable the phone to physically have more room under the hood due to the small but powerful chip. More room means a larger battery. We're suspecting a 4100 mAh battery. Along with this the smartphone might have 3GB or perhaps more RAM and various internal storage options. The Camera is rumored to be a 16 mp back and an 8 mp front camera, though these are not confirmed.