We are influencers and brand affiliates.  This post contains affiliate links, most which go to Amazon and are Geo-Affiliate links to nearest Amazon store.
This review is going to cover the Sharkk 2O Bluetooth Waterproof Speaker. I will cover what comes with it, what you can expect straight out of the box and my thoughts on it. I would like to note ahead of time that I did not test the waterproof aspect of this speaker, seeing as I didn't want to run the risk of damaging it. I'll just take their word for it that it can get some water on it and it still function properly. I will say, however, I was not going into this review expecting much. There are so many speakers out there today. There are literally hundreds of bluetooth speakers and I'm sure just as many waterproof speakers. I'm really glad that, at least in my opinion, this little speaker stood out from some of the others I've tested.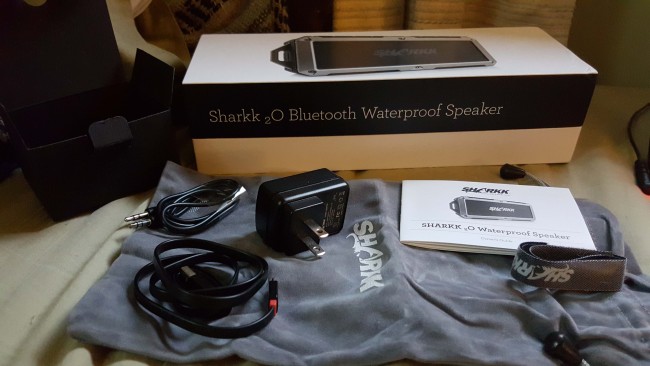 First, lets get into what comes with it. Upon opening up the box you see the speaker, and underneath is the owner's guide. There's a little black box next to it that contains one Velcro carrying strap, custom storage bag, USB charging cable, AUX cable and a power adapter. The cords for the two cables are of very nice quality and the carrying bag isn't that bad either. Second, let's go over what you can expect right out of the box. The speaker is basically ready to go as soon as you remove it. The battery is at least 60% and all you need to do is turn on the Bluetooth on your device. My Samsung Galaxy S6 Edge picked it up immediately and the pairing took under ten seconds. While I was expecting the USB cable and the power adapter to be there, I really like the addition of the AUX cable. It adds a little versatility to the product, allowing you to connect it to other devices.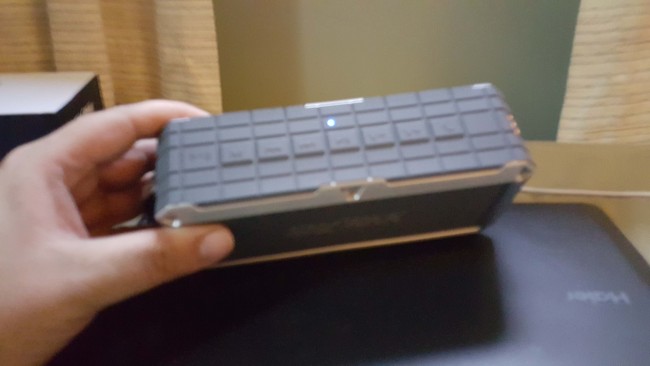 The Sharkk 2O speaker also comes with a surprise. It has a SD card slot to play songs right from the card. Everything you need, navigation wise, is right on the top 0r on the side of the speaker. It also includes a phone button so you can take calls if your hands are tied up, or soaking wet. It feels very well built, with a nice rubber material surrounding it and plastic edges. It's a very simplistic design, with a little carrying hook for the strap. You can tell a lot of time went into the actual product instead of trying to make it look cool. The battery also holds its charge for a very long time, longer that I actually expected. I'll let you know when I really need to charge it from 0 to 100.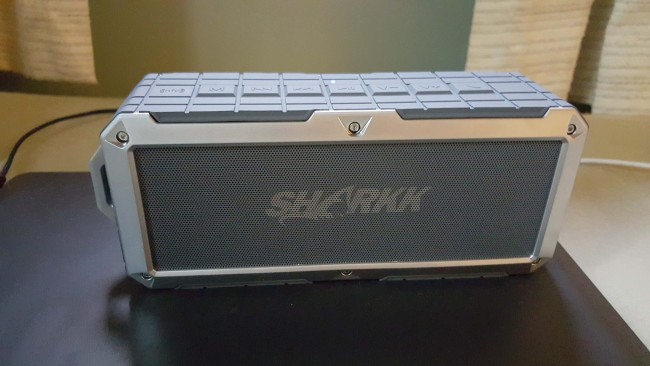 Upon turning on the music on my phone, I immediately noticed this speaker had some kick. The sound was crisp, the bass was on point and didn't sound too muffled. It wasn't until I really turned it up that it started to get a little muffled and it lost it's sharpness. That isn't really the biggest deal because that basically holds back any portable Bluetooth speaker. It's just not made to stand that volume level for an extended period of time. This is definitely a very nice package, when everything is said and done. The packaging is sturdy, which I think shows the company cares about their product and not just about making a quick buck. The cables are good quality and the rest of the items are also very nice. I really cannot say enough good things about this speaker. Outside of it not being able to handle the loudest music, there's nothing I don't like about it. Add in the very reasonable price and this is a portable speaker that will make a great addition or a great gift!
We are influencers and brand affiliates.  This post contains affiliate links, most which go to Amazon and are Geo-Affiliate links to nearest Amazon store.
I'm 28 and currently living in upstate New York. I'm an amateur review writer, mostly for movies, and I'm looking to take it to the next level.