Gaming has greatly evolved over the years and we have various ways now to enjoy the way we play games. From gaming consoles to PCs and even tabletop games. There are also new ways in which we can play games to entertain ourselves. Let me introduce you to the Mekamon Berserker V2 Gaming Robot, a robot that is capable of playing games with you by using Augmented Reality among other very interesting features that you can play with the robot. The Emotion Studio that is one feature of the Berserker V2 that allows you to give your robot its own unique movements making your robot truly your own. This robot also has its own little personality and is able to live and play alongside you. It will even react to being touched which I find quite interesting.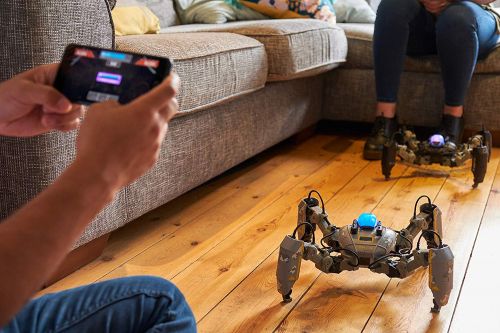 One program is called ReachEdu, which gives you a coding experience unlike any other. Create anything your imagination will allow in MekaCode, a Scratch-based block programming suite. Or, get down to basics in MekaDraw, a visual line-drawing learning tool. Use the MekaMotion animation creation studio to develop your own MekaMon movements and integrate your own custom animations into your code to fully personalize your program. ReachEdu Missions are game-like and encourage a creative approach to develop the coding skills required for the future workplace. Meanwhile, individual learning tools can be used to cross-pollinate understanding and inspiration between features, allowing learners to develop unique projects and educators to deliver cross-curricular experiences. Using augmented reality, the MekaMon app creates a battlefield in your living room for you to fight virtual enemies. Control your robot using your tablet or phone and defeat digital MekaMon to climb the ranks of the global leaderboard. Create your own arenas in AR Freeplay to push your skills to the limits.
The Mekamon Berserker V2 makes for a great tool that is not only fun to enjoy, but once that is able to teach coding to anyone that is willing to put it to use. It also brings the essence of a virtual battlefield into your own home by using the amazing technology that Augmented Reality can now provide without having to make a mess of your living room. The Berkerser V2 is very easy to use and maintain using Bluetooth technology to connect to your iOS and Android device making connection easy, fast and friendly for just about anyone.
Product Features:
Free drive – help your Mekamon find its feet in the free drive. Pilot and experiment with mekamon's movement and gait.

Emotion – develop your own animations with the emotion Studio and give your robot its own unique movements to be mapped into gameplay.

AR single player game mode – our revolutionary single player game mode has seen a complete overhaul with markerless AR and a new virtual Meeska experience. For the first time, Enjoy groundbreaking augmented reality gameplay even when you're away from your Mekamon. For the first time, Enjoy groundbreaking augmented reality gameplay even when you're away from your Mekamon. Arcore support required, find out how TO check the compatibility of your device below.

Battle mode – recruit up to four friends to experience enhanced Mekamon battles. With streamlined weapon management, you can now PA and customize your robot as you make your living room The battlefield.

Personality – a life of its own – Mekamon is now more alive than ever! From multi-colored head LEDs to expressive body language, Mekamon has a number of ways to tell you how it's feeling. Watch as your robot reacts to your touch in real-time, with highly tuned results. Mekamon lives and plays alongside you and if it's not happy, you'll know about it!