We are influencers and brand affiliates.  This post contains affiliate links, most which go to Amazon and are Geo-Affiliate links to nearest Amazon store.
From the US government to Amazon, drones are of great interest for many.  Now the level of drones the government and Amazon may use far exceed my budget,  but there are many remote controlled vehicles in almost any range of budgets.  One that I have discovered recently is the SKY Hawkeye HM1315 Quadcopter.  Now this is not yet a purchase, it is more a part of research.  I have been trying to do some due diligence and really research a few of these drones/remote controlled vehicles in a budget of $100 to $200.  The number of options in this price range is pretty daunting, but being this will my first purchase of a quadcopter and the price range, I might be a little over cautious.
5.8GHz transmission system
Real time video transmission
Fly up / down, turn left / right, forward / backward, hover, anti – jam protection and low voltage protection
360 degree flip flight
Stable flying, easy to control
Control distance: LCD – 50m; RC Controller – 300m
Flashing lights
Indoor and outdoor flying
Quadcopter lipo battery: 3.7V / 700mAh (included)
So the SKY Hawkeye HM1315 Quadcopter is a fair sized quadcopter.  Obviously with it being a quadcopter it does have 4 blades and has a fairly unique item for this price range.   This quadcopter comes with live video transmission capabilities.  For just under $100, that is not something you see very often and to top it off, it appears to be good a quality build, even harder to find.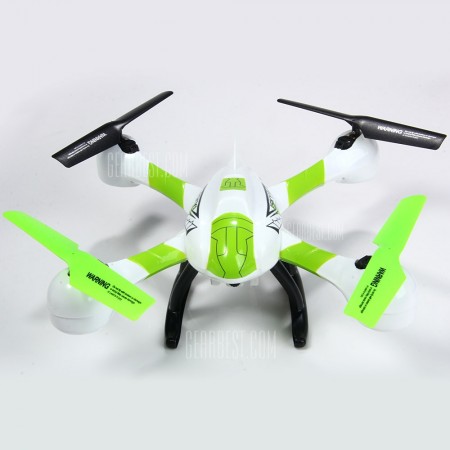 The remote is a little on the big side, but with the built in video screen I think there is justification for it.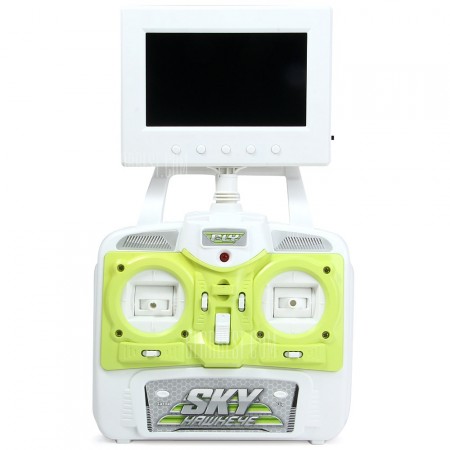 You can watch the video in real time from the Skyhawkeye on the remote with full range of motion that you would imagine while flying.  Using the 5.8 ghz range for video viewing and 2.4 ghz for the remote control, you have solid range and ability to fly indoors or outdoors while viewing video.  You have a stated LCD/video range of 50 meters and control of the quadcopter of up to 300 meters.  Obviously I would love the video to transmit at greater distances but we have to remember this is a $100 quadcopter so we can't expect every thing.  In my research these are solid specs for the price range.
The remote is powered by four AA batteries.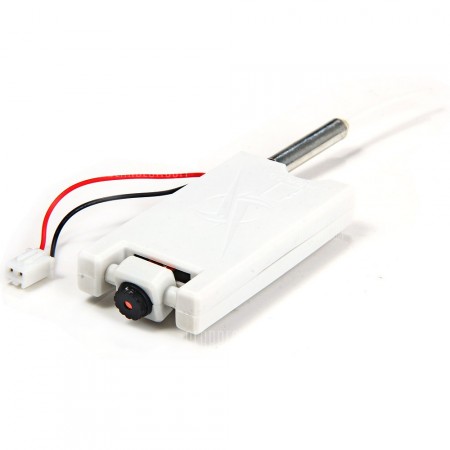 With its stated anti jam and volt protection, you should have confidence you won't lose you new Skyhawkeye on your first flight or you 100th.  With the video viewing you can see the flight your on for up to 50 meters and at 300 m of range without video, you can enjoy true drone type flight.  Not only do you get the live feed but you can also record the video to an internal SD card.  Some to show of them skills on Youtube if you so choose.
Want to try a night flight?  Well if you stay in the range of the video feed you can use the attached flashlight so you can see as you are flying through those dark skies.
Flight time is for me always going to be a sticking point.  For this quadcopter the expected flight time is 5-7 minutes before needing a recharge.  The battery takes between 45 and 60 minutes to recharge, not lighting fast but bearable.  I think this is a sticking point for everyone considering the purchase of a quadcopter.
Read more information about the SKY Hawkeye HM1315 Quadcopter and there is a cool video on how things work.  Also the images are courtesy of www.gearbest.com to show off the SKY Hawkeye HM1315 Quadcopter, I want to thank them for allowing that.
As of now, with no purchase being made, this one is in my top 5 of possible quadcopters to buy.
What do you guys think?
We are influencers and brand affiliates.  This post contains affiliate links, most which go to Amazon and are Geo-Affiliate links to nearest Amazon store.
I am just a geek getting older but keeping up.