We are influencers and brand affiliates.  This post contains affiliate links, most which go to Amazon and are Geo-Affiliate links to nearest Amazon store.
If you are in a iOS Ecosystem, this article is for you. What if you are an Android fan? No worry, this is for you as well. I guarantee this is a product that will save your life over and over again in many years to come. How many time have you wished the Mac charger can be smaller? It is so clunky, and wastes too much space. Once you plug the charger in, you can barely use any other outlets. This is troublesome. Since you can't even charge anything else while working on your Mac. On top of that, the charger takes up a lot of space in your storage as well. It can easily cause more troubles during your travel. That is the reason why I am showcasing you the 65W Power Delivery from Evatronic.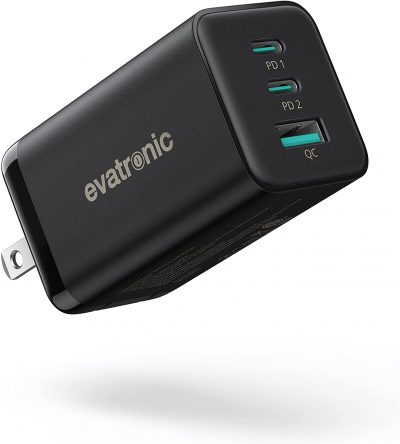 Background of Evatronic
Evatronic is an electronic company that specializes in creating high-performance accessories. Their accessories have the reputation for smart capability with exceptional durability. In the end, their main objectives are making customer life easier and better. Their product lines will have a strong focus on high-quality as well as sleek and optimized design. From chargers, headphones, to home appliances, they will keep innovating and developing to fit the customers' life styles.
One of their most popular products is the 65W 3-port FaN Wall Charger. There are so many outstanding features to discuss about this product. We will show how powerful it is with the 65W power delivery. We will also mention about the intelligent power allocation as well as the GaN II technology. Last but not least, we will showcase the flawless compatibility.

The charger for all your needs
The charger will make an impression on the amount of ports it has. There are total 2 USB-C Ports and one USB-A port. Personally, I really enjoy the presence of two USB-C ports. This system allows me to simultaneously charge my Mac book and my iPhone at the same time. If you happen to connect a single USB-C device, you will get a 65W charge, which is very powerful. With a 65W charge, it can charge a 15.4" MacBook Pro fully in less than 2 hours. As mentioned above, the charger is capable of simultaneously charging. Thanks to the intelligent power allocation, the GaN wall charger can detect and deliver the optimal charging current to connected devices. For example, if we charge a MacBook Pro and an iPhone, they will receive 45W and 15W respectively. In the case where users consume all the ports, the PD1 will deliver 45W output. While the PD2 and the QC port will share a total of 15W.

The essential companion for your travel
In addition to the intelligent power allocation, the charger's PD port also supports Programmable Power Supply (PPS). This can pump out 25W of power to fast charge the Galaxy S21, S20 and S20 Ultra. Moreover, the cutting-edge GaN II technology also concentrates the 65W of power into the smaller size. This is a very important feature. Not only does it provides superior heat dissipation, but also it increases the efficiency for charging performance. At the same time, it will protect your devices against short circuit, excessive current, over heat and over charging.
Besides all innovative features, the Evatronic 65W 3-Port GaN Wall Charger also has all the essential features for a travel's partner. With only 4.3 oz in weight, the charger is extremely compact. It can perfectly fit into your pocket, your pack bag or your hand bag. Moreover, it also has a foldable plug, which makes it easy to fold or bag for effortless portability.
You can buy the Evatronic charger at this
link
.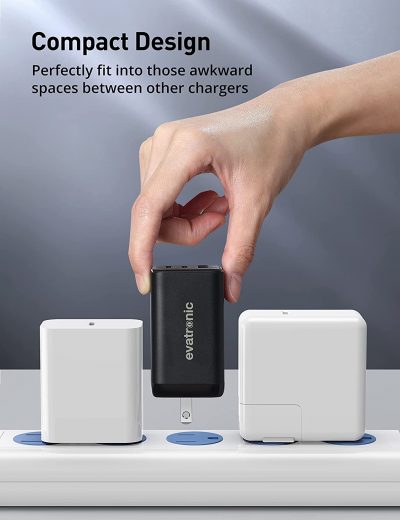 We are influencers and brand affiliates.  This post contains affiliate links, most which go to Amazon and are Geo-Affiliate links to nearest Amazon store.
If you can't find me at the table coding, then you can find me at another table playing boardgames. I want to share the fun, the intense, the `ah-ha` moments, the sabotage, the nerve wracking experience … that Boardgames can offer to the community.