We are influencers and brand affiliates.  This post contains affiliate links, most which go to Amazon and are Geo-Affiliate links to nearest Amazon store.
Do you need to jump start your life? Maybe start a career in, I don't know, counting dolphins? Well, I'm sorry but the Imazing Portable Car Jump Starter won't do that for you – but it will help you get from point A to point B! That much I can guarantee. If your car battery says it hates its life and wants to die, well, you can tell it "That's too bad," and go against its feelings with a jump start using this device. Just like life: If you want to give up, just keep going with 2000 amps of peak current and 18000mAh lithium polymer battery capacity (don't electrocute yourself please). At that rate, this thing can jump start up to 8L gasoline and 7.5L diesel engines in 3 seconds, including cars, motorcycles, ATV's, UTV's, lawn mowers, snowmobiles, and much more.
Speaking of being electrocuted, that likely won't be a problem whatsoever with an intelligent clamp featuring 8 advanced safety technologies: Input Low Voltage Protection, Input High Voltage Protection, Relay Adhesion Failure Alarm, Reverse Connection Protection, Short Circuit Protection, Number of Starts Protection, Overheat Protection, Over Voltage Protection (18.0V 0 0.5V), and Reverse Charging Protection. Just plug the jump cable into the jump starter, connect the clamps to your car battery, start your car engine, and remove the clamps from the car battery. Simple as that. It even functions in extreme heat (140 degrees Fahrenheit) and extreme cold (-4 degrees Fahrenheit).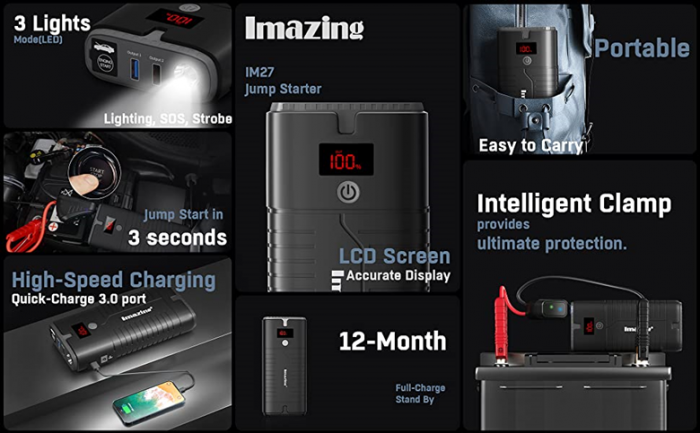 If you want to charge your devices, the Imazing Portable Car Jump Starter actually comes with two individual USB quick-charge 3.0 (18 Watt) ports. It also has an LED screen that shows the battery percentage of the device. As for charging the device? It has a USB Type-C input port to fully charge the device in 4.5 hours. Please remember to charge it before first use – it won't come charged in the box.
If you're not satisfied with the size of other jump start kits, this specific jump start kit actually is extremely portable. It can fit in a somewhat large jeans pocket, or it can fit at the bottom of your backpack with ease. Speaking of being multipurpose, it even has an in-built flashlight with 3 modes: Flashlight, SOS, and Strobe. Honestly if you know you're going to be in a survival situation, this device is probably your best bet in terms of something to carry around. If you smoke, there's also a cigarette lighter attachment. Not to encourage someone who's financially desperate to spend money, but if you know someone who's homeless, this would likely give them an advantage in the harsh conditions they'll be facing. It's only 2.25 pounds in total, so it wouldn't take up too much space in their backpack.
If you would like to use this in the work force or on the job, it is UL2743, CE, FCC, and RoHS certified. Take it on a road trip with you. It'd be useful if you need to be somewhere and an accident happens. It can function as a battery pack as well. As of the date of writing this article (7/23/2022), it's #6 in Jump Starters on Amazon, and I'm sure that's for a reason. If you're interested in checking it out, see the Amazon Product Link
Thanks for reading.
Roxie out.
Enter For Your Chance to Win Imazing Portable Car Jump Starter
We are giving away 2 IMAZING Portable Car Jump Start Power Banks thanks to the brand sponsoring a giveaway with Dragon Blogger. Enter for your chance to win now and just know that a USA Shipping address is required to win. 2 winners will be chosen, and there are no prize substitutions for this one.
Enter to Win an Imazing 2000A Portable Car Jump Starter
We are influencers and brand affiliates.  This post contains affiliate links, most which go to Amazon and are Geo-Affiliate links to nearest Amazon store.
So… I'm Roxie. To be fair, I'm just some person… girl… thing… on the internet who likes to shout my opinion as loud as I can while also doing it respectfully and trying to come from a place of good intents. I'm an extremely spiritual individual (the legit logic-based para-psychological stuff, not the "woo-woo" nonsense) who has a lot of diverse interests, and spends her time working on herself and trying to get ahead in life. I want to provide my views on topics that would normally be a bit controversial to some in the gaming, sci-fi, tech – whatever you'd call this blog – industry. I play games because I see them as an experience, something to enjoy and get immersed in. My favorite games used to be MMORPG's but I'm learning to enjoy more single-player experiences as of recently. I've felt alone for most of my life, so the ability to interact with other players in games has been something of a comfort to me. Oh and I'm also a heathenous little thing that has to filter myself incessantly just to write these articles.