Smartpixel is a Windows screen recorder/capture and video editor program you can use to record just about anything on your Windows computer. Be it tutorial videos, gameplay videos, webcam recording, home video recording as well as YouTube video editing and photo slide show making, and in this post I am going to review the same.  It comes with two different modules, Recorder (screen recorder), and Producer (basic video editor) both for different purposes which are discussed below.
There are two versions of SmartPixel, the Free one which is obviously free, and the VIP version which will cost you $15.90 for 1year subscription and thereafter.
In this review, I am going to record a gameplay of Far Cry 3 with SmartPixel recorder and see how well it does the job. My laptop Specs are: Intel Core i5 3320M @ 2.60GHz, 6GB DDR3 RAM, 2 GB ATI AMD Radeon HD 8750M graphics card, and is running Windows 8 64 bit. I will also use the SmartPixel video editor to see what it has to offer, but only if I am satisfied with the output of the latter.
Starting with downloading the program, you can download SmartPixel from here, the download was of 27.4 MB and took 4 min to download. The installation is dead simple, you just have to click on Next>I agree>Next>Finish and thats all, if you choose, you can also tick the "Launch SmartPixel" to run it once the setup is finished. The setup took around a minute to finish.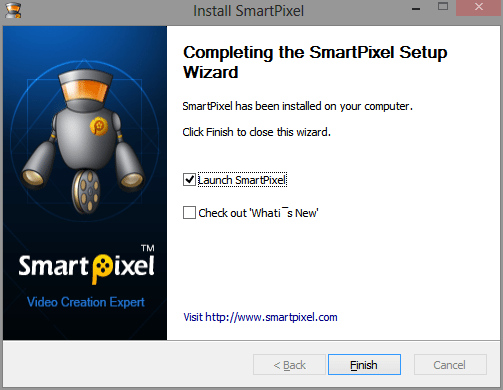 Once the setup is finished, you will get a small window of the SmartPixel having three options, Producer, Recorder, and Webcam.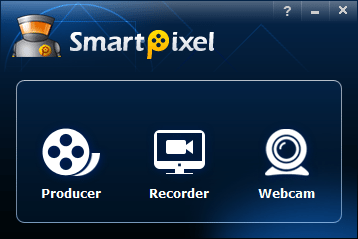 I started with using the Recorder to record a gameplay of FarCry 3 which I have been playing lately. When I clicked on recorder, nothing happened, and I waited around 1 to 1.5 minutes but nothing, so I restarted the program and this time everything worked well and I landed on the small Recorder window/control panel.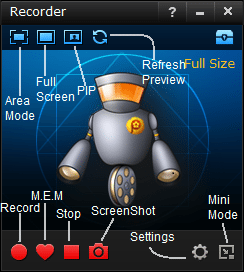 The Recorder window consists of following options as seen in the image above:
Area Mode: Records a selective area of the screen
Full Screen: Records full screen
Picture-in-Picture (PIP): Records full screen with a small window showing the input from the webcam.
Refresh Preview: Refreshes the preview in the window
Record: Starts recording
Mark Exciting Moment (M.E.M): Marks desired moments.
Stop: Stops the recording
Screenshot: takes a screenshot
Settings: opens Settings window
Mini Mode: switches to mini mode (even smaller).
I just simply selected the full screen mode and started recording. The game (FarCry 3) was running on medium settings, and it was unplayable with the recording on, but however,  I still recorded a short 5min gameplay.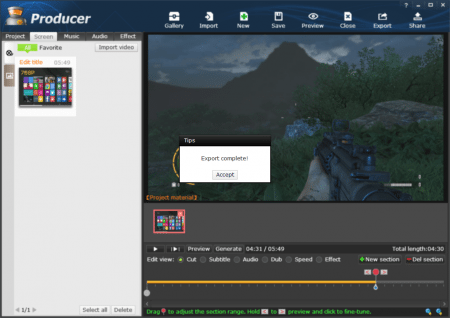 Then, I used the in-app editor (Smart Pixel Producer) to see what I have got, and I was highly disappointed with the result. The video was not satisfactory, frequent frame drops, lags, frame rate varied from 25 fps to 17 fps. I added some effects, text, and sound to the video which was pretty simple, (you just have to select what you want to add and click on new) and it all worked fine but the video itself was not good.
I, then, recorded a simple 5 min video with no game running but 5  tabs of chrome open and the result was better, no frame drops, no lags, frame rate was ~30fps and it all went smoothly.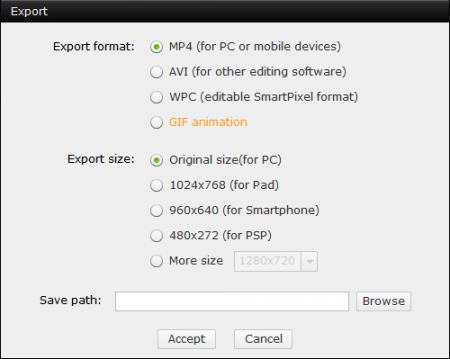 Lastly, I exported the video file as a mp4 video and the process took around 4 mins. You could export the project in multiple formats like MP4, AVI, GIF as well as multiple sizes, which is a plus.
Pros and Cons
Pros
Multiple recording modes
Records everything on-screen
Can record webcam input
PIP (overly webcam while recording screen,i.e. you can record screen and webcam at the same time)
In-app video editor
misc adjustments to webcam like saturated, extra-snotrats, mono-color, etc.
Option to show or hide cursor
Hotkey support
Nice and easy to use interface.
Cons
Didn't perform well in recording gameplays
Can't highlight mouse cursor/clicks
Slow Producer (video editor) mode
High Price tag
All in all, SmartPixel does offer some great features like PIP, extra effects to add in your videos, but it didn't perform well in recording a gameplay of FarCry 3 which is a high graphic game, however, it did well in recording stuff other than gameplays. SmartPixel is a so-so video recorder with built-in video editing capabilities and, I don't recommend it, at least not yet, as it's somewhat new, didn't perform the way it should've and it's not worth the price tag the VIP version comes with.
Hi, I am Ishaan Farooq, let me introduce myself. I am a Tech Blogger from Lucknow, India and am a big Techo Freak who loves to Surf Internet the whole day and is a Modding, Programming and Customization Enthusiast.