We are influencers and brand affiliates.  This post contains affiliate links, most which go to Amazon and are Geo-Affiliate links to nearest Amazon store.
What is Sphero?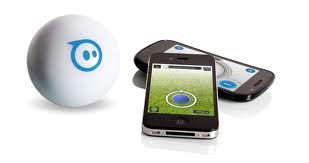 Sphero is the world's first true robotic gaming ball, It uses iOS and Android to implement features for users. There are many different uses for it and it can provide a lot of fun for every age, You can control it with a device and move it around courses or even use augmented reality to turn the ball into a beaver with your camera.
How does a person control Sphero?
Start by waking up your Sphero by shaking it. It will then burst into colour. You can then pair your device with Sphero via bluetooth and start having fun! You can control it by using the analog stick displayed on your device which allows you to control the direction of Sphero. The single then sends information to the gyroscope and accelerometer which moves the two rubber wheels inside it to make it move around. It can move at three feet per second and can be controlled from 50 feet away.
What is the Sphero made of?
The Sphero is made of high-density polycarbonate so it is durable and will last for around an hour when fully charged. It has lithium polymer batteries and thousands of LEDs to change into multiple of colours when in use.
What games can a person play when using Sphero?
Orbotix the makers of Sphero are always intergrating new games for Sphero and currently there are seven different games to play on the sphero. Of which some of the main games are Tag and Golf. Their latest game is a Beaver augmented reality game. When users point their camera on their device at Sphero they can see a beaver on their device.
Details of the Games:
Golf
Sphero is the ball and your phone is the club. Create a "hole" then swing your phone or swipe a finger to hit. Challenge friends to a round of office golf, create your own course at home, or venture out and make your own course practically anywhere.
SpheroCam
Have fun with Sphero and never miss a funny moment. Use the built-in camera on your device to record video
or take snapshots while you simultaneously drive Sphero. Will your SpheroCam video go viral? Record, upload, and find out!
Draw N' Drive
Use your finger to trace a shape or path on the screen and Sphero will follow it before your eyes. Just give your smartphone or tablet a shake to clear the slate. Even make Sphero change colors as it rolls by using the integrated color wheel.
Chromo
Get ready to challenge your coordination and memory with the first app that lets you use Sphero as a controller. Move Sphero to match the colors on your screen for an entirely new way to challenge yourself. You can choose from six different game modes.
MacroLab
Create easy, repeatable programs and macros for Sphero. Arrange simple commands and settings in any combination you choose to let Sphero drive autonomously, follow unique patterns, and more, all while learning basic programming. Play your commands, save favorites, and even share them with friends. MacroLab makes programming Sphero easy and fun.
 Product Description
Currently Sphero can be purchased online or in stores for around 150 dollars. With the purchase you get the ball, its charging cradle, quick start card and users manual
This video guides you through setting up Sphero and how to use it:


We are influencers and brand affiliates.  This post contains affiliate links, most which go to Amazon and are Geo-Affiliate links to nearest Amazon store.
I've been interested in gaming and computing for many years and using this knowledge I create videos for Dragonblogger.com's youtube and occasional articles for the site. I've been writing for Dragonblogger for over a year and it's been awesome. My content usually is around product reviews and gaming.