We are influencers and brand affiliates.  This post contains affiliate links, most which go to Amazon and are Geo-Affiliate links to nearest Amazon store.
The past year we have all been through some rather trying times, whether it be adjusting on how to do our normal jobs to trying to find new creative ways to keep doing the things we love, the pandemic has caused us all to do things differently and when it comes to going to conventions, it has become something that I cannot believe we are back to do yet once again. I want to preface this review by saying that I have not been to a convention since March of 2020 and the wait has been far too long as I know it has been for so many of you. However, we are finally back to some sort of normal and I am so pleased to be able to bring this series that I love so much back and much like many of you, we are finally getting back to doing some of the things we love again and for me, conventions and expos have always held a very special place in my life and it pleases me to be able to get back to reviewing them.
So let's get back to it, shall we?
Indianapolis has been home to many types of conventions over the years such as Gen Con, PopCon, and Horrorhound just to name a few and while those three conventions offer everything from tabletop gaming to your favorite horror icons, some of them try to offer as much as they can in various other genres as well. One in particular that I have always been a huge fan of is professional wrestling and while PopCon and Horrorhound have had their fair share of these superstars, there has yet to be a convention or expo that really caters specifically to professional wrestling in Indiana and revolves around what many call a wrestling ring, the squared circle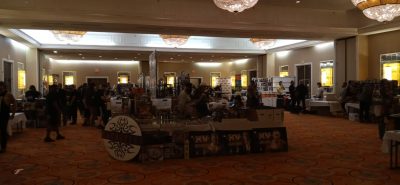 Squared Circle Expo or also known simply as SCX, is the brainchild of two very talented and well-established workers in the convention scene, Adolfo Dorta and Ed Gonzales. The former has made quite the name for himself specifically in the horror convention scene while the latter is known for working with him in his previous convention gig while also bringing with him his vast knowledge of the world of professional wrestling. I had the pleasure of having them on an episode of our podcast, The Dragoncast, and you can easily tell just how excited they were to bring a professional wrestling expo to Indianapolis along with their extensive knowledge of pro wrestling and previous convention experience.
The Squared Circle Expo was a two-day long event that took place at the Wyndham Indianapolis West hotel which happens to be a rather popular setting for some conventions/expos with shows such as Horrorhound and also local conventions such as Starbase Indy, the Wyndham Indianapolis West may not seem like a very big location but it makes for a rather perfect location for these smaller, more intimate type of shows such as SCX. The layout was a rather simple one and one that I have somewhat grown accustomed to when attending other shows at this venue, with one main expo hall with a decent amount of vendors with a few guests sprinkled in. This area was essentially the main entrance to the show from the hotel lobby and a great way to pick up some pretty sweet merch, but even before you got to the expo hall which requires badge entry, there was a table set up for you to purchase SCX merch from t-shirts to masks that were branded with their logo. The expo hall was very nicely sized with tables lined all along the outer perimeter and a few tables set up in the middle with about six to seven guests all spread throughout this room with guests such as Dan "The Beast" Severn of UFC fame all the way to WWF Hall of Famer Jake "The Snake" Roberts. In the back of this room was another exit which led to a hallway where you would find a few more merch tables such as Pro Wrestling Loot which I decided to pick up a luchador mask from.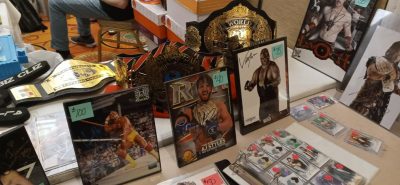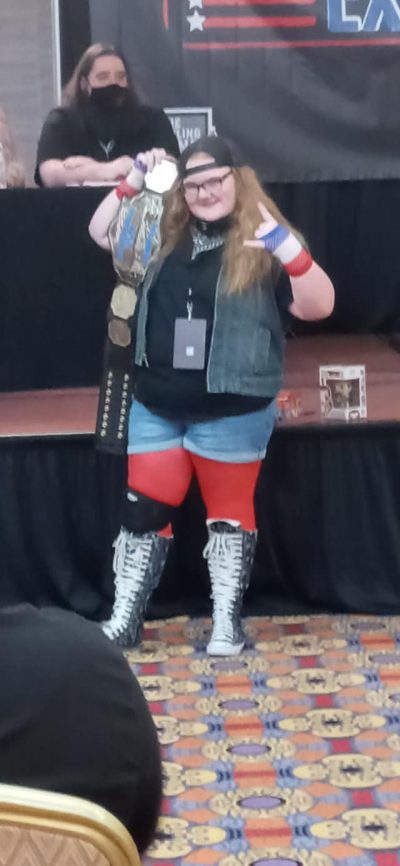 Across from the expo hall was another room labeled "Superstars" which was exactly just that, an entire room of tables featuring the rest of that weekend's guests laid out much in the same way as the expo hall discussed earlier. While this room was pretty decently sized, I did have a hard time trying to figure out exactly where lines ended for some of the guests. Friday happened to be the busiest day of the show and this particular room was full of attendees of which several were asking me if I knew where lines to Dustin Rhodes and Booker T ended so they could get in line. I myself tried to figure this out and eventually after asking some of my fellow attendees we were able to figure it out. The problem was that, at least with what I could see, there weren't any roped-off lines or taped areas showing where lines formed. I hope that next year they have a bit of a bigger space to keep lines easier to follow and also to help prevent lines from looking mixed between a queue for one guest and another. Other than that, I will say that I absolutely do love the fact that SCX decided to keep the guests that they knew would draw more of a crowd in a separate area away from the main expo/merch room as I have seen many other conventions not do this and try to keep all of their guests in one area. I have always felt this to be a problem with bigger shows especially and I am pleased to see SCX get this right albeit I do hope they make lines easier to follow as I previously mentioned.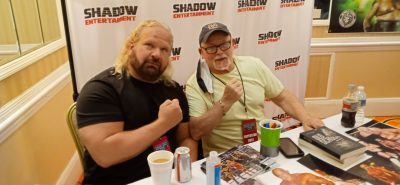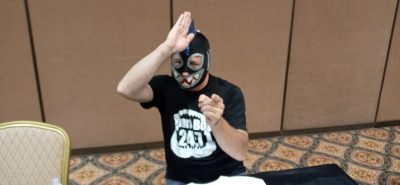 One thing that I have to mention at least for now is just how well these conventions are doing when it comes to following guidelines for Covid and this is certainly new to not just me but to everyone working conventions and shows during these interesting times. I did notice that there were a few sanitizing stations in the entrances and exits of the expo hall as well as the Superstars room. Also, I want to praise SCX for doing a great job of having their staff make certain attendees were wearing their masks as well as making it clear during panels that masks need to be worn, this was especially handled well during the costume/promo cutting contest by having entrants wear their mask past a certain point until they were away from the crowd to take them off so long as they were distanced. I will say that I did see quite a few of the Superstars not wearing masks and I am not certain how that particularly works with them or not, but that is something I will have to follow up with them about when it comes to whether or not Superstars have to wear masks at tables. I will say that I absolutely felt safe being there which was something that I was hoping would be the case and I did not at all feel let down by SCX for the way they handled these measures.
The Squared Circle Expo also had plenty to offer in the way of entertainment with plenty of panels to choose from and with each night ending with an afterparty featuring karaoke. Now, what would a good wrestling expo be without well, wrestling? Saturday night of the expo featured the very first ever SCX wrestling show called "Genesis" with talent from AEW like Nyla Rose and The Gunn Club as well as a few former WWE talent such as Duke "The Dumpster" Droese and Jimmy Wang with an amazing main event featuring Jake Omen vs former WWE Superstar JGT to crown the first-ever Squared Circle Expo Champion. The show was an absolute blast and a great way to end the expo and one that I hope becomes a tradition each year.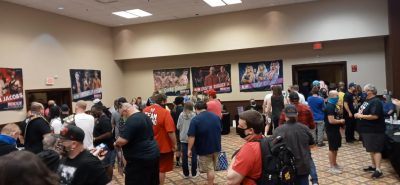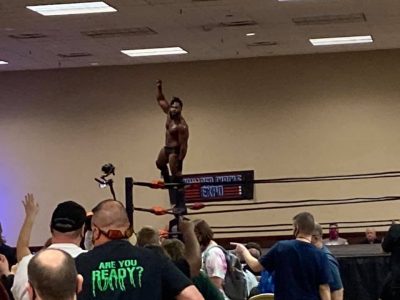 Indianapolis now has yet another amazing show on its list and a show that I will make certain to put on my calendar each and every year. If I know the owners like I do, I am certain this Indy show won't be the only one that they do and I cannot wait to attend those shows as well when not if, they happen. If you happen to find yourself in the midwest or even if you don't you need to do yourself a huge favor and make your way to Indianapolis next April and attend Squared Circle Expo 2 because the dates have been announced as April 15th and 16th as I assure you that when the Circle City once again becomes the Squared Circle City, it won't be a show you will want to miss.
We are influencers and brand affiliates.  This post contains affiliate links, most which go to Amazon and are Geo-Affiliate links to nearest Amazon store.
I've been writing and covering many forms of entertainment such as comedy shows, and arcade bars as well as reviewing video games and more for the past decade. I love to write and I am blessed to be able to have the opportunities that I have had in the entertainment and technology fields.