Not all Bluetooth speakers were created equal, some just have more force behind them than others.
The force this time meaning the one referenced in the Star Wars movies, and captured in the most amazing looking speaker housing I have owned so far.
I give you the Star Wars Millennium Falcon Bluetooth Speaker. Not only does it look great, but it sounds amazing as well.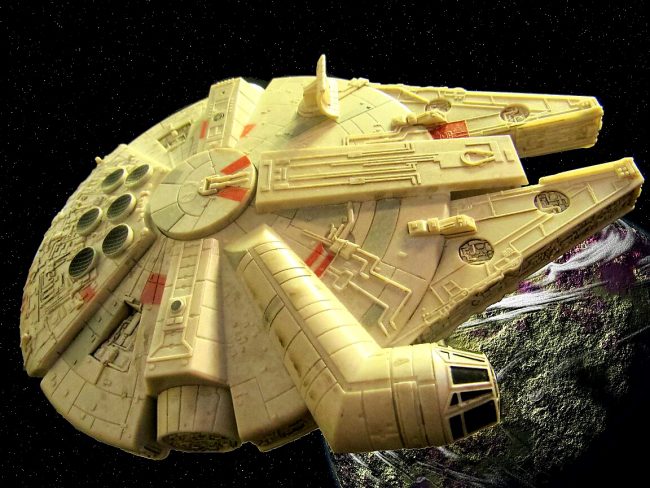 Normally I would do a detailed unboxing video, but this one was so amazing I had it unwrapped and out of the box long before I got it to my home. I could not help myself.
As a model of the Falcon, it is pretty detailed, and can simply be placed on your desk, and when charged fully, a press of the button will play the well-known theme song, in its entirety. It comes with a nice plastic stand that fits the bottom and displays the ship in a way that makes it look like it is in flight.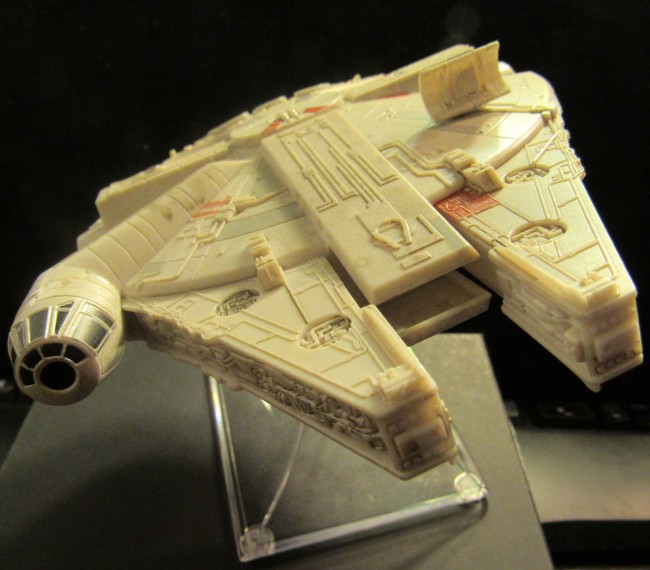 A flip of a switch in one direction allows you to use the speaker as an analog speaker tethered to a non-Bluetooth device, or the other way, allows Bluetooth connectivity. Either direction turns on a row of lights in the stern to make the Falcon appear to be ready to jump into hyperspace.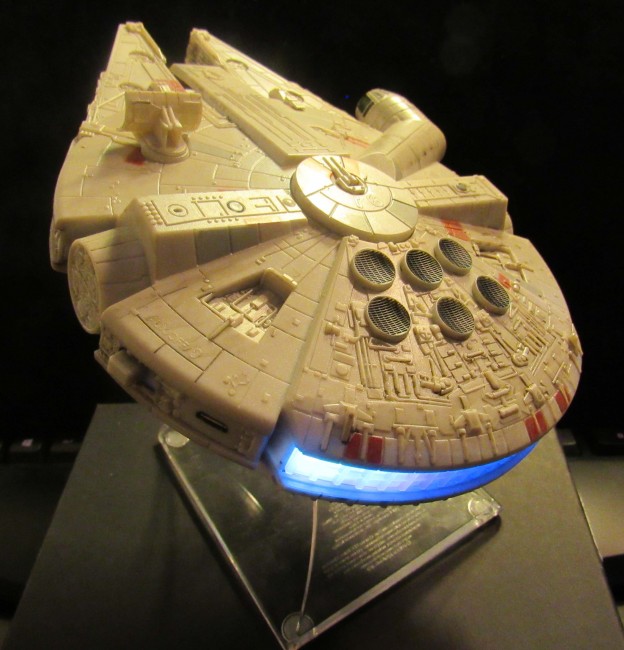 The stand allows for not only a nice way to show off the speaker, but also allows the sound from the speaker, which is on the bottom side of the ship, to have the needed space to resonate sweet music, and oh what a sound.
The included cable has two functions. One function is to charge the speaker's batteries, the other, allows you to plug the speaker into the audio port of any non-Bluetooth device. I have never seen such a thing before and have got to say I am impressed.
I may have said so before, but the sound quality is amazing. I love the power behind this device, and can safely say you will too. And at the risk of sounding cliche and maybe a bit nerdy, May the force be with you.
I have worked in and around many different types of computers. In the Navy, I used a magtape drive computer that was a step down from pen and paper. I later worked for a big computer company and after that, taught computer class's nation wide. I had the privilege of teaching 14,000 students in a 2 years period of time. Afterwards, I owned a small computer training and repair shop for a few years. I have owned C-64's, Pc's of various types, Amiga's, and even Mac's. I now have included the android to my collection. At any time, I have close to 15-20 computers or combinations of computers and game systems in the house. I look forward to more.