We are influencers and brand affiliates.  This post contains affiliate links, most which go to Amazon and are Geo-Affiliate links to nearest Amazon store.
This is a review of the VeryFit 2.0 Smartband which is also sold as the ID107 Smart Watch over at Gearbest, but comes branded as the VeryFit 2.0.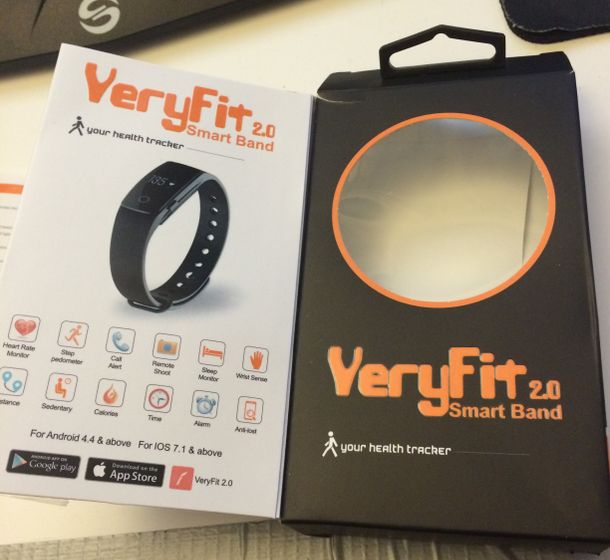 Here is some video showing the VeryFit 2.0 wrist flick, and confirming it is indeed water resistant and showing that the wrist flick works even when running under a heavy flow of sink water directly on the smartband.
The Veryfit 2.0 Smartband includes a heart rate monitor (has sensor that faces wrist to detect heartrate), step pedometer, call alert (vibrates when calls come in), Remote shoot (press watch to snap camera pic), Sleep Monitor, Wrist Sense (for flick), Distance measure, Sedentary reminder (to vibrate and alert you when you have been sitting still too long), Calorie tracker (estimated based on weight, height and steps/movement), Time, Alarm (silently wake yourself without disturbing partner), finally it also has anti-lost for phone and will alert you if you and the phone are too distant, it gives you a vibe and shows a phone symbol indicating your phone is too far from your watch in case you leave it on a table or another room.
Check out the full video review
The VeryFit 2.0 application that you install and pair with the ID107 smart bracelet is functional enough, and gives you configurable options for Silent Alarm, Wrist Flick (enable/disable) and various other alerts.  This watch will buzz you when phone calls or text messages come in if you want, as well as SNS notifications but you can get vibration overload if your phone goes off frequently so for me, I just have it vibrate only for my AM alarms.  I will shut off wrist sense at night sometimes, because when you are sleeping and roll over your movement of your arm can make the watch wake up and you get a bright glow in the middle of the night, there is no option to adjust brightness display of the watch nor to allow it to stay on longer.  The wrist flick literally turns it on for 2 seconds and it shuts off fast, unless you tap a screen really quick.  The side button leaves the watch on for about 5-6 seconds and gives you more time to react and press the screen, but it would have been nice if you can configure how long the watch screen stays on, an extra second or two would have been better.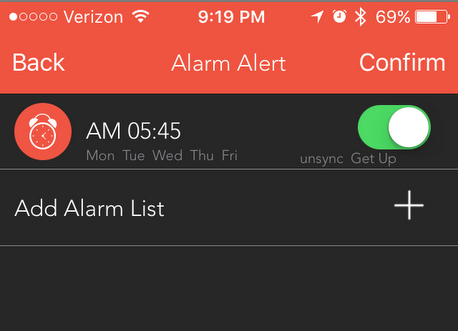 The Anti-Lost is neat, and causes your watch to vibrate if you walk more than about 20′ from your phone,  this is a good option if you happen to be out at a restaurant and you accidentally leave your phone on a table, you can make sure your wrist buzzes and you don't forget your phone.  I had this feature enabled a few times and when doing my laundry I left my phone on my desk and as I was stepping out with my basket of clothes to go to the laundry room, the watch went crazy and I forgot that I had Anti-lost alert enabled.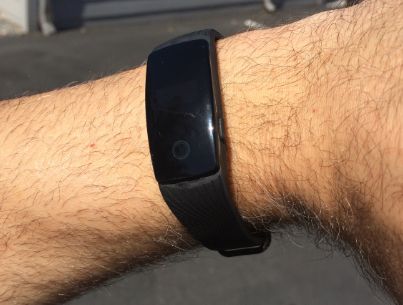 The Sedentary Alarm is also decent, I work 10 hours a day in front of my desk and though I get up frequently for drinks, occasionally I can go 1-2 hours without standing up at all, I setup my sedentary alert for 45 minutes and if your watch detects you haven't taken any steps in that time, it will vibrate to remind you to get up and walk around a little bit.  This is ideal for people who zone out while they work, like programmers or even gamers who sit for hours, this reminder may help make sure you get a few extra steps or move around a bit.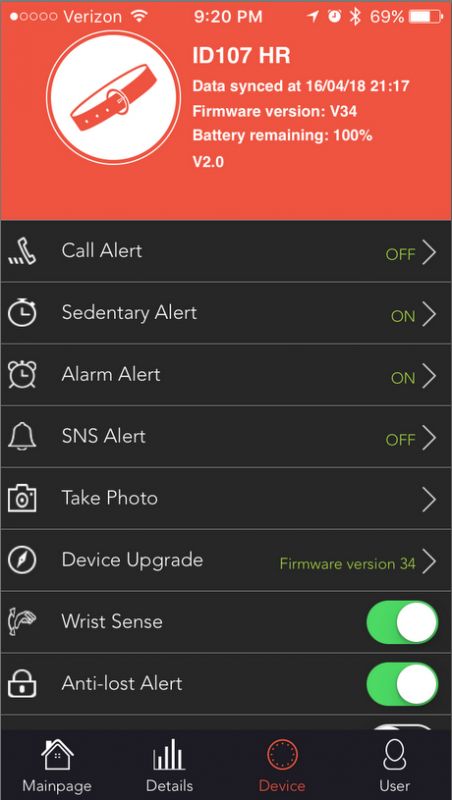 Since wearing the Veryfit 2.0 smartwatch, I found myself caring more about how many steps I was taking per day, my target was 10,000 after bumping it, but the only day I reached that amount was when I went to the Rennaissance Fair, most days I hovered around 5,000 or 6,000 steps.  But it had me thinking more and I would take a few extra walks with the dog just to try and bump my steps up a bit for a few days.  Finally the Take Photo option was interesting, where your watch can take the snapshot with your phone.  It works primarily if you have your phone on a tripod or not in your hands, since you cant twist your wrist and press your watch face easily while holding the phone.  This was presumably in case you wanted to take remote pictures of yourself.
When I first received the watch the Step Data wouldn't sync with VeryFit 2 app at all, but Gearbest contacted software maker and they released an update which fixed the iPhone Step data sync, however the Sleep Data still doesn't sync with my iPhone 5S but does with Android fine (HTC One Remix).  So I am positive this is an app/software issue, not a watch issue and hoping they fix it, because right now if you own an iPhone I don't think it will capture your sleep data.  Sleep data was important to me, and my other smartband I was reviewing (which I don't like as much) does capture sleep data and I don't want to wear 2 smartbands.
Veryfit 2 Syncing with iOS Now after Update
Overall at less than $20 the Veryfit Smartband is an excellent way to keep track of steps, heartrate and the app is decent.  Note though, this smartband will not pair with other applications, it only pairs with Veryfit 2 and syncs its data to the Health app, but it won't be recognized by other applications and feed data into them, I have tried several and readers ask me all the time to try different ones and they don't work.  So it doesn't universally send data to any heath based iOS or Android app, only Veryfit 2 it reliably works with.  Most apps will write data to iOS Health app, but don't read data back from it, so if you have a favorite health tracking app, it may not be compatible with this smart watch.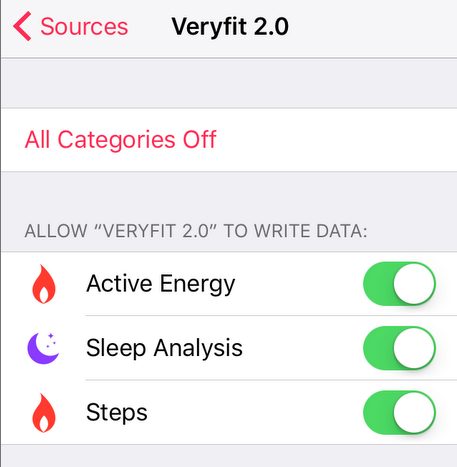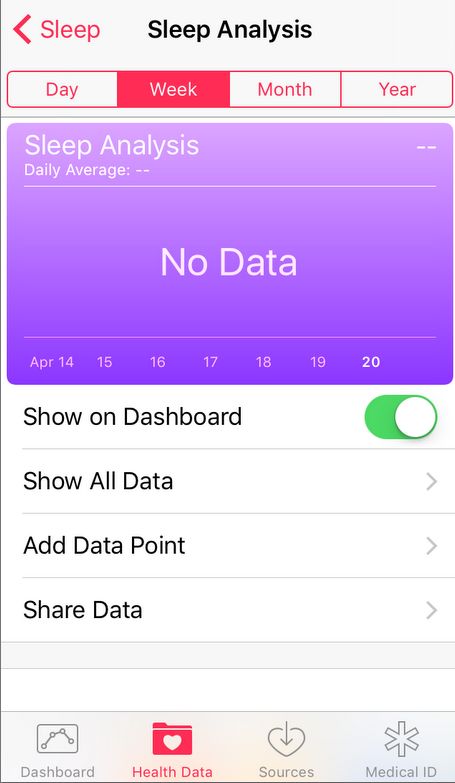 WARNING: This watch is not waterproof, only water resistant. It can be subject to splashing, rain…etc. I just toasted my review unit because I left it on in the shower and water got into the sensor part which touches the wrist and I completely destroyed my review unit.
Smart Tip: Now experience the ease of comfort to remotely access all your smart apps and data from anywhere on your preferred device with high performance hosted citrix vdi available at an affordable xendesktop cost. You can also access complete office suite on the same xendesktop with Office365 from O365CloudExperts.com.
If you are a female and want some guidance you could read this best smartwatch for women article.
Disclaimer:  Gearbest sent us the ID107 Smartband to do a thorough and accurate review.  All opinions are 100% mine and mine alone.
We are influencers and brand affiliates.  This post contains affiliate links, most which go to Amazon and are Geo-Affiliate links to nearest Amazon store.
I have been obsessed with computers, tech, gadgets and games since the early 1980's having grown up on the Commodore 64 and Amiga computers.
By day I work in the IT Security Industry and have been in IT for over 20 years. On my spare time I am a Vlogger, Blogger, Streamer, Gadget Reviewer, affiliate marketer, influencer and entertainer. I am also an avid movie fan, TV Show fan, Anime fan, video game fan and fan of trying anything and everything new.