Smartphones today are getting powerful every year and the Android ecosystem is growing day-by-day, with millions of apps today in the Play Store. However, if you don't pick the right apps then your mighty Android device may end up just being a piece of plastic to make calls that wastes away in your pocked or on your hip. There are just too many Android apps on the Play Store today with every category and every genre having many apps , one better than the other.
Here in this post I am focusing on showcasing the top Android Entertainment apps that will be worth your time.
We all listen to music, watch videos online or  offline, with all our devices. There are numerous apps available in the Play Store solely for this purpose. In this post, I will list the best Entertainment, Music & Video Android apps specifically from my point of view.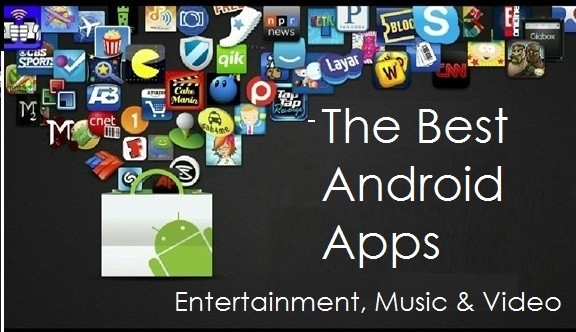 I've personally used and tested all of the apps listed below and found them just perfect for their intended purpose, and I am quite confident that these applications will help you make your Android device better than ever.
I tried to stick to the apps launched in 2013, but that's not the case for each app below. and the apps below are in no specific order whatsoever.
---
Android Apps for Entertainment, Music & Videos
Google recently introduced it's online music service. It features a cloud-based collection of your music. It's a great online store and a cloud-based storage for your music, and you can access your music anytime, anywhere.

Spotify

Spotify has a massive collection of music. It's ad-free, you can access it from any device, download your music, and it also have a TV app.
DoubleTwist Player
DoubleTwist Player is a simple, feature rich and a slick media player for your android. It has a 5 band graphic equalizer, cover art and Artist bios, music sync, podcast player, etc.

It is also from DoubleTwist, it lets you sync iTunes over WiFi and airplay to Apple TV, and compatible speakers. It also syncs with your Windows PC and you can even stream music, videos and photos to the Xbox 360, PS3 and   Sonos with AirSync's DLNA/UPnP feature.  We did a whole other article covering the benefits of Airsync.
Shazam recognizes the music playing around you, and you can buy the music Amazon MP3 and Google Play Music, watch videos on YouTube, check out the artist's bio and discography, and many more features.
  Plex brings all your movies, videos, and music on all your devices, you can stream your content right on your smart TV with it's app. You don't have to worry about extensions or codecs when you are on Plex.
Did I miss any great app? Do comment your thoughts in the comments section below!
Hi, I am Ishaan Farooq, let me introduce myself. I am a Tech Blogger from Lucknow, India and am a big Techo Freak who loves to Surf Internet the whole day and is a Modding, Programming and Customization Enthusiast.