We are influencers and brand affiliates.  This post contains affiliate links, most which go to Amazon and are Geo-Affiliate links to nearest Amazon store.
Assassin's Creed IV: Black Flag
A Fresh perspective
Part 2 Little Havana:
Welcome back to the Assassin's Creed IV: Black Flag review.  In the last part of this review we ended as Edward began his voyage to Havana Cuba with his new awkward friend Stede Bonnet that seems to try too hard.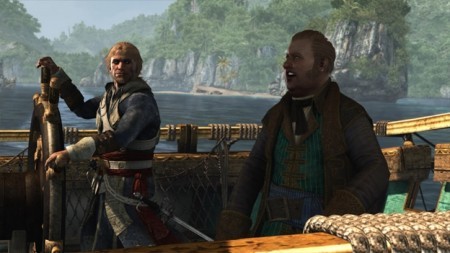 You dock your ship in Havana, Cuba.  In the first scenes you see Stede waving and laughing like a giddy quirky school girl.  Edwards asks if he saw someone he knew and he replies no, he doesn't want them to  mistaken him for a pirate so he waves with a smile… I am sure pirates never come here.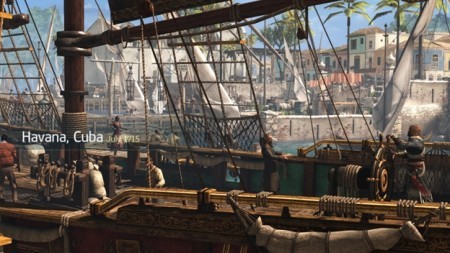 As you dock, Mr. Bonnet's crew starts unloading their merchandise to take to the Tavern.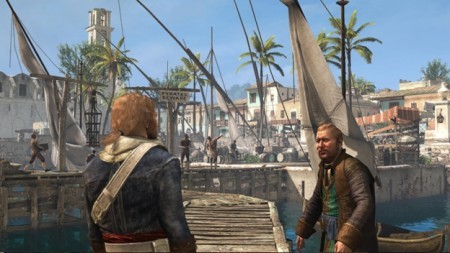 On your way to the tavern Stede makes sure to point out the Purveyor of Personal Defenses, also know as the guy that sells weapons.  Right next to this stand you will notice dancers,… they like to be called dancers but they make sure to take care of tired ailing, lonely men for a charge of course.  They will do anything for some money.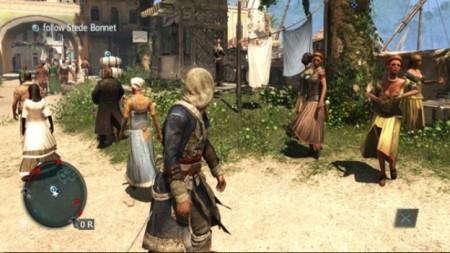 Once you walk passed that distraction you follow Stede to buy a new weapon.  Edward makes sure to mention saving his life and that it would be good for Stede to buy him a weapon, a very nice tactic.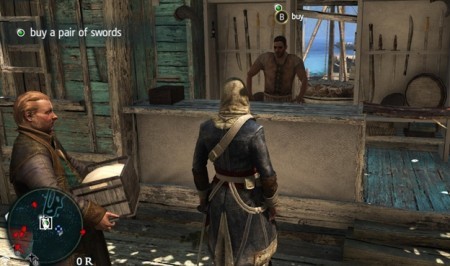 Since you are starting out, you don't have too much money, so for now all you can afford is a set of British Cutlasses.  Every sword you buy comes in a set, that's how Edward rolls.  As you progress in the game, pic pocket and complete missions you get more money.  Stede only got a small knife, Edward wiped him out.  Wait,… Stede was paying and yet you used your own money… something wrong there?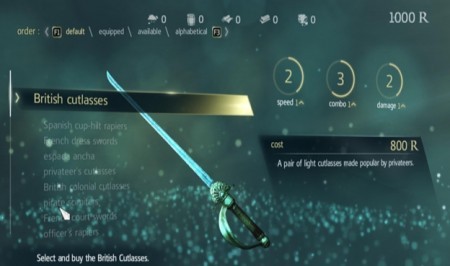 After they leave the booth, Stede mentions that he is trying to figure out where the Tavern is, I wonder where he was walking in the first place.  Regardless, the mission became reaching the top of the Church to spot the Tavern, kind of odd.  As you climb Stede is amazed at your skill, Edward mentions that every finger is a fish hook.  This game is filled with running up walls, from building to building and many amazing parkour like feats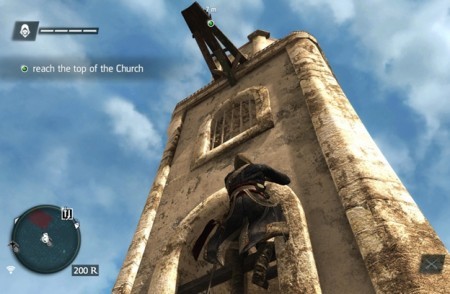 At the very top you will notice a nest and a large bird fly away as you near it.  This is a syncing spot, you come here to survey the area and look at the beautiful scenery.  Every area has a few syncing spots, Syncing helps populate your map with more than just way points.  It allows you to see where the shops, bars, treasures and more are located and to top it off, if you get all of the way points in each area completed you get a bonus.  Aside from being a ledge you can stand on, it seems to always be populated by an eagle or a bird, a good way to find a Syncing spot.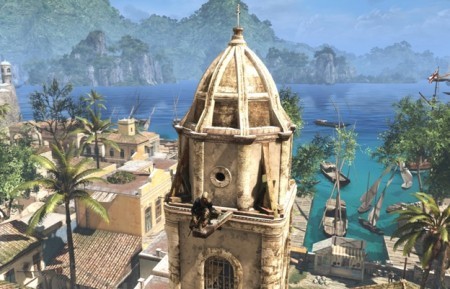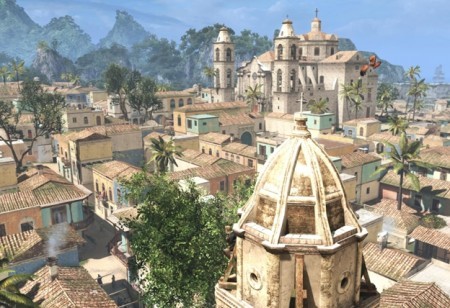 After a few seconds of sight seeing you are interrupted by Stede screaming that he was robbed, so you have to quickly dive from this perch into a hay stack, it's called a leap of faith and I will get some screen shots a little later, this scenario happened to quickly.
As you land in the hay stack you jump into action and start chasing the crook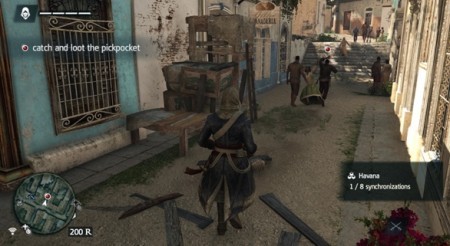 Might take you 1 or 2 minutes to catch him but it teaches you a bit of how to handle yourself when you need to.  When you catch him you drop him to the ground and loot him to get back what was stolen and some extra money, why not.  All of the citizens in this game react differently to attacks and bumping into people as you run by them. 
The guy standing the closest to doorway, looks deathly spooked by what has occurred and the guy to his right looks like a big shot coming to see what has happened.  Every session is truly a unique experience.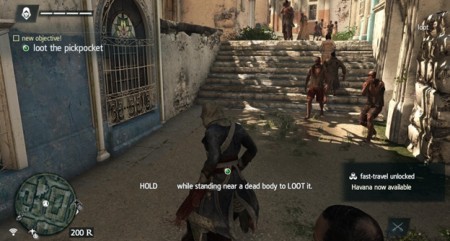 When you rejoin Stede and give him back what's his, you make your way to the Tavern where there are more problems waiting for you.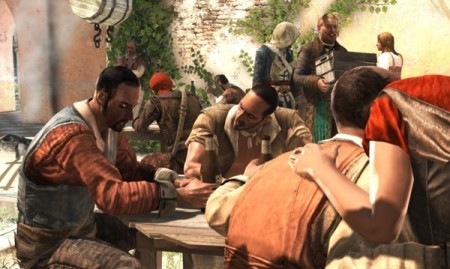 It seems like one of the drunken patrons recognizes you as a pirates from Nassau.  As a side note, not all the women in this game look this rough.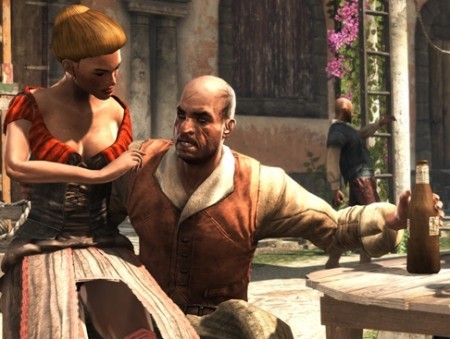 Seems like Edward can't rest for a second, at least let him get a beer or 2 in.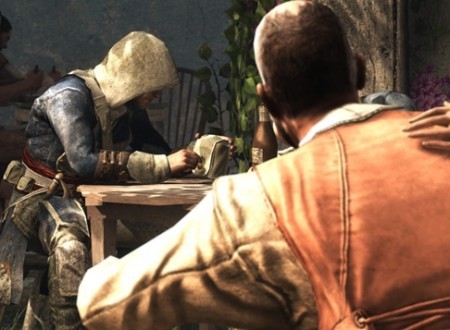 The fight starts out with only 3 people, but as you defeat them more patrons join in on the fun.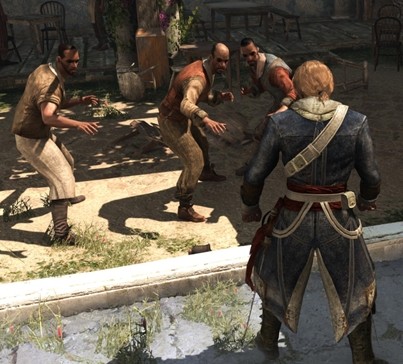 This fight is a tutorial for how to fight more than one person and how to break from  enemies attacks, pay attention, it will help you later.  You win this fight, but not without them breaking your nose.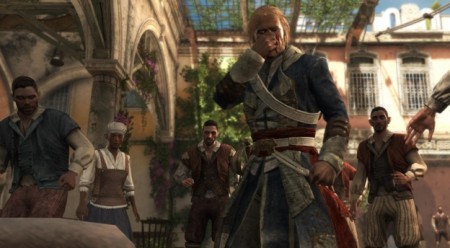 Just as soon as you leave this fight a bunch of yellow coats come running downstairs.  Wait, did you think it was about to get easier for Edward, haha.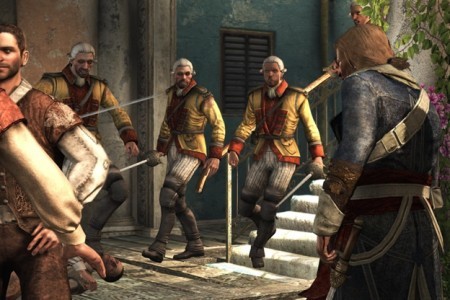 Too many people to fight right now but it seems like you need to elude them with a smoke bomb.  Toss this bomb and run passed them, but run long and hard because they don't give up easy.  I am not sure where I picked up these smoke bombs though.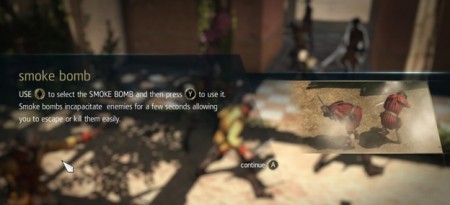 As you come back to meet up with Stede by his ship, you find Stede all beat-up.  It seems like you may have forgotten him back at the Tavern, whoops.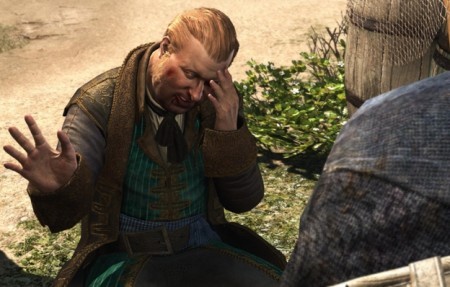 You take it upon yourself now to go get everything back; Stede decides to help you, Oh boy.  You have to follow 2 yellow jackets who might know where your things are.
You learn a new ability titled"Eagle Vision".  Eagle vision can come in very handy allowing to view everything in a sort of X-Ray like view.  You can see enemies who are in hot pursuit of you in Red, people you are following and people that think they might have seen you in Yellow and others in a blue hue.  This feature allows you to see through walls at times for people you may have tagged. 
Let's follow these guys using this new ability, they seem to know where your things are.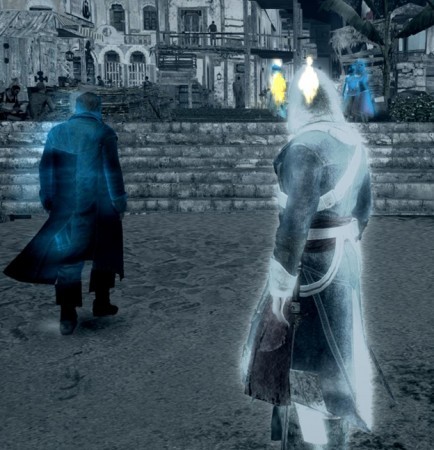 As we are tailing the guards, Stede literally comes inches close to them yelling out loud "I think they may be on to us", Nah you think? 
I placed a red circle over him showing where he ran to but no, they did not see us… I don't know how they didn't but let's move along.  Don't know if you can tell but even Edward is staring at him with a stupefied look.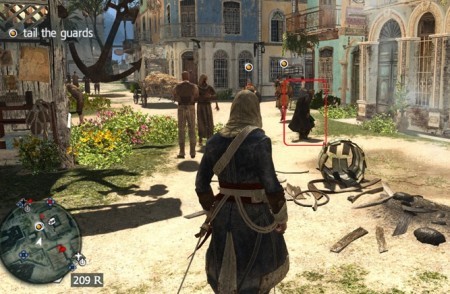 You can take the pedestrian method and run along the streets hiding from sight or even blend in with the crowd, but I chose to take the high road and take the bird's eye view.  Most might want to take this position as well but be warned, there are rifle toting guards perched upon roofs watching below to make sure things are safe.  If they see you, they will fire and warn others, tread carefully.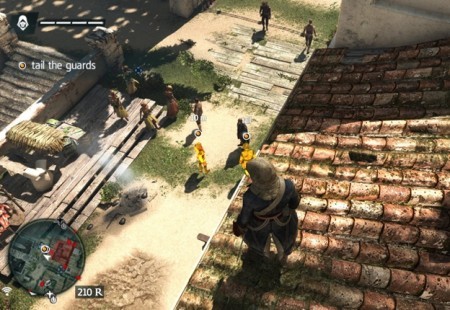 As you follow these guys they walk into a building that is heavily guarded.  You have to figure out a way of distracting the guards, you could go Rambo style and run slashing your swords but it will take you many tries.  What could distract any man… I think it's time to call the dancers.  After a few seconds the guards don't see you and you can run right passed them.  I have to mention, these ladies have more color to them but when you blend in with the crowd, the crowd you are with loses their color… is that a bad thing?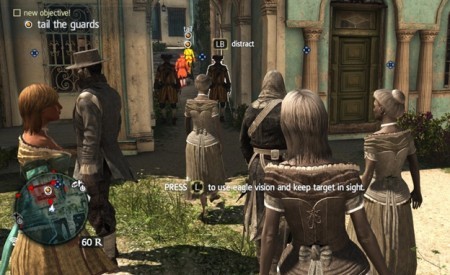 Spider-Man waits patiently as Doctor Octopus…. I mean Edward waits for these guys to enter this building.  Looks like I wasted some money paying those girls off, $150 reals, oh well.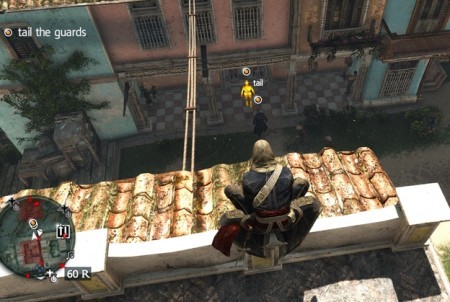 Also, don't get too far from your target, if you get too far your memory becomes de-synchronized and you have to start over.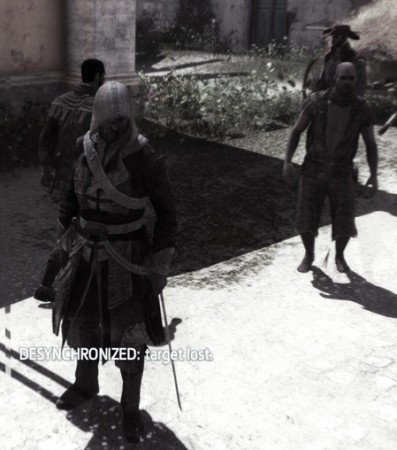 Once you catch up with them again, you will have to eavesdrop on the conversation.  As they walk there is a green ring surrounding them, stay within this radius to hear the conversation.  Many times it is best to stand next to other people to blend in with the crowd, you will go unnoticed.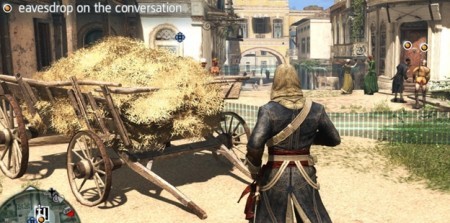 You will follow them for a while as you go into a larger crowd who is gathering to see a hanging, they talk for a while but the hanging never occurs.  After a bit of eaves dropping, they decide to go their ways and you have to tail the captain.  He will go on for a while but I got frustrated and decided to tackle and kill him.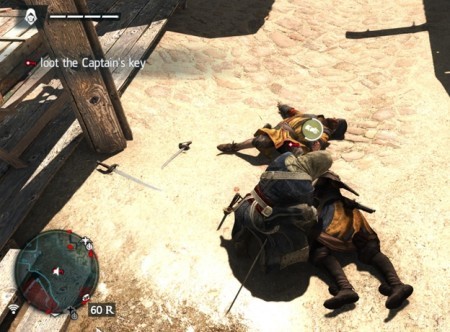 Of course I decided to kill him around a bunch of Yellow coats, but they are relatively easy.  After killing the Captain you have to loot his key.  I quickly grabbed it and made my way to the fort.  You have to be sneaky to not alert the guards and make your way into the fort.  There are nearby dancers to make this easier for you, but I thought I could be really sneaky.  
After fighting more than 10 of them, littering the ground with corpses and having the general public screaming in terror, I decide that I may not be the sneakiest… I wanted to test that even more.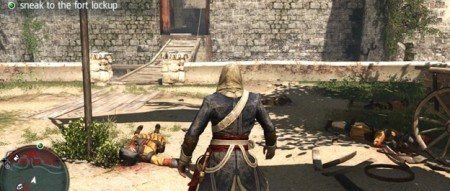 I managed to sneak my way into the fortress and recover the cube, walking right passed Stede's sugar I snuck my way out.  After littering upstairs with over 15 dead bodies and the lower section of the fortress with about 10 bodies I am still somewhat undecided if I am a sneaky enough assassin.  Now on our way to return some of Stede's belongings.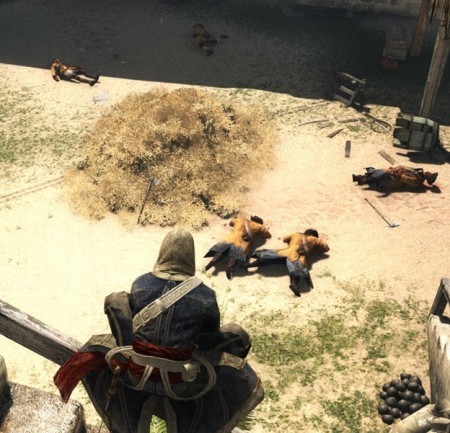 When you make your way back to Stede and return a few things to him,  Edward tries to make him stay but Stede says he needs deliver what goods he has and return to his normal life.  As you know, Edward has a thing about the dull boring normal life and that comment sparked him.  He mentions to stay and live the exciting life but Stede states that he needs to go back to his wife and kids, he has responsibility.  He starts to leave again when Edward reveals that his real name is not Duncan but Edward.  As annoying as Stede is it seems that Edward is staring to grow fond of him.  Stede reminds Edward that he must go see the governor.  Ahhh yes, the governor.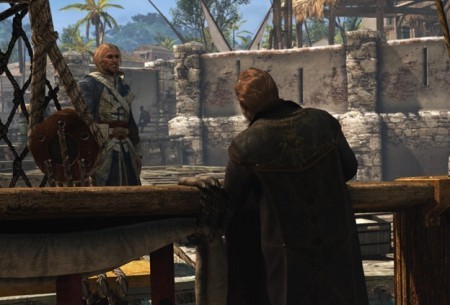 Entering this section of the game you get to know a little more of what play styles you can use and how you use your controls.  It can feel like at times that you are Spider-Man with how you move in this game, the movements are very smooth.
I was very impressed coming into Cuba and actually finding the natives of this island not only speaking Spanish, but Spanish from Spain, where Cubans came from.  I myself am of Cuban descent (My family came legally from Cuba to Miami and I was born in Miami) and in my house we only spoke Spanish.  So this part of the game hit a little close to home.
Spanish from Spain has a sort of lisp to it, when you say Sapo (which means frog in Spanish and is pronounced Sah-Poh) you say Sssapo.  You kind of sound like a snake when you pronounce the S'.  When the islanders spoke, they spoke with those lisps and the mannerisms I learned as a child, very authentic.  You can tell they took their time to make sure everything was authentic.  The scenery was also very authentic.
There is a never ending supply of surprise in this game.  What do you think?
We are influencers and brand affiliates.  This post contains affiliate links, most which go to Amazon and are Geo-Affiliate links to nearest Amazon store.
I have spent many years in the PC boutique name space as Product Development Engineer for Alienware and later Dell through Alienware's acquisition and finally Velocity Micro. During these years I spent my time developing new configurations, products and technologies with companies such as AMD, Asus, Intel, Microsoft, NVIDIA and more. The Arts, Gaming, New & Old technologies drive my interests and passion. Now as my day job, I am an IT Manager but doing reviews on my time and my dime.