We are influencers and brand affiliates.  This post contains affiliate links, most which go to Amazon and are Geo-Affiliate links to nearest Amazon store.
Deleted a file permanently? Deleted a file from a removable media? And realized that you really need it back. This has happened with all of us, and with me an awful number of times! Luckily I have recovered (almost) all of my files, and today I will explain you when and how you can get your files back.
Do check out the EaseUS Data Recovery Wizard review! It does the job pretty well as well!
Is the File Actually Deleted?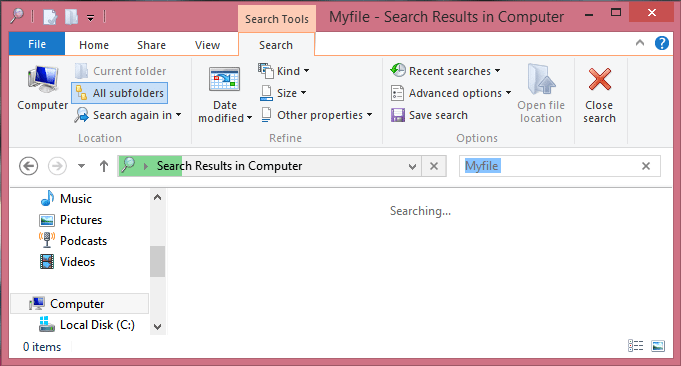 Let's first see if the file(s) are actually deleted-
Windows:  Open any Explorer window and type in the name of the file in the search bar to search for the if. It is possible that a copy of the file is lying there somewhere.
Open the recycle bin and check for the file (sorting the files by date modified helps). Don't run any programs that clears up free space or don't use Disk Cleanup on any disk.
Check your cloud storages for the file, (you may want to look the in the trash).
Check your backups/file history of file/folder (if any).
---
Recover Deleted Files

Easy but risky way
To recover your deleted file, just download any data recovering program (Recuva is my personal favorite). Just install the program and open it, scan the hard drives, and recover the desired file.
This is also risky because download and installing a program will write it's data and can overwrite the deleted file's data.  Not only this, but any program even the OS can write it's data to the disk, overwriting the deleted file's data.
If the data is too important, shutdown the PC and read the article from another machine.
---
Advanced but Safe Way to Recover Deleted Files
If your PC is using a Magnetic Drive (traditional HDD), you may be in trouble. If you continue to use your computer, you may be decreasing the odds of recovering the file. Even reading this article on the same machine is not recommended, use any other machine to read the article. As any program can overwrite the deleted data and you may loose your stuff.
After shutting the PC  down, boot from a Live Linux CD/USB or just remove the hard-drive and plug it as secondary drive in any other PC. Now run a Data recovering program and select the drive as destination and let it scan the drive, if the file is deleted recently and you shut the PC down, you are most likely to recover the same, and if you deleted the files a little ago (15 days or so) then you may recover it but the condition would be non-usable.
---
The last hope; Let the professionals do it.
If the data was extremely important, shut the PC own without wasting any more time. Take it to a professional, and let them do the work. They may disassemble it, and do everything with your drive to recover the data. But these services are extremely expensive, can cost you hundreds or thousands of dollars, take time, and they don't guarantee anything and may still charge you. Only do this if the data is EXTREMELY  important and you have no option left.
---
Do share your experience and feel free to ask away any question in the comments section below!
Also read: Best Windows freeware utilities.
We are influencers and brand affiliates.  This post contains affiliate links, most which go to Amazon and are Geo-Affiliate links to nearest Amazon store.
Hi, I am Ishaan Farooq, let me introduce myself. I am a Tech Blogger from Lucknow, India and am a big Techo Freak who loves to Surf Internet the whole day and is a Modding, Programming and Customization Enthusiast.