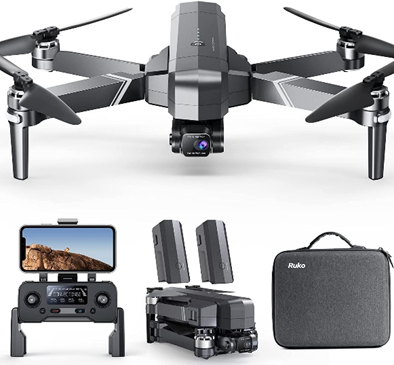 Looking for a high-quality drone to get nature recordings, but don't want to spend too much money?
Drones are arguably one of the best inventions. The drone is widely used in wedding recordings or to capture images at high altitudes that would be impossible with a common camera. They are so popular that more and more people are using them to upload content to social networks. In previous years the idea of buying a drone might sound too expensive, but with the advancement of technology the prices of drones have dropped considerably, so you can now have a high-quality drone at an affordable price compared to previous years. Whether you are a novice or an expert you should know that using a drone for the first time can be a bit tricky, especially if you have never used something like this, but companies have managed to offer easy-to-use drones, so some companies design drones that can be easily used by beginners, so, if you're one of them, you won't have to worry about crashing it the first time you fly it.
The price range varies depending on the manufacturer, but an intermediate price range is 500 dollars, below that price the quality is not so good and the battery life will be lousy. If you are a beginner, it is probably that you do not want to spend more than 1000 dollars on a drone, but surely you would like to get a good quality product that is able to have fun.
A good option to consider is the Ruko F11 GIM2 drone. This is a drone with 4K recording, so you'll get crisp recordings. It is easy to use and has an optimized battery so you can use it for a long period of time. Without a doubt a great product that could become a perfect gift. Next, discover the most interesting features of this product.
Features of the Ruko F11 GIM2 drone
With the Ruko F11 GIM2 you can get incredible images thanks to the incredible technology it incorporates. The main feature of this drone is the optimized battery that guarantees up to 56 minutes of continuous use, so you can have fun for a long time without worrying about recharging the battery. Not only the battery is surprising, but the video quality is also well above the drones of this price range, Thanks to the 4K UHD quality you can get incredible images, so if you are a person who uploads content to social networks it will surely be very useful. Whether you practice sports or want to record a special event you can surely get the best out of this drone. This drone also incorporates advanced technology to make you feel safer every time you use the drone. It includes an intelligent GPS assistant that will allow the drone to automatically return home when it detects that it is out of signal, so if at any time it flies more than the limit you will not have to worry, the drone will return home safe and sound. It can fly the drone to a maximum height of 9800 feet (3km) which will be enough to explore nature. It includes a 360-degree function that will allow you to stabilize the drone in a specific direction, so it will be useful in professional recordings or for filming acrobatics. This drone is level 6 wind resistant, so it will be safe to use on most occasions. Finally, 5G technology guarantees a fast transfer of files (you will need an SD memory of a maximum of 128GB).
Summary
If you are looking for a drone with high-quality performance surely the Ruko F11 GIM2 is what you need. It is a drone with a 4K UHD image quality, so you will get spectacular recordings. Ideal for recording natural landscapes or special events.
You can buy this item here: Amazon.com: Ruko F11 GIM2 Drone with 4K HD Camera for Adults, 9800ft Video Transmission, 3-Axis Gimbal (2-Axis + EIS Anti-shake)Quadcopter with 2 Batteries, Brushless Motor Level 6 Wind Resistance GPS drone : Toys & Games
My name is Joel! I love to read, I go to university like most people my age.
In my free time I usually train boxing, I love music, I also know how to play the guitar and the harmonica.