Recently we did an article on the best and most creative looking USB flash drives available out there. And now as we approach near one of the most awaited events of the year, I'm pretty sure there would be plenty of Santa's dropping hardware loot under the Christmas tree this Christmas, if you've been a good boy/girl that is. The hardware loot might include some or most devices which uses USB ports as input/output. And depending on how good you have been, your current system may not have enough USB ports to power the awesomeness, and for that purpose, here we are with another best looking and creative USB Hubs article this time :).
1) ATian(TM) 4 Port USB 2.0 HUB High Speed Adapter Cable White:
Starting with a few simple ones, this one looks like a plane white robot or human if you may prefer. This hub has 4 USB output ports, 2 on arms and 2 on legs, while the input cable is joined with the head. Also worth mentioning is that this is USB 2.0 hub. Priced at $2.55 on Amazon, that's the best price you can get right?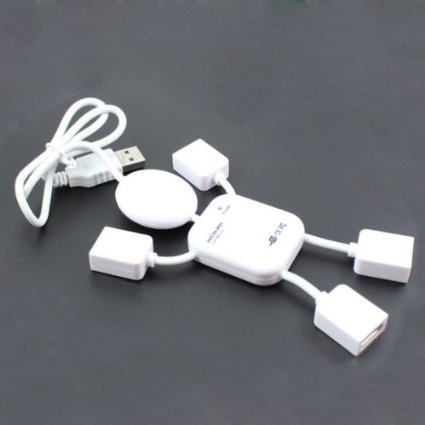 2) Kikkerland Poodle USB HUB:
This one is similar to the above mentioned hub, but just having a different design, and company. This one is designed to look like a horse, which it actually does, having 1 USB output port on each pair of legs, while the input cable is coming out from the head once again. This one is also a USB 2.0 Hub but price rather higher, at $6.97 on Amazon.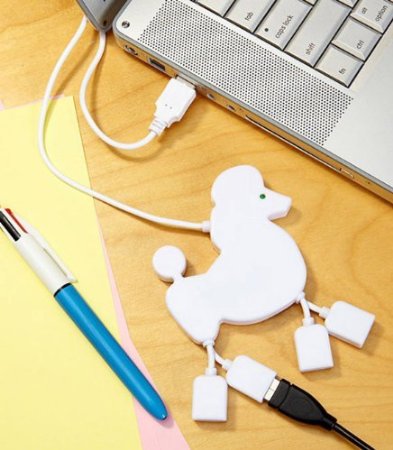 3) Cute Octopus Design USB Hub.
Here comes another similar product as mentioned above, with 4 output and 1 input ports on its legs or testicles if you'd say. I hope you are not getting bored with the similar products mentioned in the list, but just wait a while ;). Another thing worth mentioning is that this is a USB 2.0 hub which is also available in different color on Amazon, while the black one is available for $9.48 right now.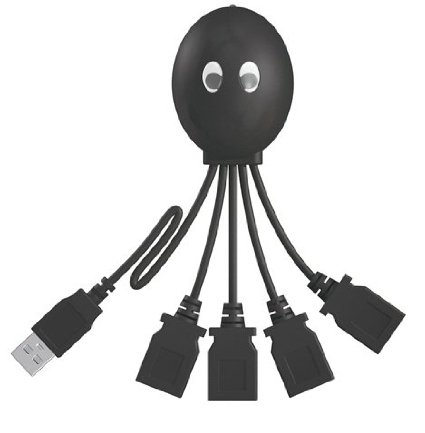 4) Retro Robot USB Hub
Time for a change and here we have some retro looking robots as USB hubs. I'm pretty sure there are people who like to decorate their home in retro style, and this would be a nice addition. Available in different color and design, this is a USB 2.0 hub with 2 output ports on legs and arms. This hub is currently available for $12.50 on Amazon. Did I mention their eyes flashes while data is being transferred?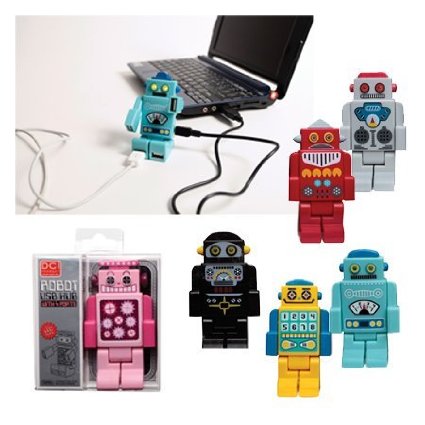 5) Design-Pie Cute Dog-Design Hub:
Next one on the list is the cute lego looking dog Hubs. This dog, I mean hub have 3 output ports on the back and one in place of the mouth (feel free to feed him) while the tail, I mean input cable in coming out from the position of tail. This is also a USB 2.0 hub, but available in different colors. Having an army of these hubs would look cool, as you can see in the picture. This hub is currently available for $19.99 on Amazon.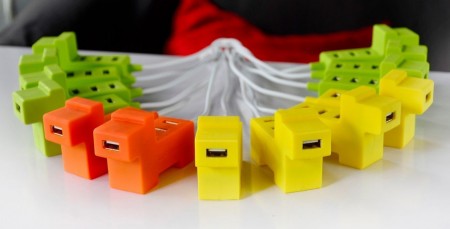 6) Sleepy Bunny USB Hub:
Something perfect for a home with little children, or for schools. This bunny has 2 output ports on arms while 2 on legs whereas the input cable comes from the back of it. It is also a USB 2.0 hub and available in 2 different colors. But this one has 2 plus points as well. first being the ears and the tummy glows whenever you connect it to PC/Laptop and second being the price. This sleepy bunny is available only for $5.25 right now on Amazon.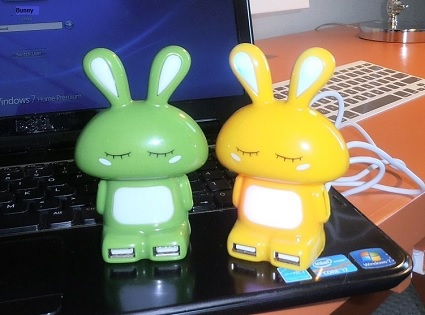 7) Office Chumps Pig USB Hub:
This one totally deserved the best stop in the list but we've planned something else for that. Just like the Sleepy Bunny Hub, this would make for a good addition to home with little kids or schools or even better if you're going to gift it to someone. But just like others this one is also a USB 2.0 hub, but comes with 3x 2GB minion USBs as well. The listing says it comes with 4 ports, though only 3 are visible in the image, not sure where the 4th one is. Coming with 1 year warranty at a price of $30.33 at Amazon, this makes for a perfect gift for this Christmas or any other event.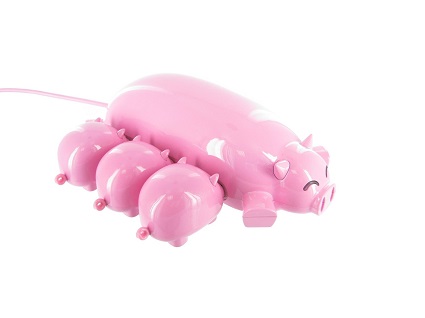 8) Skull USB Hub:
If I remember correct, I think I mentioned a Skull shaped USB as well in our previous USB list, so here we are again, with another one of the Skull, but this time it's a Hub. Personally I can confirm, this would look great with my computer setup. This Hub is a USB 2.0 Hub with 2 output ports on the left and 2 on the right side of skull. Another plus point of this is, it can be used as a holder as well, because it's a no-brainer, I mean there's plenty of space to hold little things in the skull. Priced at $19.09 on Amazon, this would've make for a perfect gift for Halloween as well, but that's gone now sadly.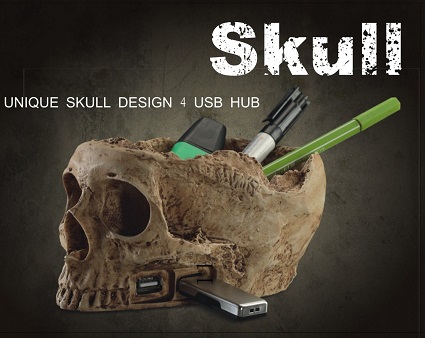 9) Darth Vader USB Hub.
That's right, we have a product based on the movie series Star Wars, featuring the world famous villain Darth Vader, well atleast his head. I personally would have liked it more if the ports were on his mask instead on a flat board, but maybe the wires or devices on the mask would look weird. Anyways, this Hub doesn't only features Darth Vader, or at least his head, but it also makes the breathing sound he use to make in the movie, whenever you attach or detach any USB device from it, cool right? At a price of $39.30 on Amazon, I would've really liked it if it was a USB 3.0 Hub, which it isn't but you are still getting the head attached right?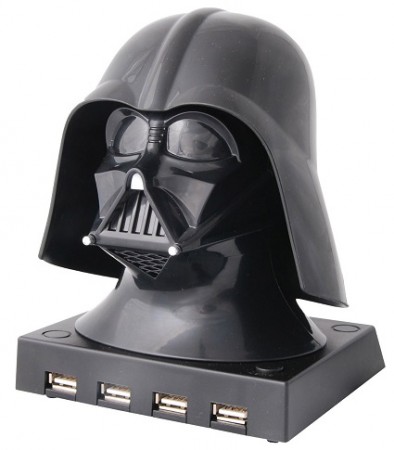 10) Star Wars R2-Q5 USB HUB:
You read that correct, we've got another product based on the Star Wars series, It's the R2-Q5! You might be thinking the robot used to be white and blue not black and golden, well yes, that's the famous R2-D2 model which I wasn't able to find on Amazon, except on one listing that was over $200 with only one poor review, so here we have the similar R2-Q5 model. It's not just a normal USB Hub, but as you might have seen in the movies, it also does rotate it's head a few times when you connect it to a PC/Laptop and also makes the beeping sound that R2 Robots does, awesome! There's more, it also have LED installed on the front which blinks time to time giving it a more realistic looks, Oh I wish if only it could move as well..
All these functionality and 4x output port couldn't came altogether in a cheap price, and that's why we have this product listed at $86.15 on Amazon, that's rather expensive if you ask me, considering it is a USB 2.0 hub as well. But anyways, price might not be an object for Star Wars fan, and this was worth the mention in the list.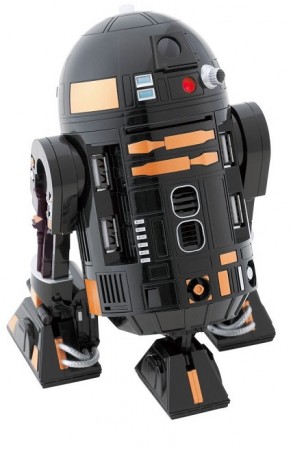 That's about all the best and creative looking USB hub I came across around 50+ pages of Amazon, there were a few more which I couldn't decide to give a stop in the list, so I dropped them, we can't really cover everything right? On a side note, this list was made primarily based on the creativity/design/looks of the USB hub, the performance of each model may vary. There are tons of cheap USB 3.0 hubs aslo available in simple and sleek design, and we have reviewed a few as well, make sure to check them out as well if you are looking for performances.
I hope you find something from the list to gift someone on this Christmas Eve, or maybe even one for yourself. Be sure to leave a comment about the list, what you think about it, and what else could have been mentioned.
Hi, I'm Ahmed Kazim and I've been a gaming freak since like 7-8. I'm also a geek-o-nerd who keeps looking around for latest development in hardware/tech/gadget industries so expect some quick news from me. I'm also interested in anime (Japanese animation) and can't stand a day without music and gaming.