[P_REVIEW post_id=74392 visual='full']
Over my time here at Dragonblogger, I have reviewed quite a few earphones. All of them were wired ones. This time, I received a wireless earphone for testing which is apparently supposed to be waterproof as well. The earphones that I will be testing this time will be the Tsumbay TS-BH20 Bluetooth earphones/headphones. These earphones are priced at around $25 on Amazon which falls well under the budget earphones price range. So, let's test out these wireless Bluetooth earphones.
UNBOXING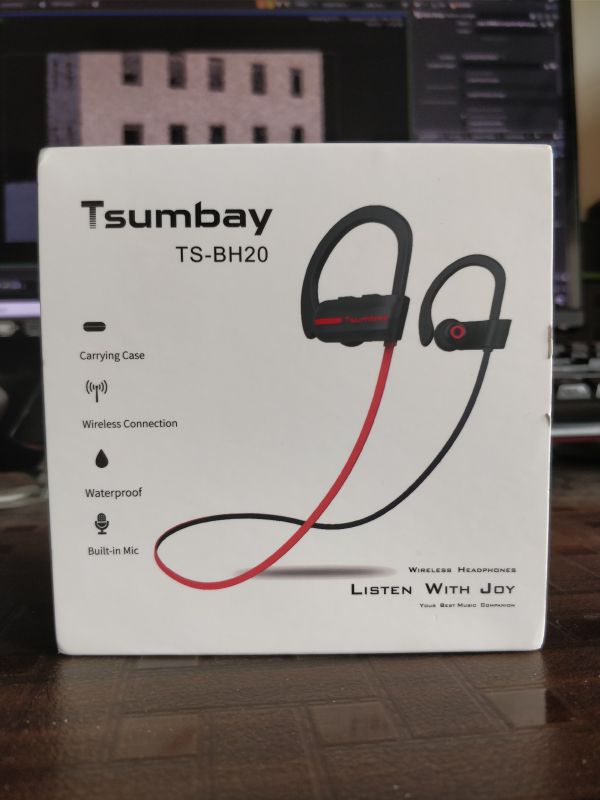 This is the front and the outermost packaging of the box. Here you can see a basic visual of how the Tsumbay TS-BH20 earphones look like and a bit of information about the earphones.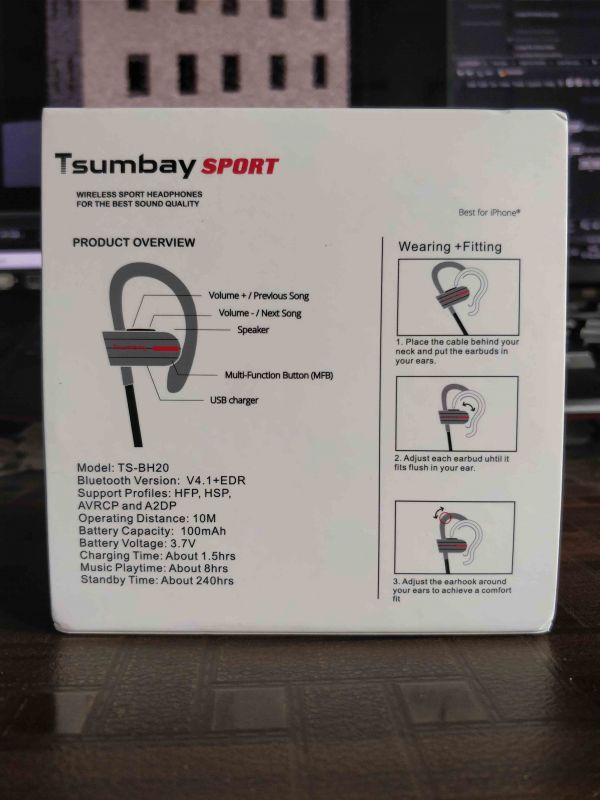 On the back, you can see the technical specifications of the earphones as well as where the buttons are, and an image representation of how to wear the earphones properly. And on the top, it says Tsumbay Sport. So I am guessing that these earphones will be good for workouts.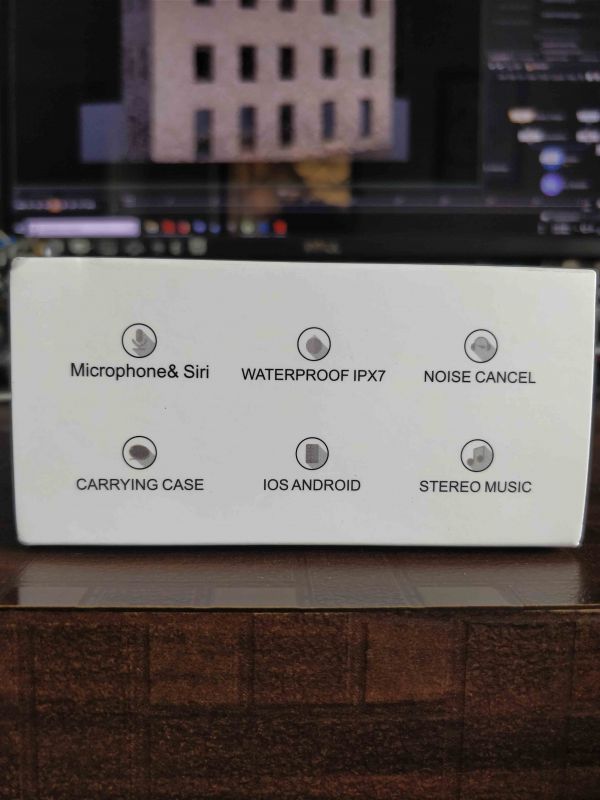 More information can be found on the side, like the Tsumbay earphones come with a microphone, has an IPX7 waterproof certification, comes with noise canceling and has a carry pouch as well.
Inside the Box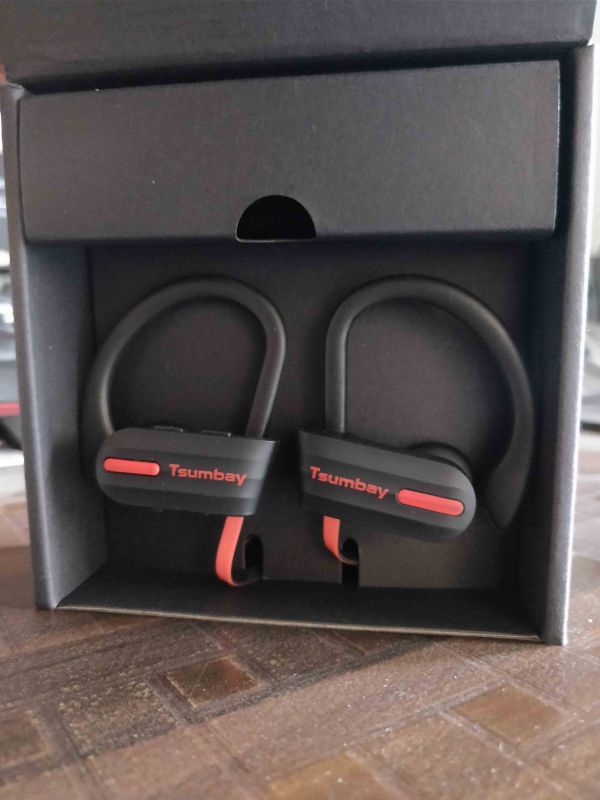 Opening up the box, This is how the earphones were packed inside. Pretty neat and aesthetic placement.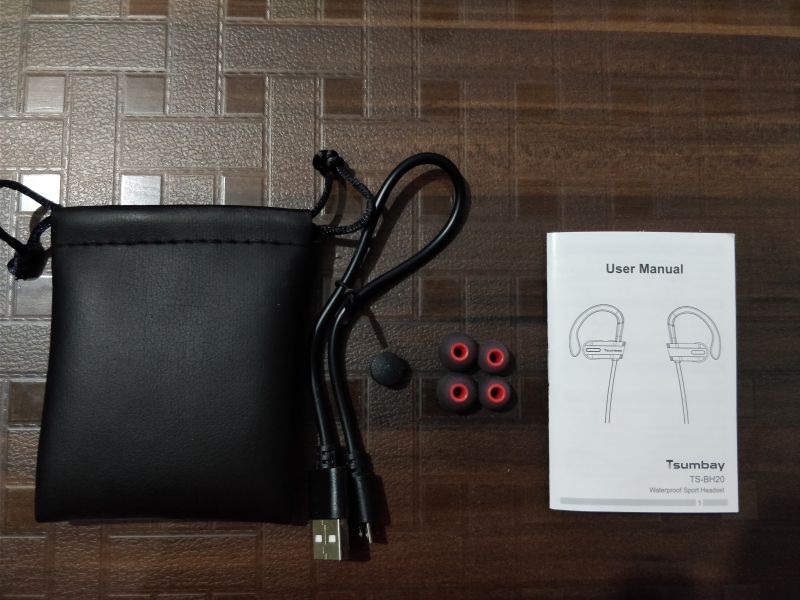 Apart from the earphones, the box includes a really nice and premium carry case, 2 different sizes of ear tips, a clip to hold the wires together, and a user manual.
Initial Impression and Design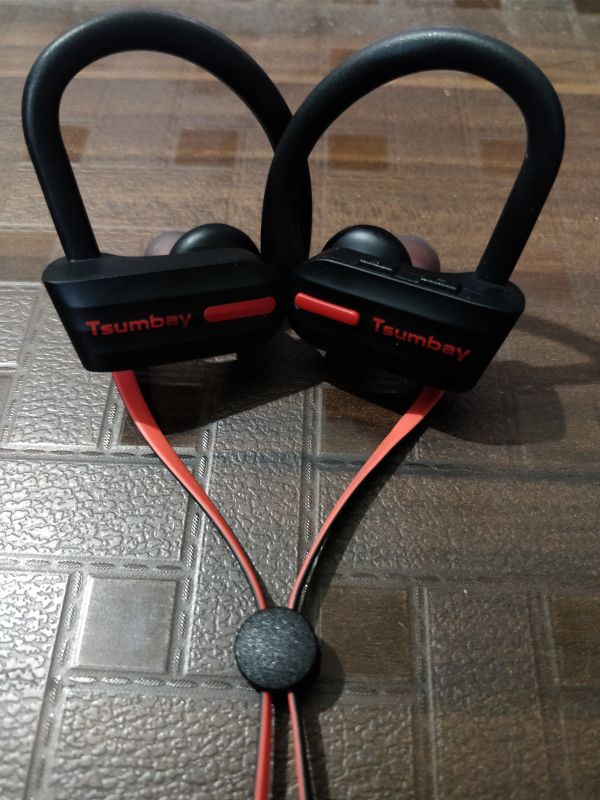 Oh boy. These earphones look damn good. The earphones come in just one color which is red and black. I wish they would introduce more color variants but the red and black is a color combination that one just can not dislike. I don't usually like the over the ear hook but since these are kind of sports-oriented earphones, this kind of support is the best choice because when you are working out or running, you don't want the earphones to fall off of your ears while you are moving, so this is a rather good thinking by Tsumbay.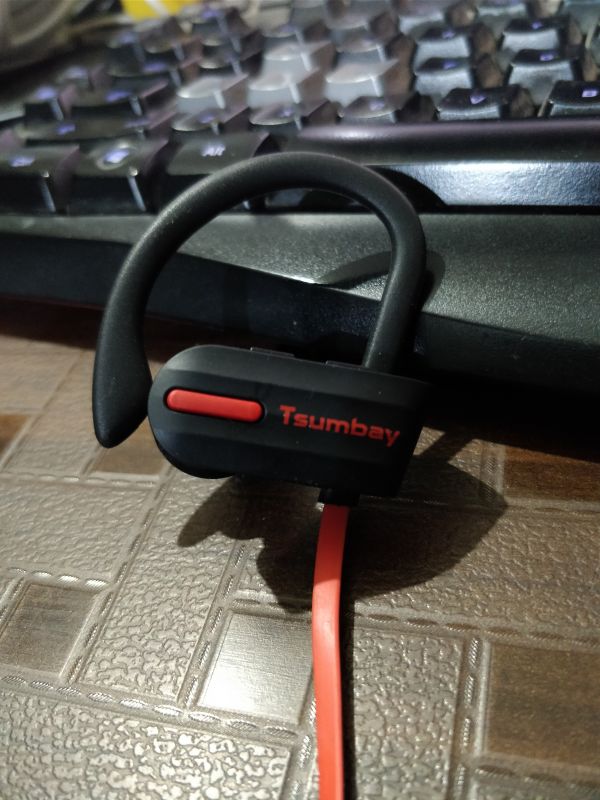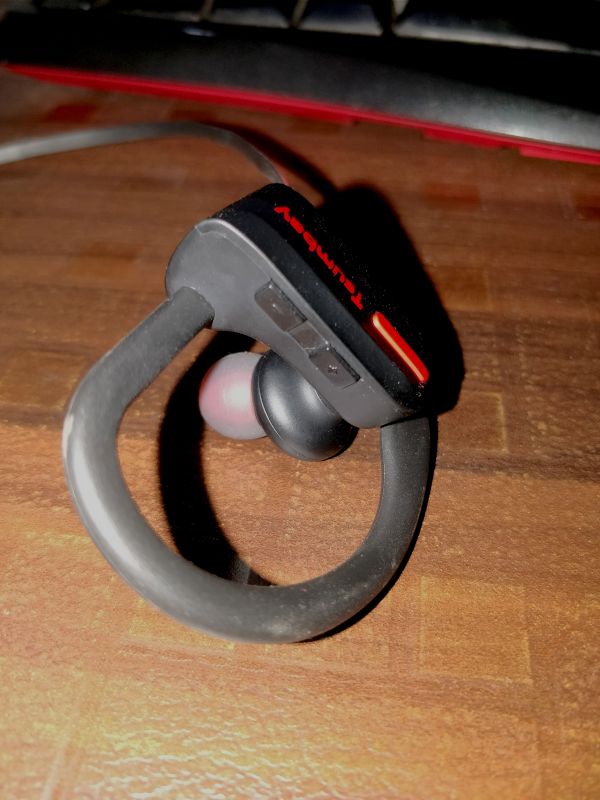 The volume rocker is placed on the right earphone. There is a small gap between each button so that you don't misclick one thinking that it was the other button. Once you have reached full volume, you will get a beep audio indication to let you know. The red button is the power on/off button and is a Multi-Functional Button(MFB) which means that it can do other functions like attend calls, play or pause music, skip songs and more. Holding the button for a few seconds will turn it on and turn it off as well.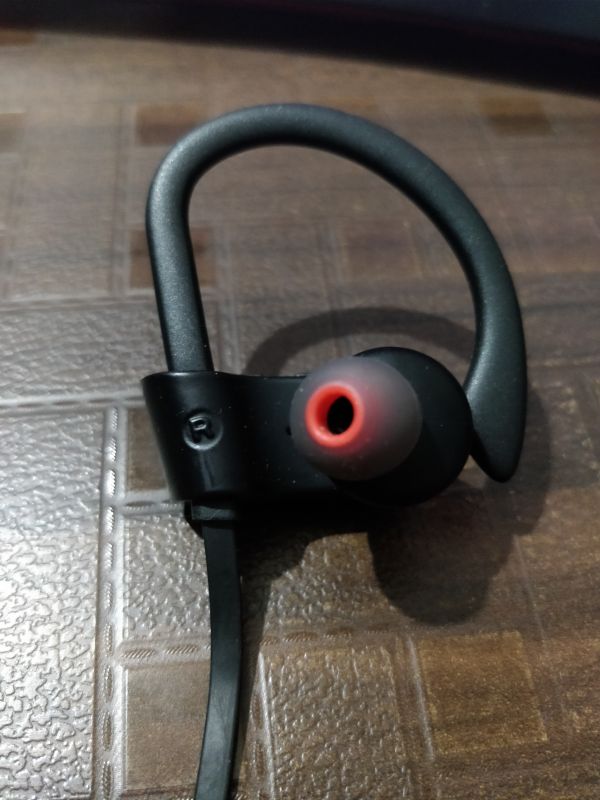 The earphones have a curved design near the ear tips so that they fit in properly inside the ears to provide better comfort, sound and helps in noise canceling. You can also see the letter indication so you know which side of the earphone will go in which ear.

The charging point is located on the bottom side of the right earpiece. A micro USB cable is required to charge the earphones which is included with the box. You will need a power brick though which is not included in the box like every other wireless earphone.
SPECIFICATIONS
| | |
| --- | --- |
| Model | TS-BH20 |
| Bluetooth Version | V4.1+EDR |
| Operating Distance | 10m |
| Battery Voltage | 3.7V |
| Battery Capacity | 100mAh |
| Charging Time | 1.5hrs |
| Music Playtime | 8hrs |
| Standby | 240hrs |
| Supported Profiles | HFP, HSP, AVRCP, A2DP |
SOUND QUALITY
After listening to these for a couple of hours, I can definitely tell you that these earphones are heavily focused on the bass side. Since the earphones are named Tsumbay Sport, these earphones are for those who like to go to the gym, or running or for other kinds of sports. So a good bass music can really pump you up so you can run the extra mile. I really liked the bass on these earphones. But at the same time, I found the audio overall to be flat. These are definitely not for the audiophiles who just like to play a song and fully immerse in it and feel the singers thoughts. I have seen quite a few wireless earphones at this price range that provide a better sound quality, but those ones lacked in the bass area, while the Tsumbay earphones shined in the bass. There is none or barely any audio loss even on full volume.
Comfort
The Tsumbay TS-BH20 earphones are really comfortable. I could go on and binge a show for at least a couple of hours before i feel any discomfort. Using the proper ear tip size, the earphones fit properly in the ear canal and don't come off easily due to any movement.
BATTERY LIFE
I tested these earphones for over a month now and during my testing, I only had to charge these earphones two times. I used these earphones daily for at least an hour of Spotify or sometimes more when I am watching a TV series on my phone. The earphones take 1.5-2hrs to fully charge and these earphones will easily last you for 8-9hrs of continuous music playtime. Now you probably won't be using these earphones constantly for so many hours, so one charge will easily be enough for a week or two.
BLUETOOTH
So the Tsumbay TS-BH20 comes equipped with Bluetooth 4.1 and EDR which means faster connection, faster data exchange, and more range. The range lasts for around 10m and a bit more depending on any obstacles or walls. The earphones are easy to pair and once you have them paired, they will instantly connect the next time once your Bluetooth is on. I tried testing the Bluetooth by keeping my phone at quite a distance and there was absolutely no delay in audio nor did the audio break at any time. I only had problems when there was a wall in between my phone and the earphones and suffered from minor audio cracking and delay.
WATERPROOFING
Okay, so the box says that the Tsumbay TS-BH20 are waterproof with an IPX7 certification. So these won't get damaged if they get wet due to sweating or even rain. So to test these out, I went right into the shower and sat under for about 15 minutes straight. Now for the whole time, the earphones were under direct contact with the water. And I was quite surprised to see it last for so long without any audio cracking while listening to songs or any damage to the earphones whatsoever. Now under normal conditions like doing sports activities or while gymming and running, where you sweat a lot, these earphones will definitely absorb all of that water without being damaged.
CONCLUSION
The Tsumbay TS-BH20 are a great pair of wireless earphones. They might not have the best treble in the price range, but given the great bass and being wireless and waterproof at the same time, one can't complain. The earphones have good Bluetooth connectivity and range. Waterproofing is excellent and the earphones are quite loud as well. For a price of $25, and with the regular sales, you can grab these at a price of around $15-$20, which in my opinion is a great deal.