Since the beginning of human civilization we have always sought to explain the unexplainable using magic, something that was particularly prevalent before the emergence of science as a genuine institution.
Nowadays magic has taken somewhat of a backseat to this, with science being the dominant way of explaining the various phenomena that affect our life on Earth. However, that is not to say that the presence of magic has gone in the 21st Century, in fact magic it more present than ever in mass popular culture.
Just look at things such as Harry Potter and Lord Of The Rings, two fantasy series that are completely saturated in magic, and that have had insanely good commercial success over the last few decades. You just cannot get away from the fact that we all love a little bit of magic, especially these days where most things in real life can be adequately explained using science and reason – sure it might make sense, but it's not very exciting is it? 
It should come as no surprise that the online slots world has long been a user of magic as a key theme, with a variety of games over the years testifying to this. One such slot, White Wizard by the world renowned Australian developers Eyecon, has really pricked the fancy of many online slot gamblers since its release, mainly because of its dedication to the magic theme.
As you might imagine from White Wizard's title, it is preoccupied with the classic idea of wizards, much like characters such as Dumbledore and Gandalf. The concept is therefore quite familiar, and Eyecon have done really well bringing the theme to life.
However, it unfortunately doesn't matter how well a developer presents the theme of its online slot if the game itself isn't very good, and slot gamblers will be happy to know that White Wizard slots game doesn't fall into this category. Read ahead for a deeper look into Eyecon's magic themed online slot game.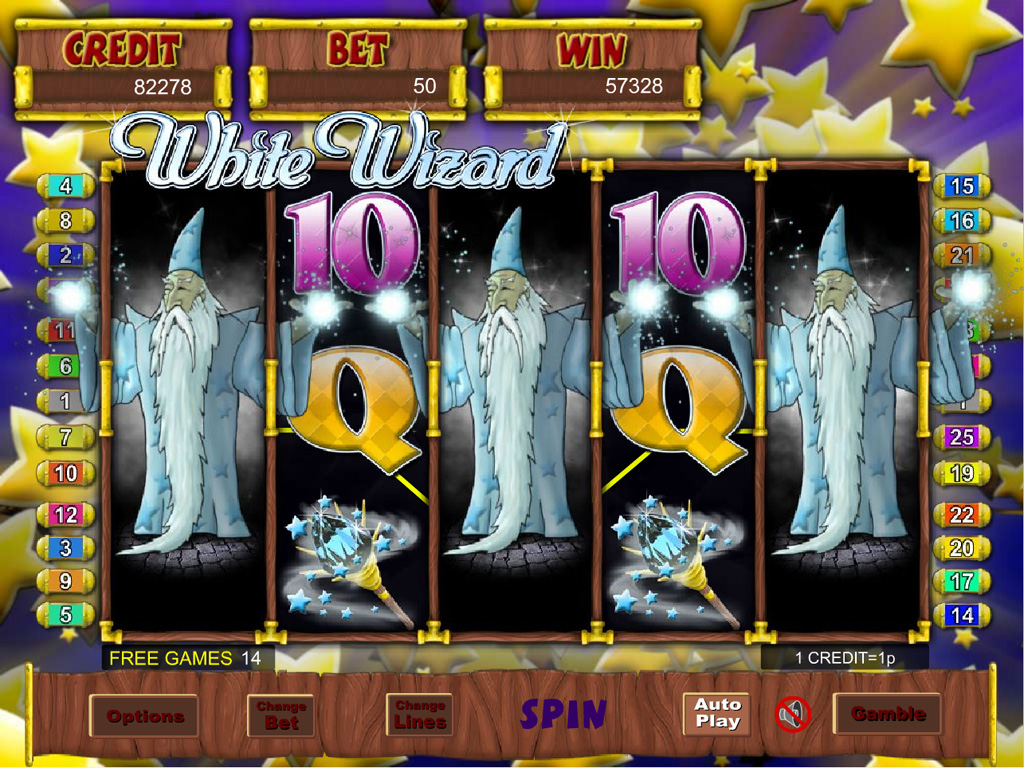 About White Wizard and its general aesthetic 
So, as you can probably gather from its title and our introduction, White Wizard is an online slot that takes the world of magic as its quintessential theme. Eyecon have opted to use a background adorned with lots of white stars in a homage to the classic idea of wizards like Merlin, with long pointy hats and wispy white beards. Although we enjoyed this background, it can look a little bare in comparison to some other online slots on the market these days, but this is only a very menial complaint. And anyway, it is the 5 reel set up that dominates the game screen, meaning that we don't see too much of the background as it is. 
Most of the symbols during White Wizard pertain to its magical theme, however Eyecon have included the fairly standard playing card symbols that stand in for the low paying icons. These run from 9 to Ace, and although they aren't exactly the most magic of icons we are used to seeing them used as the low value symbols in a variety of different online slots os we cannot complain. The other symbols in White Wizard are a magic wand, book of spells, unicorn and a potion mixer, ensuring that Eyecon continues the wizarding theme in the high value symbols too. 
About White Wizard and its game mechanic 
White Wizard uses a pretty standard 5 reel grid set up, something that means even the most basic online slot gamblers will be able to get a pretty good grasp of the game very soon after they begin playing. Eyecon have also included 25 pay lines on which you can make winning combinations, a very nice amount that means online slot gamblers shouldn't be waiting too long to record a win whilst playing the online slot game. In terms of its basic game mechanics White Wizard is very similar to other Eyecon games such as the rapturously received Fluffy Favourites, so Eyecon fans will have no problem understanding the basics of White Wizard. 
High rollers will be happy to know that you can place a maximum of 12.50 coins on each pay line for each spin, meaning that there is a lot of potential to make some absolutely humungous bets on White Wizard. And with an RTP of almost 96% you can bet your bottom dollar that many gamblers walk away from this magical slot with some hefty wins. 
About White Wizard and its bonus features 
No modern online slot is complete without at least a few bonus features, and Eyecon certainly aren't oblivious to this. First off is the game's wild symbol, which takes the shape of the white wizard himself. This can swap with any other icon other than the scatter, and will triple any wins it is a part of – when compared with other wild symbols in the online slot world this one proves to be very generous! 
The dragon icon is White Wizard's scatter and will grant a number of free spins depending on how many dragons you end up finding on the reels. Five of these symbols will earn you 25 free spins, a rather nice amount that could come with a host of big wins. In typical fashion for the Australian developer Eyecon have also included a gamble feature, and this will give you the chance to quadruple your overall winnings, however you could also lose everything so be careful!
About Eyecon and other slots by them 
Eyecon are widely regarded to have been responsible for the world's first genuine commercially viable online slot game with Temple Of Isis being released back in 2004. Since then they have not looked back, releasing a constant slew of games that keep them amongst the top online slot developers. Just take a look at some of these other games from their back-catalogue if you don't believe us, they are eye wateringly good: 
       

Riding Hood Riches

       

Fluffy Favourites

       

Shaman Spirit

       

Kingdom Of Cash 
White Wizard: The Verdict 
There is a reason White Wizard occupies such a cult status in the online slot community – it's just so good!
My name is Alice and I have been into gaming since I first got the Nintendo 64 in late 1996 and enjoy writing about all things relating to entertainment, gaming and streaming. Lately you can find me playing mostly MMO's like WoW, FFXIV or Black Desert Online when I have time to game.