We are influencers and brand affiliates.  This post contains affiliate links, most which go to Amazon and are Geo-Affiliate links to nearest Amazon store.
In the age of technology, mankind has taken a huge step when it comes to computer storage. The first hard drive made by IBM weighed over a ton and was only able to store 5MB of data. Now, a small chip which is the size of a nail is capable of storing terabytes of data.  We have progressed so much that all of our data can now be stored over the cloud and we don't need to carry a storage device with us anymore. Over the years, cloud storage has taken over the world, and everyone is slowly shifting all of their data over to the cloud. From backing up all your work files, music, images, videos etc, and having access to them anytime and anywhere, a cloud service seems like the logical choice for many as we don't have to carry anything with us and we can access all the files via the internet. This is where all of the cloud storage services come in place.  The battle between the cloud storage services is as fierce as ever. Whenever you hear of the term cloud service, you immediately think of Google Drive, Dropbox, iCloud, and One Drive. These services are definitely good and each service has its own benefits. While searching for a good cloud service, one mainly looks for three things, the pricing of the service, the security provided by the service, and lastly, a long-term service.  This is where pCloud comes in. pCloud not only offers a good pricing but also offers military-grade security and is the only cloud service to provide lifetime storage plans. Now that I have got your attention, let's see who or what exactly is pCloud.
pCloud is a fairly young company and was started in 2013.  pCloud is a Swiss-based company and like others mentioned above, is a cloud storage service. pCloud has grown rapidly in the past few years and has over 8 million users now and is growing faster than ever. pCloud got everyone's attention after introducing lifetime storage plans. Because why pay every month or year when you can just get a lifetime storage. Not only is pCloud the only cloud storage to offer lifetime cloud storage, but it is also the first to introduce pCloud Crypto which provides client-side data protection and is pretty much unhackable. More on this topic later in the review. No other cloud storage has either of these features. Talking about features, let's see what else does pCloud offer.
Free storage
pCloud offers its users 10GB of free cloud data on signing up. Now 10GB might or might not be a lot for some people, but other cloud services like Dropbox, iCloud, One Drive provide much less free cloud space when compared to pCloud. Dropbox offers only 2GB of free data, while iCloud and One Drive offers you 5GB of free space. While Google Drive provides you with 15GB of free cloud space, you can easily increase your pCloud storage by referring your friends to try out pCloud service. You can get 1GB of free storage per referral so that's a good way to increase your storage. You can also claim another 4GB of storage by following a few steps.

Ease of Use
The pCloud website is very user-friendly. It is very easy to use and understand. The layout is very simple and is not clustered. Everything is indexed properly. There are two layouts to how you can view the folders- grid view and list view.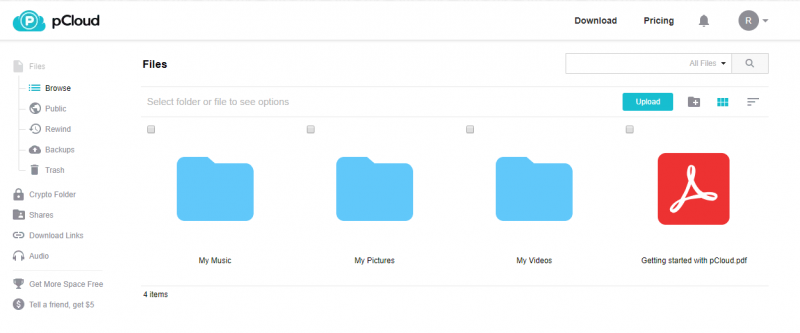 You can also sort the files and arrange them in ascending/descending order, or you can sort it from newest to oldest. Most of the commonly used folders are pre-created for you so you can maintain it properly. You can also just press a button and make a new folder if the pre-made folders are not to your liking. Once your account has been created, it shouldn't take you more than 5 minutes to understand the layout of the software and you will be transferring files in no time. Transferring the files is easy as well. Click on the Upload icon to start uploading. Alternatively, you can just drag and drop the files into pCloud.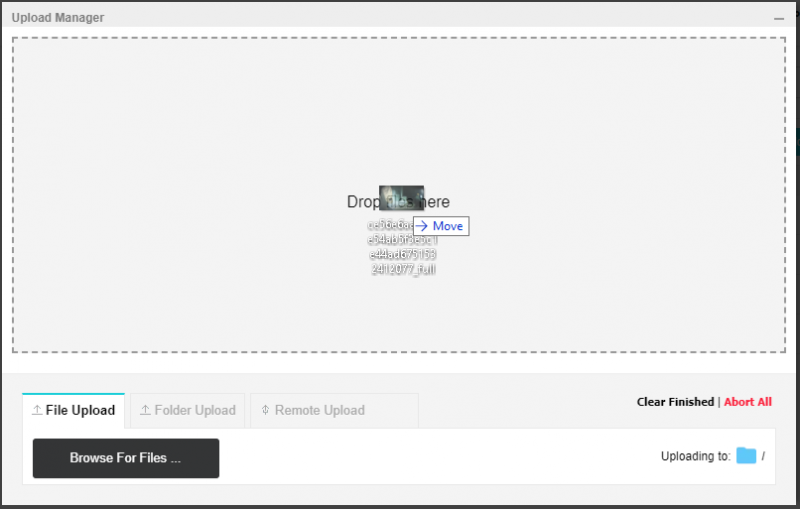 pCloud also comes with an image viewer and a video player. So you can view the images and videos without any issues.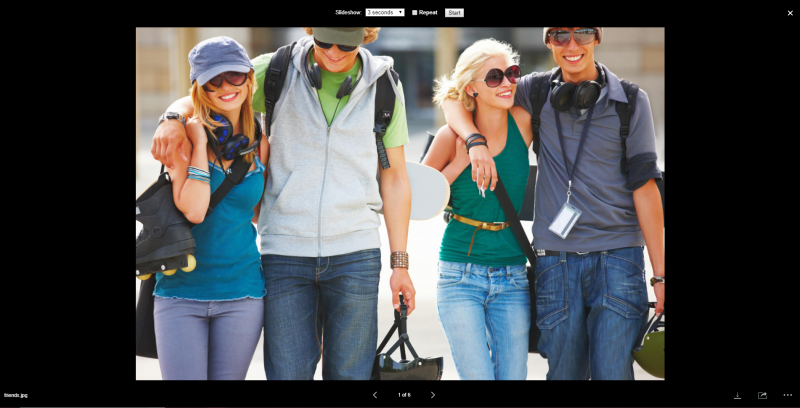 One feature that I found very useful is if you want to download an image from your cloud storage, you can either download the full-size version or you can download the resized version. And the resize options are pretty useful as you get multiple resize options and you can choose one according to your needs.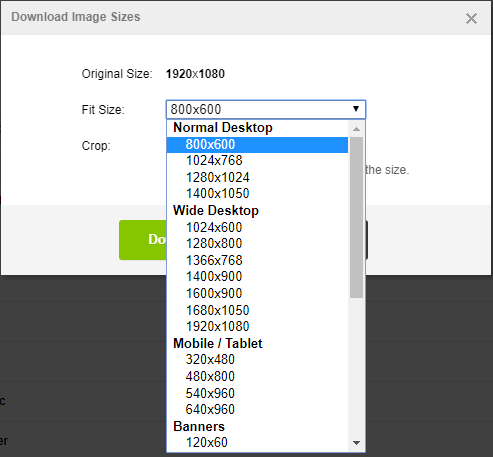 Supports Multiple Operating Systems
pCloud is very flexible and has an app support for operating systems such as Windows, MacOS, and Linux as well. pCloud Drive is a desktop application and makes transferring files much easier.  You can also install the pCloud app on an Android device and on iOS devices as well. With the support of multiple operating systems, you can be anywhere with any device and still have access to your cloud storage.
Separate Storage Drive
Upon installing the pCloud Drive app on your operating system, not only will you get a desktop version of the browser site and more, but pCloud will also create a separate virtual storage drive for you. This will act like any other physical drives that are already present in your system. You can copy-paste files from one drive to another, but instead of the files saving in your system, will get stored in the cloud so you don't use up any of your system's storage. This virtual drive is very useful for those who have a laptop with less storage and can not upgrade their laptop's storage. You can always buy an external storage but why carry a physical drive with you everywhere you go when you can just get a pCloud virtual drive? Since you are looking for a cloud service, I assume that you will have access to the internet at all the times. Loading up files from the cloud is very fast. During my time of using the pCloud drive, all of my files loaded instantaneously and it hardly took time to load and images or videos. This will majorly depend on your internet connection. But what if you won't have access to the internet for some time? Well, you can always select the files that you need regularly and make them available for offline use. This will use up your computers actual storage though.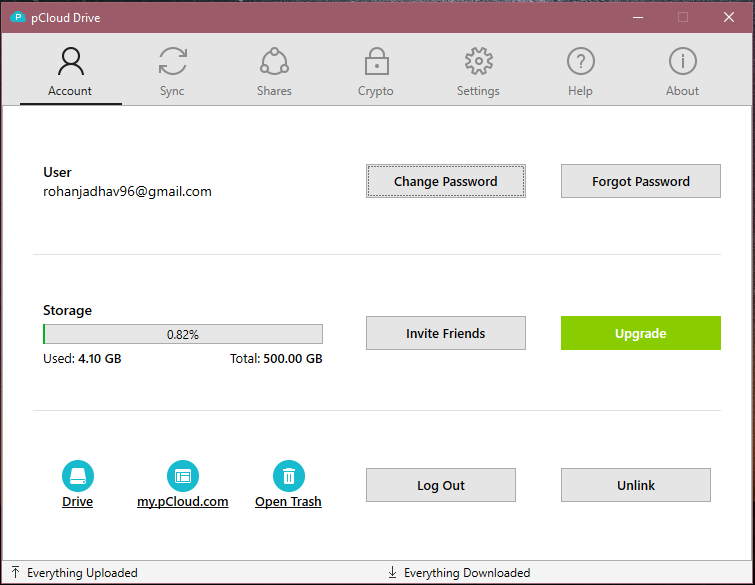 pCloud for Android and iOS
As I mentioned earlier, pCloud has a dedicated app for Android and iOS devices. Which means you can carry all of your cloud storage on your phone. You can access all of the folders and files from pCloud including the pCloud Crypto folder. A useful feature included in the mobile app is Automatic Upload. What this does is it automatically uploads all of your multimedia files such as images and videos.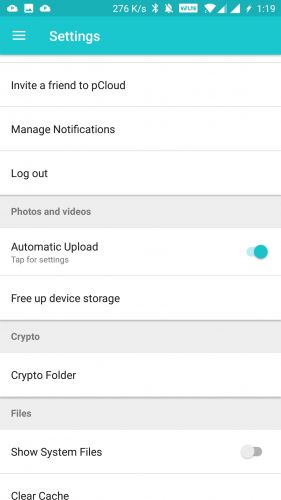 You can also choose if you want to upload just the images to drive or if you want to upload videos. You can also choose to upload both.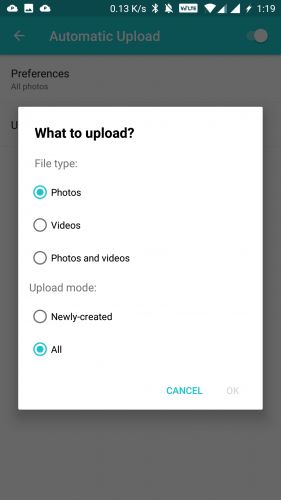 The uploaded files can then be deleted with just one click. If you are worried about the app using your mobile data to upload the files, then you can disable the "Use mobile data" option from the Automatic Upload settings. This will save lots of phone storage and you can still access them anytime by opening up the pCloud app.  To stop others from accessing your pCloud account through your phone, you can set a passcode lock from the settings menu.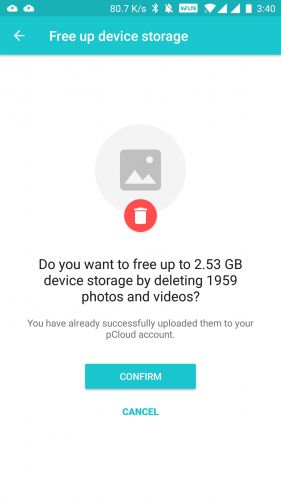 Public Folder
The public Folder is a folder which makes any files present in the folder accessible to those with the link to the folder. To create a Public Folder, open pCloud through the browser and under the Public tab, click on open your public folder. Here you can add the files that you want to share with your friends and family. Anyone with access to the link can view and download the files from the public folder. Apart from using the Public Folder for sharing files, you can also use it to create a static HTML website which will be hosted on pCloud.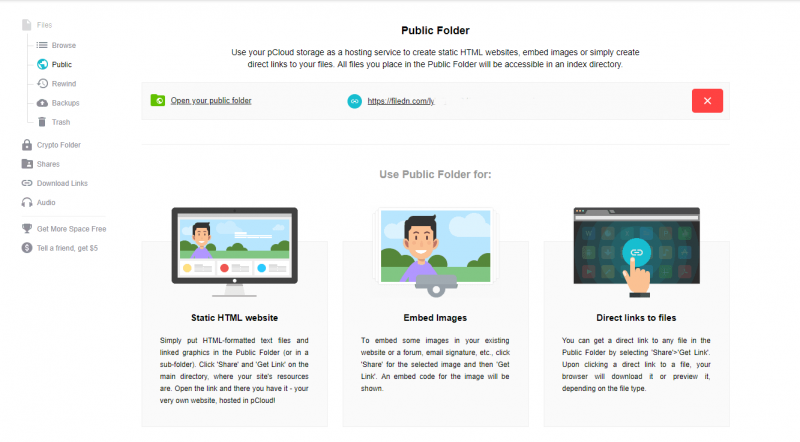 pCloud Sync
pCloud Sync is a feature included with the pCloud Drive app which allows users to sync a specified folder from your local drive with your cloud drive. This is a very powerful feature as the data is stored locally as well as on the cloud. Whenever a change is made on a synced file locally, the updated file will automatically be synced with the cloud version and vice versa. So if you're offline, you can still access the local files and when you restore your internet connection, the files will get synced with the cloud. Or if you're not on your personal computer, you can still use the file as it is stored in your cloud drive. This is a two-way connection so if you delete a file from your local storage, then the file will get deleted from the cloud as well and vice versa. Even if you delete a file by mistake, then you can easily open up your pCloud trash and recover the files from there. You can always open up your pCloud Drive app and stop the Sync if you don't want to sync the files.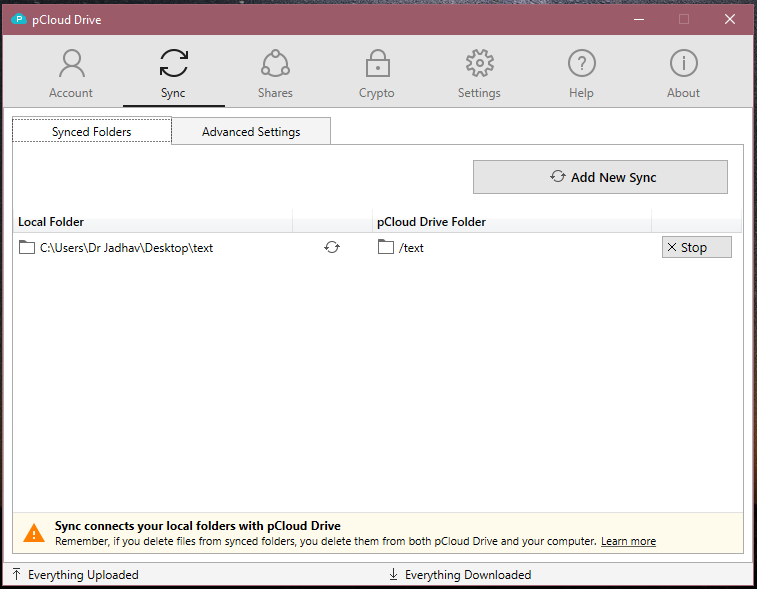 Rewind
Rewind is yet another useful feature that pCloud offers. Rewind lets you recover older versions of your saved files. Say you are working on some files that are saved in your pCloud drive or are synced with pCloud. You have been working with it for a couple of days and want to recover the 3 days older version of the file that you are currently working on. With the Rewind feature, you can restore the 3 days older file with ease. This can also be done using the File Revision option, but the Rewind feature lets you restore multiple files together. You can restore versions up to 30 days in the past and can even extend it up to 1 year by paying just $40.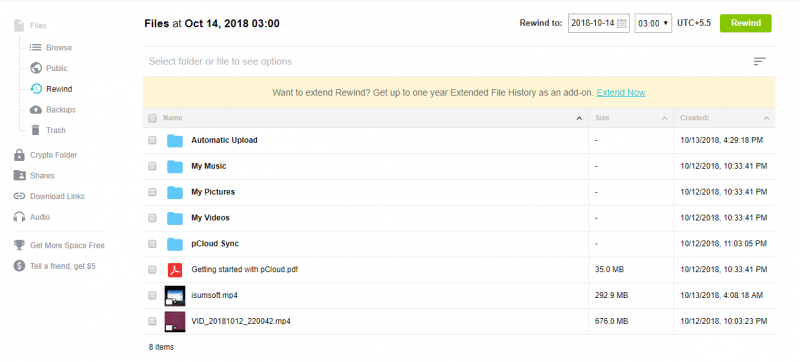 File Sharing
File sharing is a must for every cloud service. And file sharing is very easy with pCloud. You can send and receive n number of files from one user to the other. You do not need an account to view the shared files. To share files, select the file that you want to share. Click on the three dots, and hover your mouse at share. Here you see three options. Invite to folder lets you share the folder with other people. They can edit the files that are inside the folder.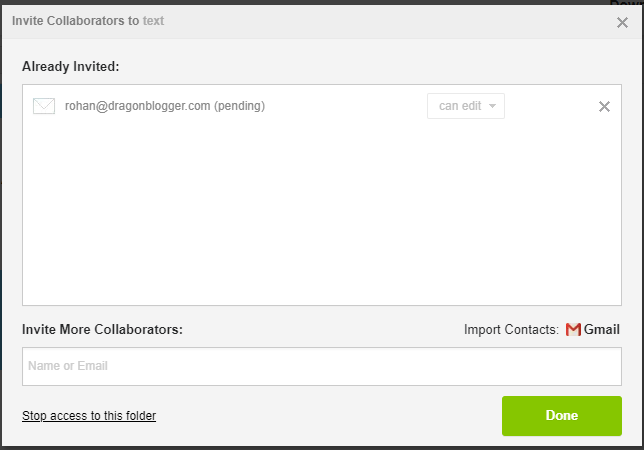 Next is the Share Download Link. You can share the download link others and they can download the file by clicking on the link. This is where it gets interesting. You can set a password to the download link so that only those who have the password will be able to view the files. You can also set an expiration date so the link stops working after some time.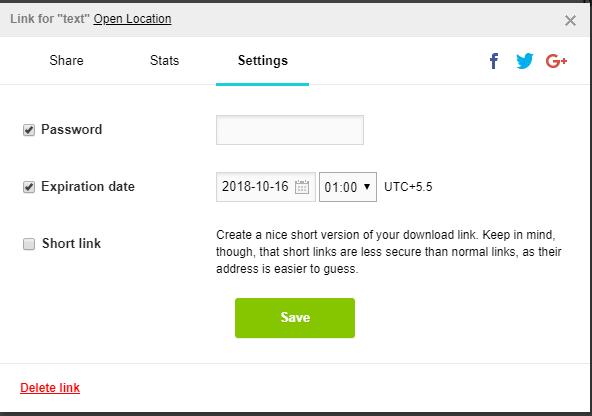 The last option you get is the Share upload link. This allows other users who have access to the link to upload files to that shared folder. The files that you share will show up in the Shares tab so you can access the links quickly rather than searching for the specific file which is inside some folder.

Security
pCloud shines the most when it comes to security. It is the most secure cloud drive out there. To keep your data safe, pCloud stores 5 copies of your files in different servers. So even if one of the servers have a failure, your files are still safe and secured with them. Since pCloud is a Swiss-based company, its servers are located in the EU. So they are protected by the Swiss laws which stop government agencies from other countries to pry on the publics private data. Apart from this, while transferring the files, the data is secured with 256-bit AES method which encrypts the data. And once the transfer is finished, pCloud applies a TLS/SSL channel protection. Apart from this, you can also enable two-factor authentication. Two-factor authentication adds an extra layer of security over to your already existing password. You can enable 2FA from the settings. There are two ways to add 2FA security. You can either choose to get the authentication code via Google Authenticator or through a text message. With this, no one can gain access to your account unless they have your mobile phone or the backup codes provided by pCloud.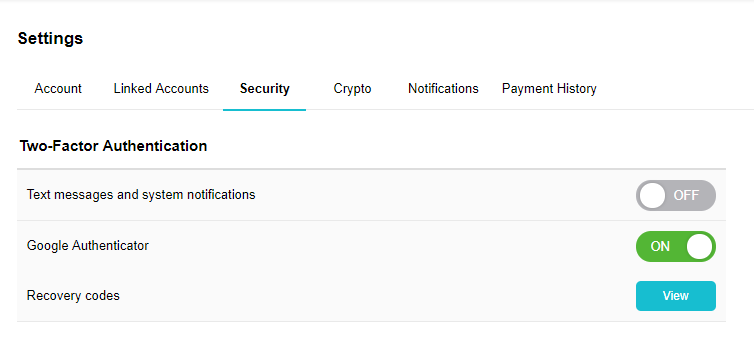 Now you might be thinking that this much security is enough. Here's where you are wrong. Along with all this security, pCloud also offers a service called pCloud Crypto. pCloud Crypto can be used to store all of your sensitive data inside a folder. Crypto uses client-side data encryption and uploads only the encrypted files to the servers. pCloud applies a zero-knowledge policy which means that only the user has access to the encryption key, not even pCloud. This might seem complicated, but all you have to do is set a password and move all your personal data over to pCloud Crypto and let it do all the work for you.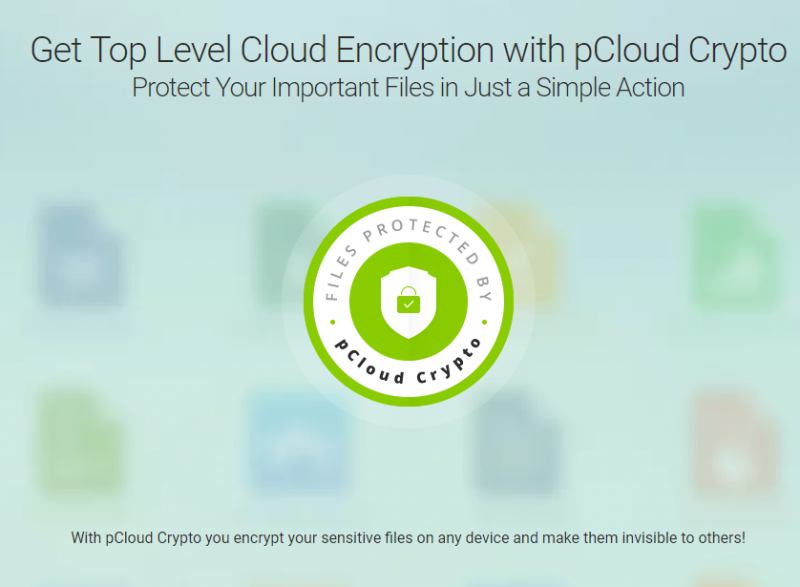 pCloud had earlier issued a challenge to hackers from all around the world that any person who manages to hack into pCloud would win a bounty of $100,000. Around 2800+ hackers and professionals tried to hack pCloud Crypto but none succeeded. This just proves how secure pCloud Crypto is.
pCloud crypto doesn't come for free though. One can avail the benefits of Crypto by purchasing it for as low as $4.99 per month.

Referral Program
pCloud is running a referral program where you can invite your friends to try out pCloud. Anyone that joins through your special link gets a premium account worth $5 for free. After their first month, if they wish to renew their pCloud service, then you get $5. Pretty cool, right? Also, there is no limit to how many friends you can invite. So go ahead and let your friends know about pCloud.
Storage Plans
Apart from the 10GB of free storage, pCloud provides two different storage plans. The storage plan is limited to just 2 sizes. You can choose to get a 500GB plan or a 2TB plan. Payment can be done on a monthly, annual and lifetime basis. A monthly plan will cost you $4.99 per month for a 500GB storage, while the 2TB will cost you only $9.99 per month.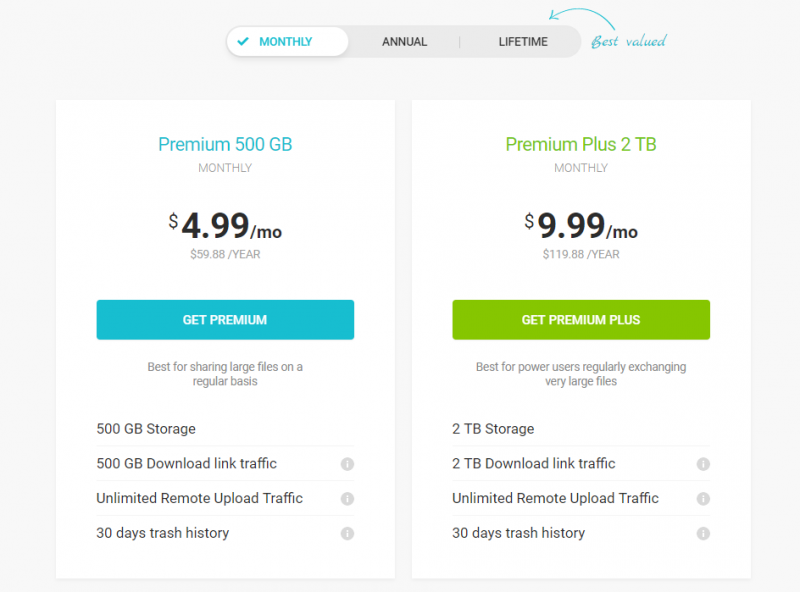 If you choose to get an annual storage plan, then the 500GB plan will cost you just $3.99 per month and $7.99 per month for the 2TB. When you compare the pricing of 2TB, Dropbox will cost you $19.99 per month.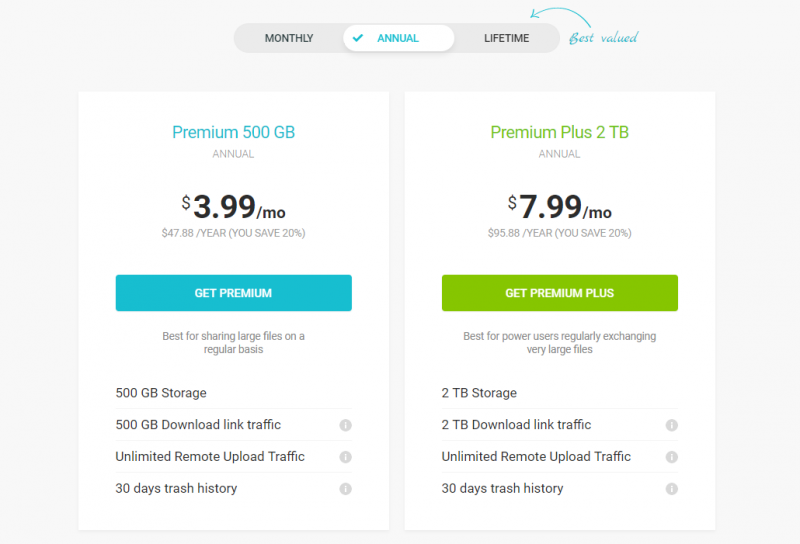 Now, the final, and my favorite one is the lifetime plan. By lifetime, they mean 99years. But that's more than an average human lifespan. You can get a lifetime cloud storage of 500GB for just $175 and $350 for 2TB of lifetime storage. Now in your mind, you might be yelling at me for saying "just $175 and $350". But hold on, if you think about it, it really isn't much. Let's do the math. An annual plan of 500GB will cost you $49. 49×3.6=176. So $176 can get you 3.6 years of storage. Now compare it with a lifetime. Like I said, when you think about it, the lifetime plan seems like a steal deal if you are planning on using the cloud for a long period of time. I needn't remind you that pCloud is the only cloud service that provides a lifetime cloud service plan.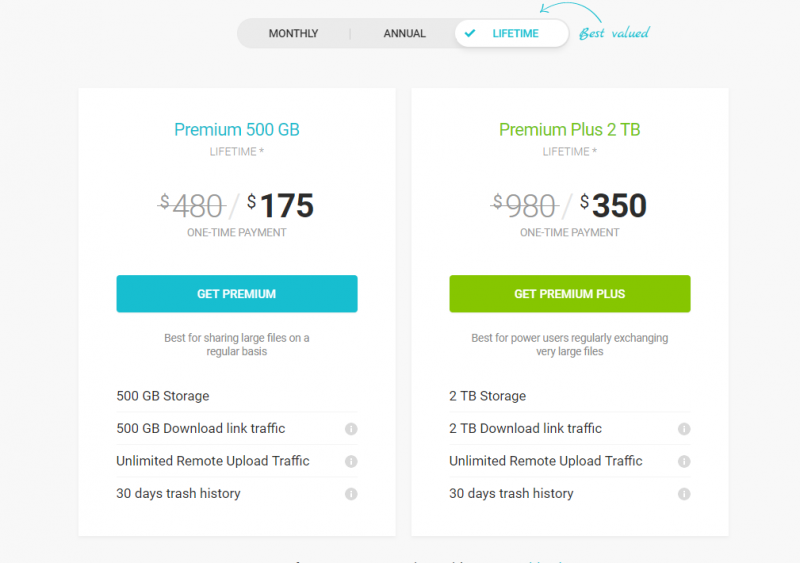 While some other cloud storages may offer a lower storage plan for those who don't require $500GB of data, to my knowledge pCloud still provides the lowest pricing among all the other cloud storage services when it comes to 500GB and 2TB plans. Even when you consider just the 10GB of free data that pCloud provides on sign up, the free storage is quite a generous amount when compared to Dropbox with only 2GB, and One Drive with 5GB. I do wish that pCloud adds more storage plans in the future.
Verdict
pCloud is a very user-friendly cloud storage service with some amazing and unique features. pCloud allows you to transfer files quickly from one place to the other. With multiple operating system support, you can download the pCloud Drive app and get a virtual storage drive for your computer. pCloud Sync allows you to sync a folder with pCloud. So you can have a copy of the files in your local storage and another copy on your pCloud account.  The Android and iOS apps allow you to view your files anytime, anywhere and also have a feature called Automatic Upload which uploads all of your images and videos over to the cloud to save the memory of your device. pCloud Crypto allows you to encrypt your sensitive files so that only you can access it. With plans starting from as cheap as $4.99 per month for 500GB, you can also choose to get a one-time lifetime plan and stop paying monthly or annually for your cloud storage. After testing pCloud for quite some time, I can definitely recommend you to go and try it out. You get free 10GB of cloud storage, so you have nothing to lose. And if you do like pCloud, then let us know.
We are influencers and brand affiliates.  This post contains affiliate links, most which go to Amazon and are Geo-Affiliate links to nearest Amazon store.
Hi my name is Rohan Jadhav. I am a guy who loves to play games and a tech lover. I like to be updated on all the tech stuff. I enjoy watching movies and I am currently doing a specialization course in VFX.