Windows of course comes with a basic "uninstall" program feature which you can use to remove unwanted software installations on your desktop, what you don't realize is of course that most of those programs leave abandoned registry file entries and system files (dll's) that can sit on your system permanently even after the uninstall.  If you do enough uninstalls your system can slow down from all the erroneous entries and your hard disk can still have space wasted from leftover installation or program files that were never purged during the uninstall.

This is where a product like Secure Uninstaller comes in, this product claims to do a complete and full uninstall including removing all registry entries and files linked to the program anywhere on the hard disk drive.  The program is easy to install and executes fast, as always I check the settings of any program that I test.
You can also configure the program to create a registry backup anywhere on your drive when you uninstall so you can rollback any changes if needed.  The program by default sets to Complete Uninstall mode for faster operation, but if you want the program to be extra thorough you can set it to Thorough Uninstall mode.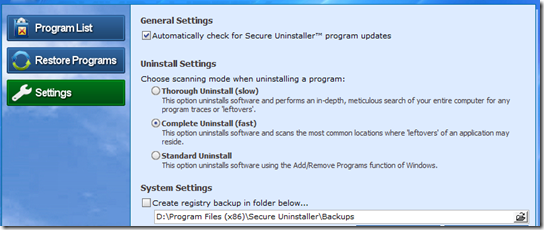 As with the Windows Add/Remove Programs you will see a list of all your installed programs and details about each program vendor including the Installation date.  You have the option to uninstall the program or delete the entry so the application won't show up in the add/remove programs box at all.  This option is good if you are trying to hide software from kid who might be savvy enough to uninstall parent control software so you can wipe the entry out so they would have no way of seeing the software is installed to remove it.  There are other practical uses for deleting an entry for an installed program such as one that you attempted to uninstall but it was a corrupted install and failed to be removed, or it removed but didn't clear out the entry.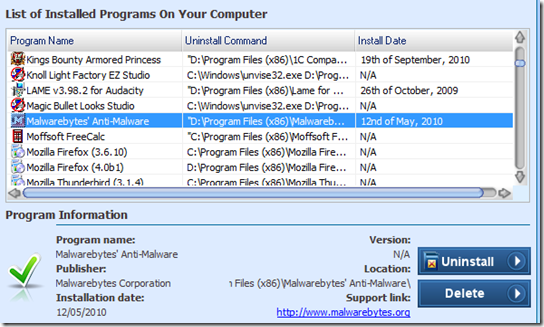 Secure Uninstaller is a decent program and something to consider if you want a no-fuss Windows program management tool and the software supports Windows 7, Windows Vista and Windows XP.
Secure Uninstaller is also less expensive and just as efficient as Advanced Uninstaller Pro and costs $10 less than Advanced Uninstaller Pro which is one of the biggest competitors.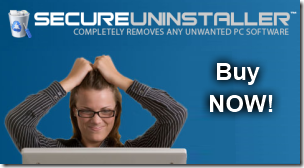 -Dragon Blogger