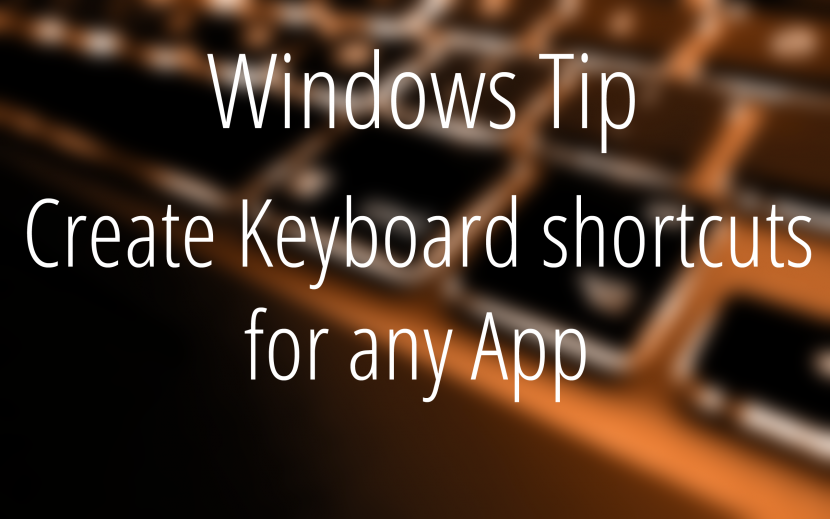 Windows is the most used OS today in homes, offices, schools, etc. You can place all your app's shortcuts on your desktop or pin them on your taskbar but if you've got handful of apps that you use often, it may lead to a cluttered desktop and taskbar. Many people are unaware that you can assign keyboards shortcuts (just like ctrl+c & ctrl+v) to your apps without using any 3rd party app in Windows (7 and later) which allows you to launch apps you use often with just a keyboard shortcut, which otherwise may involve many steps.
Below are the steps to assign keyboards shortcuts to any of your apps.
NOTE: In order to create shortcuts, the file or app you want to create shortcut for, must have a shortcut of it's own.
If the file/app/folder you want to create the shortcut for is there in the start menu hierarchy, great! Otherwise, locate the file/app/folder and create it's shortcut (you can also place all your such shortcuts in a dedicated folder like "shortcuts"). The hard part is done now!
Moving on, assuming that you have a shortcut of your file/folder.
Right click on the file/folder's shortcut you want to create shortcut for and click on the Shortcut tab.
Click on the Shortcut key field and hit the desired key combination you want.

Note that the key combination can either be ctrl+Alt+something OR ctrl+Shift+something.
You can't use the Enter, Esc, Spavebar, Tab, PrtScn, or Backspace keys to create a keyboard shortcut.
Also note that if the shortcut you created uses the same key combination as that of an existing Windows shortcut or a shortcut that exists within an app itself, this might not work.

Now, just hit OK and Apply.
Tips
You can use this method and create shortcuts for your downloads folder, music library, recycle bin or any other location.
You can create a To-Do text document and store it anywhere and assign a keyboard shortcut to it enabling you to view and edit your To-Do list anytime!
You can create a shortcut to shutdown/sleep/hibernate your PC and assign it a shortcut.

To do so, right-click on any empty area and click on New>Shortcut. Now enter the below command(s) in the only field in the shortcut wizard.

Shutdown: Shutdown.exe -s -t 00
Reboot: Shutdown.exe -r -t 00
Lock: Rundll32.exe User32.dll,LockWorkStation
Hibernate/Sleep: rundll32.exe powrprof.dll,SetSuspendState 0,1,0
This is not new by any means but is one of those great convenience Windows offer without installing any 3rd party apps but is highly left unnoticed and neglected.
Hope this post helps you in making your experience with your Windows PC better and if you have keyboard shortcuts or tricks or tips for Windows that you find useful, please share them in the comments section below. If you have any doubts or suggestions shoot them in the comments section below!  :-)