Writing is never an easy job but with the right toolkit, the burden of your massive work may become lessened. Hence almost all professional and reputed writers rely on a certain toolkit rather than doing everything on their own. When you use a toolkit it can greatly assist you with providing an error-free document and this will, in turn, help you to potentially win more and more clients or just have better written content for your own sites. If you want to stand out from the crowd as a writer then you must work smarter not harder and go above and beyond just trying to do things traditionally. In today's freelance and gig economy there more competition that ever and every writer has a particular deadline and requirements that they must meet for completing their task. Under such circumstances, without a tool kit to help save and cut down the amount of time it would take to do everything manually you will not only waste your time but you will also lag behind other writers in the industry and that will never be good for your writing aspirations.
Essential Toolkits for writers
In this article, we have come up with some excellent toolkit options that every professional writer should use for ensuring their writing quality is at it's best. Some of such important toolkits are given as follows:
SentenceCheckup
SentenceCheckup is another most reliable online sentence checker that is highly used by writers across the world. You can find this vital tool as a web-based editor. This toolkit allows the user to work in multiple languages. However, this toolkit is not free for long articles or written content pieces as it's free version is only limited to 20, 0000 characters per check.  This tool is good for finding grammatical errors and can help ensure you have spelling as well as sentence structure correctly worded.
Grammarly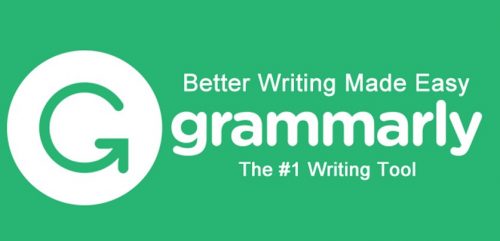 Grammarly is one of the top-notch toolkits for checking grammatical errors and it is highly used by almost all professional writers. With the help of this toolkit, the writers can find out the spelling and grammatical mistakes in the document. Apart from detecting grammatical errors this toolkit also provides the suggestion for rectifying the errors. Hence, Grammarly is considered to be the best online grammar checker tool and is mostly used by professionals. It is also very easy to use. For using this toolkit there is no need to create an account and you just need to open the toolkit and copy-paste the content that you need to check and it will automatically find out the errors in the document. Hence it will help you to deliver flawless content.  There is also plugins for everything from Outlook to Word to Chrome to seamless integrate checks while are you are actively writing and help save time while in the middle of writing not just checking and proofing after.
Google Docs
Google Docs is another excellent tool that is highly used by all professional writers. Google Docs is integrated with both grammar and spelling checking features and it almost works in the same way as that of MS Word. But it has an added feature of proofreading and grammar checking. It is very easy to work with Google Docs and if you made any mistakes in your document it will underline the errors. Then you will just need to right-click on the error and replace the word with the suggested word that will be provided by Google Docs. Google Doc is ideal for those writers who need to work as a team since you can work in the run time in this toolkit.
Headline Analyzer

Most of the writer struggles to come up with impressive headlines but headlines play a great role in attracting and engaging the readers. But this toolkit will help you to create an excellent headline as in this toolkit you only have to enter a headline and it will analyze how must effective it will be and will come out with some useful suggestions for making some excellent headlines. Thus this toolkit will help you to create headlines that can easily grab the attention of the readers. Apart from that, using this toolkit will also help you make headlines that will provide you better SEO ranking as well.
CopyScape
Sometimes you may cite sources, other times you may borrow content from another site with intention to re-write it.  It is recommended to use CopyScape to make sure all your content is 100% copyright proof and does not match any other content found on the web.  There is a minor cost involved per scan, but it is worth it to ensure there is no duplicate content detected and if you outsource writing work to others, Copyscape can be insurance to make sure the work you receive is clean content and not just scraped content from somewhere else and repurposed and handed to you.
These are some very useful toolkit that every writer can use for making their content better and more impressive.
I am interested in all things technology, especially automation, robotics and tech that helps change how society will live in the future.