We are influencers and brand affiliates.  This post contains affiliate links, most which go to Amazon and are Geo-Affiliate links to nearest Amazon store.
Most if not all of us watch TV watching different types of content.  Whether that be the standard sit com on regular TV, movies, or content provided via the web.  No matter what type of content you consume on your TV sound makes any content viewing better.  Good sound can immerse the viewer further into the content being viewed on their TV.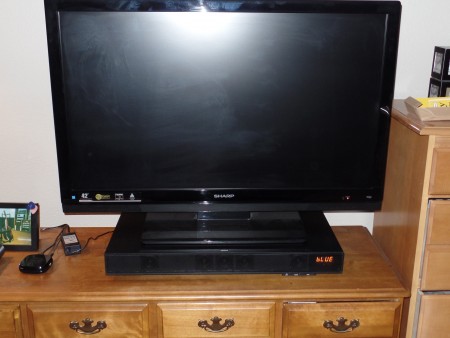 The ZVOX SoundBase 450 Home Theater System does that in one nice package.  Most sound systems are multi speaker systems spread throughout a room, or in some cases on long speaker only at the front of the room.  ZVOX SoundBase 450 Home Theater System takes the mulit speaker system and the single sound bar and merges them into one package.  The SoundBase 450 provides 50 watts of power to 5 2″ speakers and a 5.25″ subwoofer in a 3.5″ high by 27 9/16″ wide and 14.5″ deep wood case.  Aesthetically very pleasing to the eye.  The wood fits in my setup very well.  Also has Bluetooth built right ine for direct streaming from your Bluetooth enabled device.
Here is my video review of the ZVOX SoundBase 450 (it is a long one)
Setup and configuration is very easy.  Follow the instructions and understand the outputs of your TV.  I suggest you set your TV on the box as this is their recommended configuration.  I tried it on a TV with it sitting below the TV and to the left and the sound was good but the sound was disorienting to me being that far away.  Once I had the TV on top of the TV all was right again.  You have analog and digital options.  The digital option will provide the better sound but analog is still good.  They provide an optical cable, and analog cable and a digital to analog cable (toslink stereo min jack).  Provided cables should cover just about any TV you want to hook the SoundBase 450 system up to.  It really is plug and play.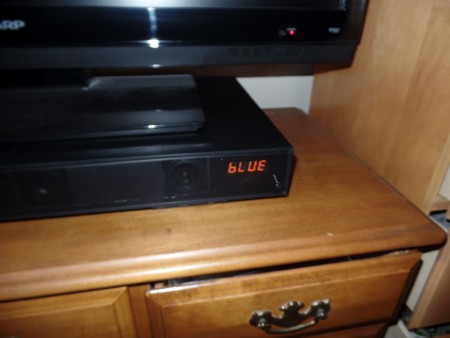 So now we have the SoundBase system hooked up to the TV.  It has its own remote which I was a little concerned about.  Another remote to have to handle.  But the system will take other remotes so you don't really need to use it.  My CenturyLink remotes worked just fine once I programmed them with the SoundBase 450.  Couple of buttons to pair the remote to controller up and down volume and mute.  Took a couple minutes not painful at all.  So I can power on cable box, TV and the SoundBase 450 right from one remote.  Configuring the Bluetooth is also very straight forward.  Change the input to Bluetooth and then find the SoundBase with your Bluetooth enabled device and pair.  Stream your music, podcasts, or audio book to your hearts content.  To get the sound from your TV you just choose the input you have setup, digital, analog or digital to analog and turn it to the wanted volume.  The SoundBase has Accu_voice which applfies the voices of your favorite characters on TV or in movies.  Some may want to use this for their music also but that didn't sound right to me.  More personal preference in my mind and not a knock on the SoundBase 450 system.
The actual sound is really good.  The virtual surround sound works well.  If in the right sized room it fills the room.  TV shows and movies are better than without a speakers system and even better than the sound bar I was using.  Using the Accu-Voice improves the ability to hear the characters without drowning out the background sounds.  Now digital is going to be better than analog but not too much is lost if you need to go analog.  Still a huge jump over the TV speakers or in my case the sound bar.  My setup is a 46 inch LCD TV in a room about 10 ft by 15 ft and it works amazingly well.  Whether it is music streaming over Bluetooth of a movie streaming over Netflix.  My wife hates the TV without the SoundBase 450.  Even with the sound bar she still wants the Soundbase 450 instead. She likes to now find ways  to use the SoundBase 450 and stream her Pandora to it rather than to the sound bar.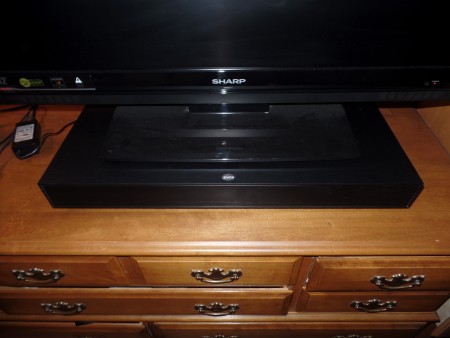 So for me and my family the TV with the ZVOX Soundbase 450 Home Theater System is the TV we want to do our family movie nights on now.  Almost with deviation.  Good sound just adds to the movie experience and once you experience it it is hard to go without.
Disclaimer: ZVOX sent us a SoundBase 450 so that we could do a thorough and accurate review. All opinions are 100% mine and mine alone.

We are influencers and brand affiliates.  This post contains affiliate links, most which go to Amazon and are Geo-Affiliate links to nearest Amazon store.
I am just a geek getting older but keeping up.