We are influencers and brand affiliates.  This post contains affiliate links, most which go to Amazon and are Geo-Affiliate links to nearest Amazon store.
Modern houses need advanced installations. You cannot simply stick to traditional installations and this is especially true with the door bell. We came out of the Technological Dark Age, which means that gone are the days when you would knock on a door until your knuckles become sore because the homeowner cannot hear you or just open the door when someone knocks because you do not have a way of knowing who is at the door. Today there are security cameras, wireless doorbells, automatic gates, lighting rods and many other fancy installations to fortify your house.
If you are looking for an upgrade for your home, one of the simplest and most valuable is to get a wireless doorbell instead of the traditional doorbell. This upgrade only takes minutes to install and I use the word "install" loosely as without any wiring some even have adhesive placement so stick and done.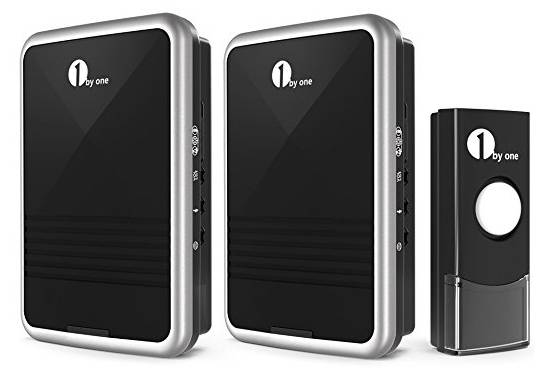 Here are the best bells for your door installations that modern houses need to have:
1. Honeywell RDWL917AX2000/E Series 9 movable Wireless Doorbell
2. Boomile Wireless bell Waterproof Door Bell Kit
3. SadoTech Model CXR Wireless Doorbell
4. 1byone Easy Chime Wireless bell Kit
5. SadoTech Model C Wireless Doorbell
6. Honeywell RCWL300A1006 Premium movable Wireless Doorbell
7. Magicfly Portable Wireless Doorbell Kit
8. Wireless Doorbell, AVANTEK Waterproof Chime Kit
9. Honeywell RCWL330A1000/N P4-Premium Portable Wireless Doorbell
10. Skybell- HD WI-FI enabled video doorbell
These options will enable you to reap the following benefits:
Easy installation and repair
Easy to move to another house when you move
Provides you with improved home security
You get it at an affordable price
Benefits of a Wireless Doorbell
You may be wondering the difference between a normal doorbell and this advanced version. New technology often comes with reservations from people that do not like getting out of their comfort zones. People installed doorbells through the walls to the home's electric system. They would ring and alert you that someone was at your door. Without electricity they cannot work.This advanced version will enable you to install it yourself using batteries and placing the transmitter next to the power source.
Wireless Doorbells have Amazing features
The wired bell does not have very many impressive features anymore and does not give you flexibility in placing a bell wherever you want plus relocating the ringer to a place that is more convenient.
Wireless Bells Have the Following Features:
You can select the sound you want – The standard ding-dong ring can be annoying and boring and with this wireless version you can choose the sound you want to hear when a guest is at your door. There are models that even go further with this by giving you the option of uploading your own sound.
Lovely designs– There are so many designs and colors for you in the market. This allows you to pick something that matches the style of your home. You also have the option of changing it to a different design if you want to.
Flashlights for the hearing impaired– Some models are more advanced and they have flashlights that alert people with problems with their hearing.
Built in cameras– There are models that have built in cameras which means you will be able to see the person knocking at your door. This will give you the option of letting them in or not.  Giving you additional security.
In conclusion, your modern house needs an upgrade and you should get one of these advanced bells for your door. Technology has opened so many possibilities in our world and you should be part of this new way of life. Check out products on the market and choose the best one.
We are influencers and brand affiliates.  This post contains affiliate links, most which go to Amazon and are Geo-Affiliate links to nearest Amazon store.
I am interested in all things technology, especially automation, robotics and tech that helps change how society will live in the future.