We are influencers and brand affiliates.  This post contains affiliate links, most which go to Amazon and are Geo-Affiliate links to nearest Amazon store.
1byone was gracious enough to allow me to review their Belt-Drive 3 Speed Stereo Portable Turntable. It has been a very long while since I have had the chance to spin some tunes and it brought back great memories.
Once again, 1byone had given us a great product that is fun and easy to use. I just had to open the box, plug in the turntable, and I was ready to go. Just as easy as when I was a young man, and this was our only way to play music.
Watch the Unboxing Video
There were a few features I liked and one I did not expect. I like that the record arm drops slowly onto the album. It was very smooth, and with the line cut into the top above the needle, I was able to line up where the arm needed to be positioned before dropping it onto the record. That is wonderful especially with my eye sight.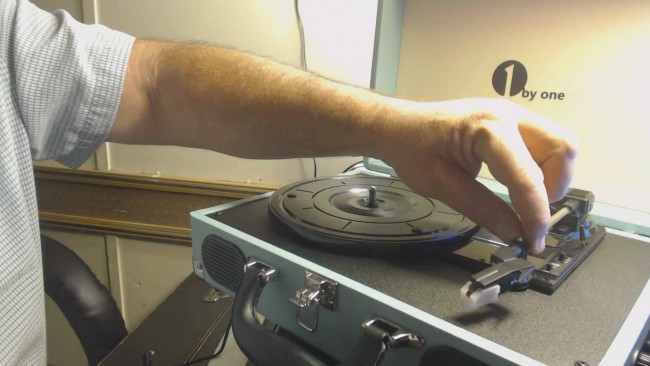 Another nice feature is that for 45's, (those are records, with larger holes in the middle that generally hold only 2 songs front and back), the center insert is fitted into the turntable top so I do not lose it when it is not in use. I remember that they were not easy to keep up with.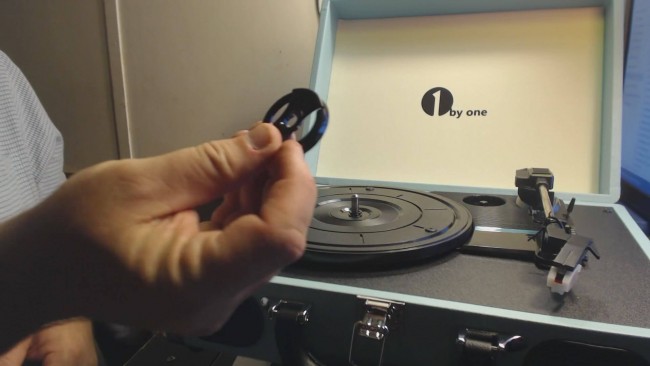 The next feature I enjoyed was the speaker out. I am not limited to just the speakers that came with the turntable. I can branch out if I desire to do so, this also gives one the ability to transfer the music onto the computer if you desire to do so as well so you can copy and rip those records to MP3 files on your PC.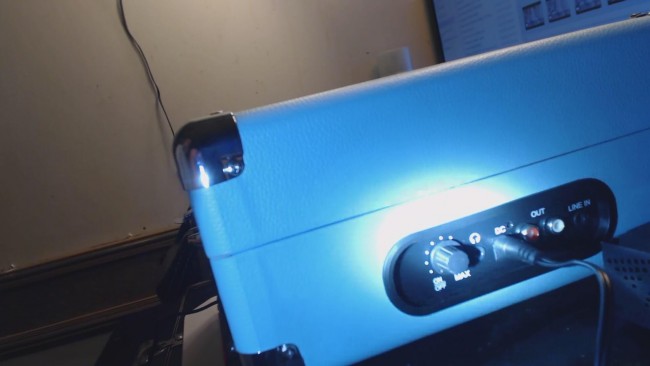 The feature I did not expect was an mp3 player input. I think that it is nice that while this is old school tech, it still accommodates the new stuff on the market, allowing you to listen to your digital sounds as well.
I like the color of the case as well. I have the turquoise one, and it is great.
Video Review
I want to add a small shout out to our local record company Ralph's Records for providing me with an LP to use for this review. I could not have managed to do the video without a record to play.
I know that Christmas has passed, but with the season, many of you will have Christmas money to spend. I cannot think of a better thing to spend your money on than the gift of music. You will not be disappointed. 1byone is the place to by from for awesome products any time of the year.
Disclaimer: 1byone provided me with their 1byone Belt-Drive 3 Speed Stereo Portable Turntable to review. All opinions are 100% mine and mine alone.
We are influencers and brand affiliates.  This post contains affiliate links, most which go to Amazon and are Geo-Affiliate links to nearest Amazon store.
I have worked in and around many different types of computers. In the Navy, I used a magtape drive computer that was a step down from pen and paper. I later worked for a big computer company and after that, taught computer class's nation wide. I had the privilege of teaching 14,000 students in a 2 years period of time. Afterwards, I owned a small computer training and repair shop for a few years. I have owned C-64's, Pc's of various types, Amiga's, and even Mac's. I now have included the android to my collection. At any time, I have close to 15-20 computers or combinations of computers and game systems in the house. I look forward to more.