We are influencers and brand affiliates.  This post contains affiliate links, most which go to Amazon and are Geo-Affiliate links to nearest Amazon store.
If you're like me, always wanting a good keyboard, You probably check reviews and ask friend about them. Well by luck my friends over at 1ST Player sent me their Black SIR Mechanical keyboard to test and review. It took about 3 days to get it to me, which was rather fast for being Christmas time. It showed up in a small plain box like you would expect. Then I opened it to see  the design on the box.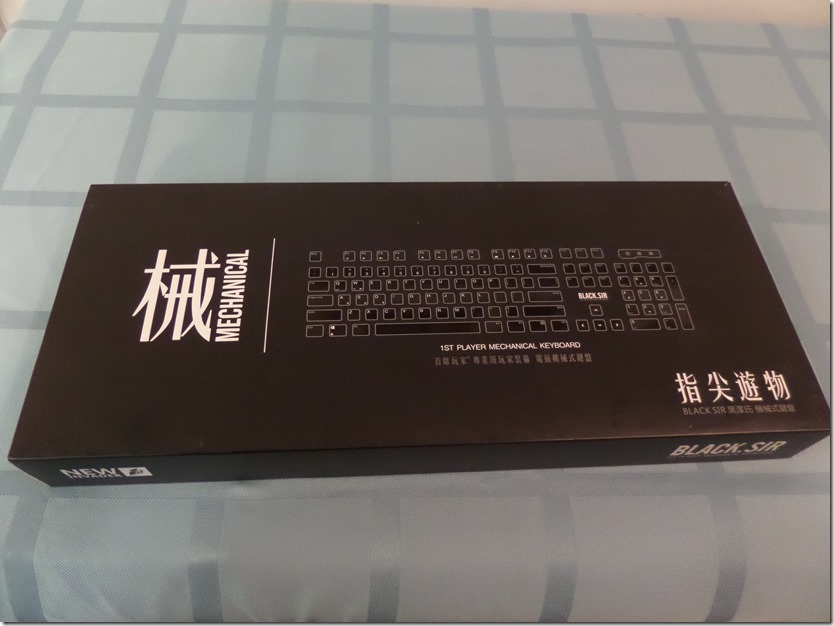 Inside the box above is another box with a cool logo on it. Check out the pic below.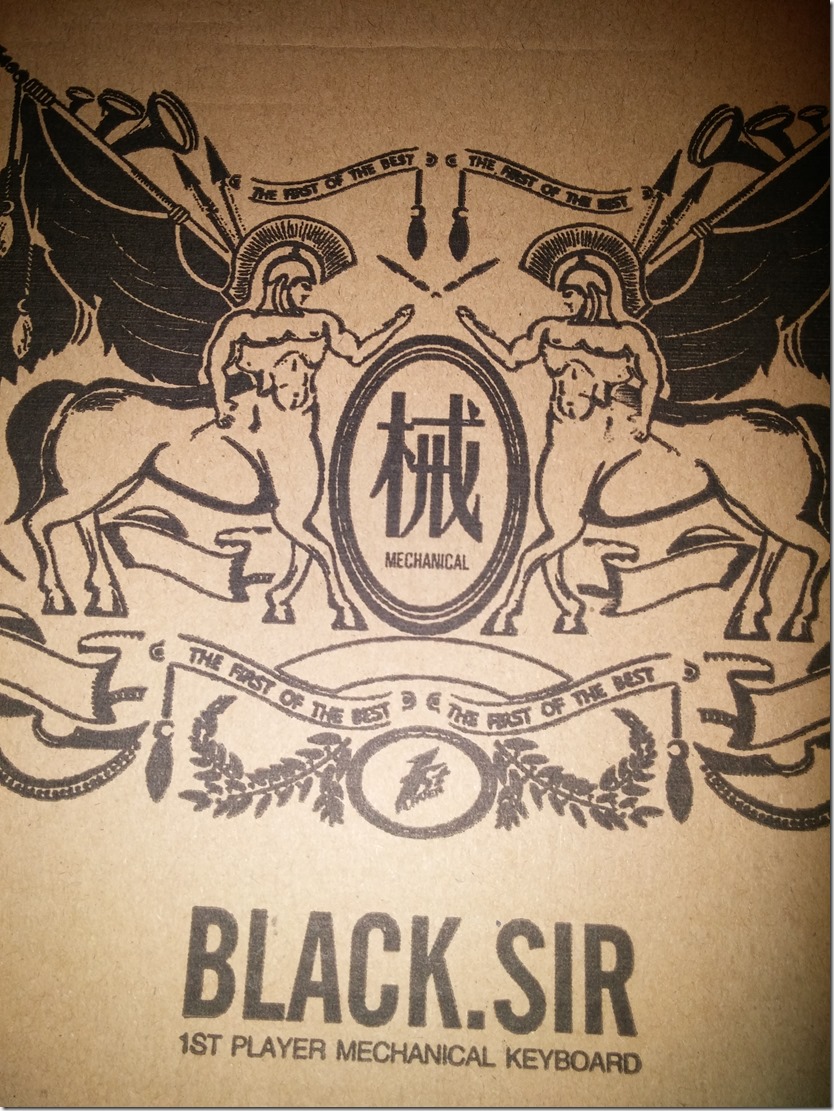 Watch my unboxing of the 1st Player Black Sir.
Well your not here to learn about a box, I just had to mess with you a little since its Christmas time. Lets get down to what you want to learn about, the keyboard it self.
The keyboard is a fully mechanical and comes with Kailh black switches. On the back of the first box, they give you a run down of what different color switches do and what and how they work. Pretty cool little info to be honest.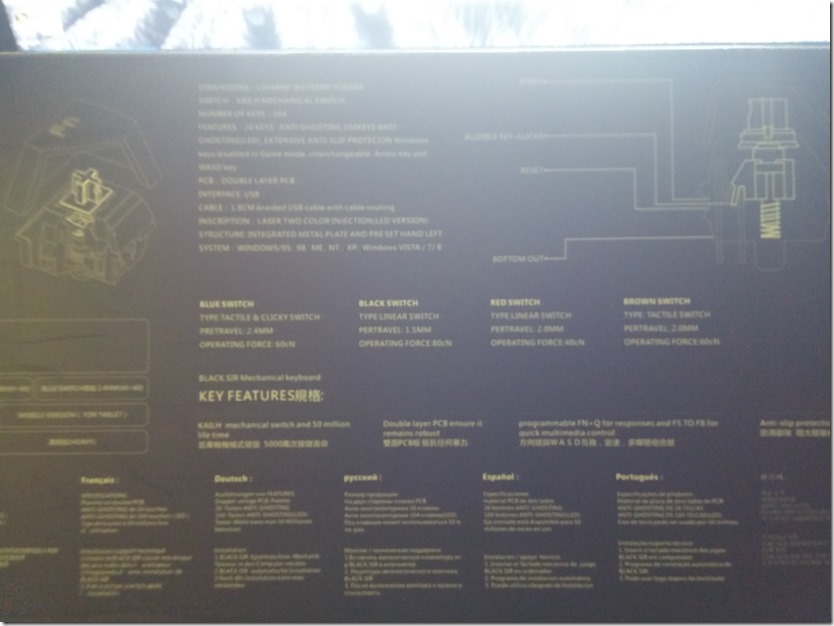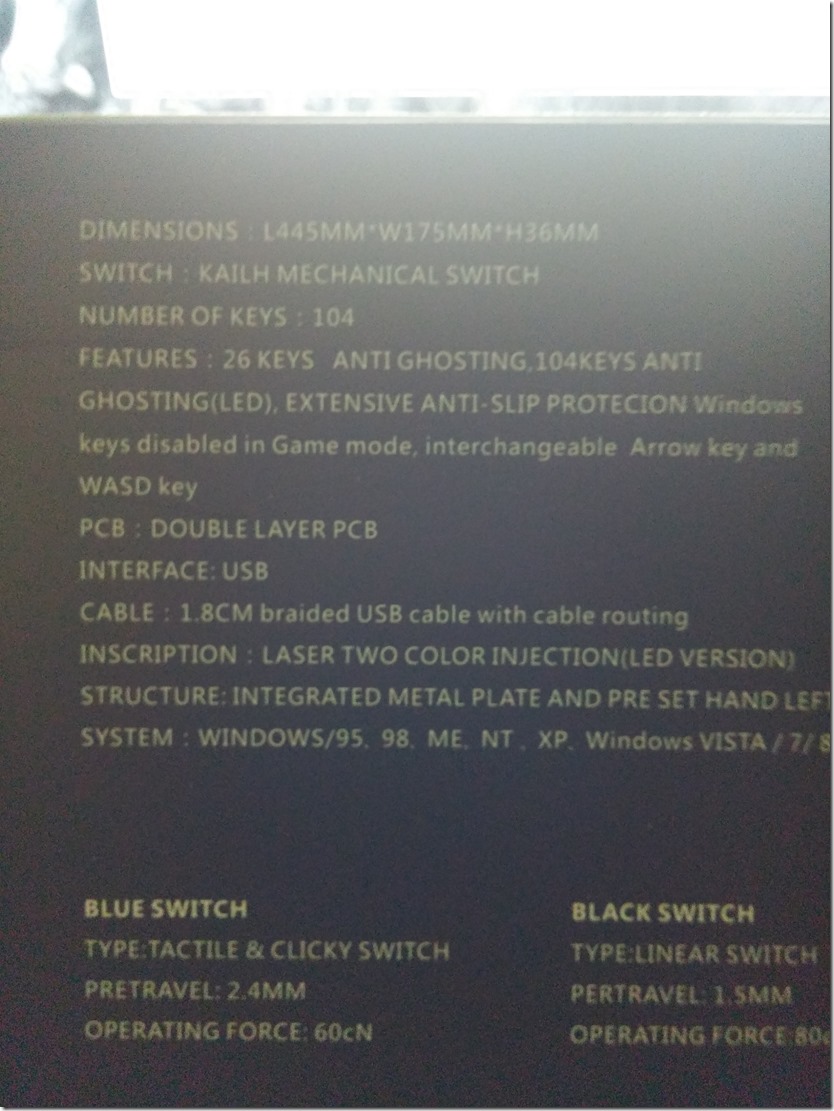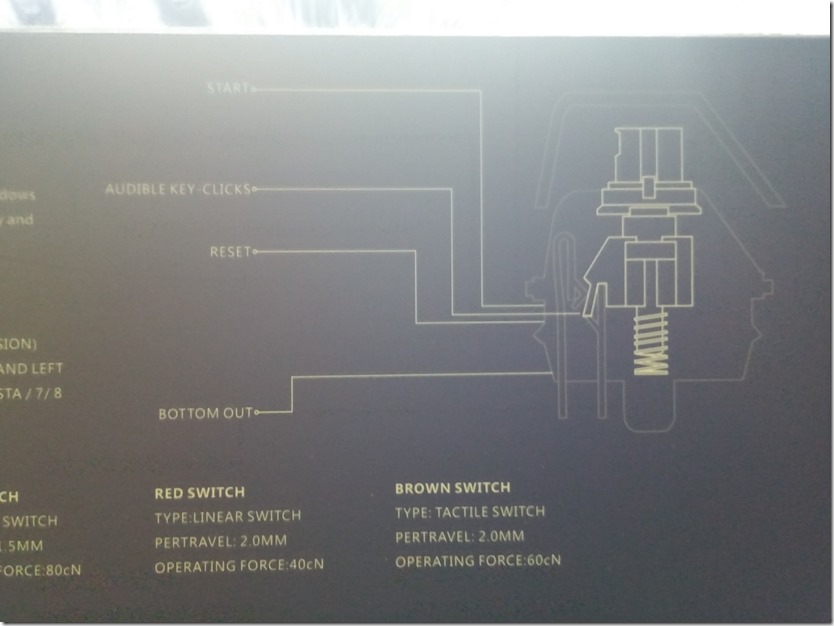 Kind of cool to have them put that on the box so that you can learn about the keys. The keyboard is not backlit like most these day but I was told they do make one that is backlit. The keyboard is a full 104 keys with media keys. They claim you can click the keys 50 million times before going back. Well most gamers will put that to a test. I have put 4 days of Ark gameplay threw it and no issue what so ever.
The keys can be removed with the tool they added in the box.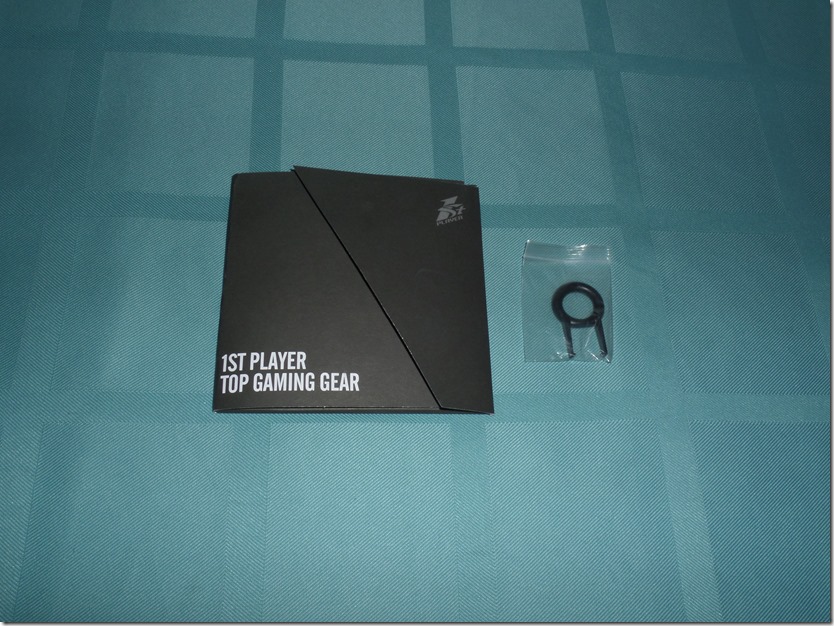 The next few pictures I will show you the keys and one removed.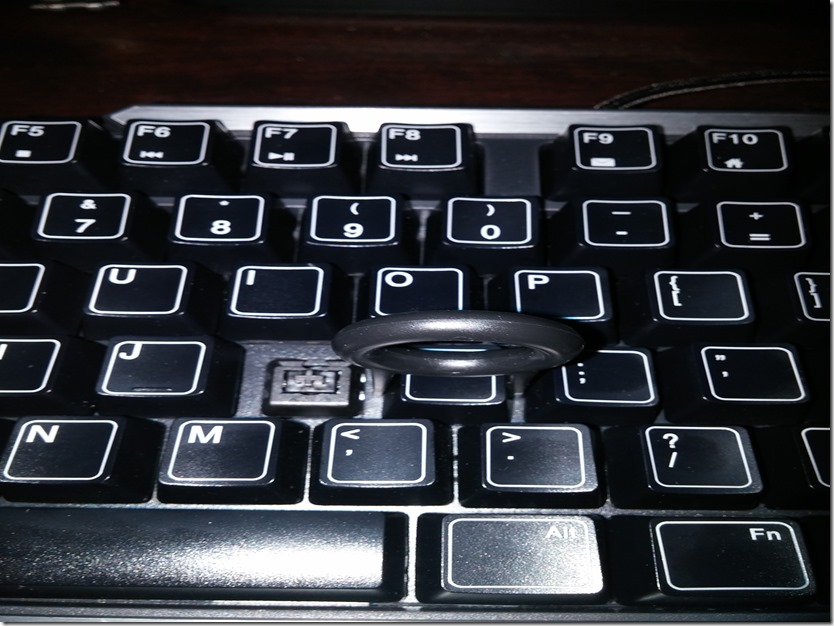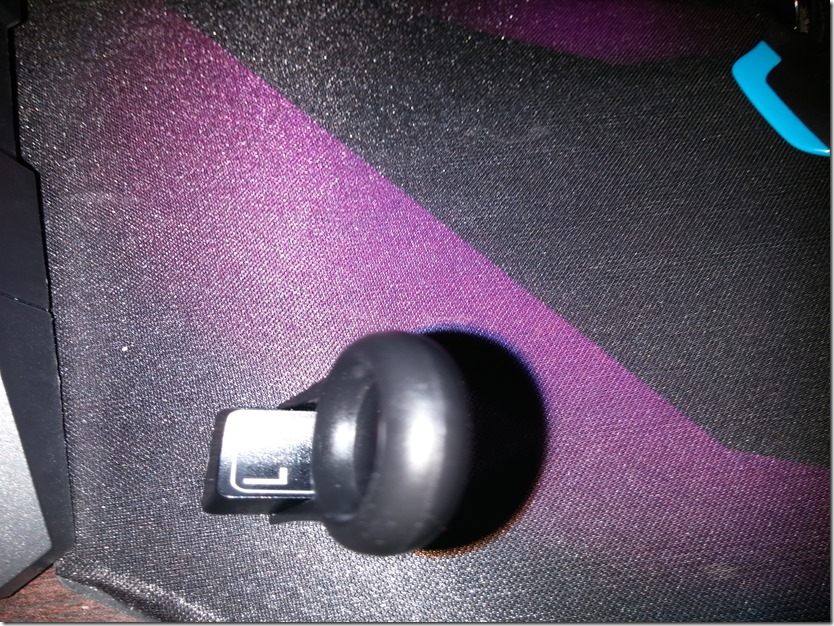 As you can see above the key removal tool is rather cool. Usually I just pull out my knife and pop the keys off to clean them. I do suggest that if you have never pulled the keys off before to remember the order they came off in. Use your phone take a picture. So you can get them back in the correct order.
Using the keyboard feels great, Easy to type and the noise sounds great, that is if your into louder key clicks. I will say my Cherry MX keys are louder but these do just fine in the noise department. I can easily type on this board, some I have issue with. When playing games you get the right amount of feed back in the keys. I played several games like, Ark, Darksidders and GTA 5. I had a great experience on all of them. There are no macro keys on this board, not every one needs them so it does not hurt this keyboard.
Like I said before the keyboard does not have back lights. I would have loved to see that on this board, since I like to play at night.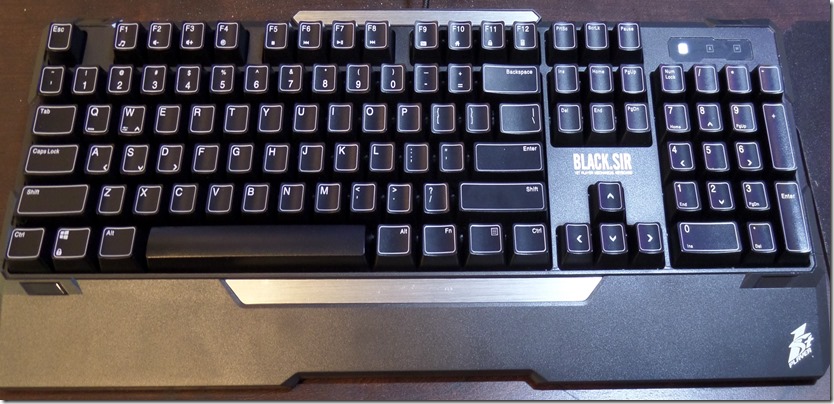 You get a nice little built in palm rest. Some I have tested did not have it and were rather hard to use. 1ST Player made the keyboard well. It is metal based with a nice ridged plastic top. This keyboard is not flimsy. I did do a few word typing test I got around 15 more words a minute then before. This will be different for everyone since not all keyboard feel the same for everyone.
You can pick this up for around $55, That's not to bad for a full on mechanical keyboard.  This keyboard is well worth the money. Would make a great keyboard for your kid at Christmas or even a birthday, heck even your spouse would love it. 1ST Player did well when designing it. They do have other keyboard if you want the lighting effect. When all is said and done I enjoyed This keyboard. It has all the marks you could want in a keyboard for this price range.
(Disclaimer- 1STPLAYER Sent me the Black SIR Keyboard to do  honest review on. All opinions are mine and mine alone)
We are influencers and brand affiliates.  This post contains affiliate links, most which go to Amazon and are Geo-Affiliate links to nearest Amazon store.
Hi everyone I'm James Braga. I was born in Oregon and moved to New Hampshire a few years back. I love most things that have to do with video games and electronics, It doesn't matter if it for a car or a house, if it has electricity in it i will love it . I'm also in school for Information Systems Technology.