We are influencers and brand affiliates.  This post contains affiliate links, most which go to Amazon and are Geo-Affiliate links to nearest Amazon store.
A week back my friend over at 1STPlayer contacted me about reviewing their new mouse the Fire Dancing  GM3 Gaming mouse.  They say they have their own Avago 3050 engine for this mouse. Now I will get a little more into that later one. This mouse has DPI settings that go all the way to 4000 DPI.
Now the box it shows up in is small which is nice and it has a round ring on it with a ghost effect of a spider on it which is hard to make out. You can see the box here!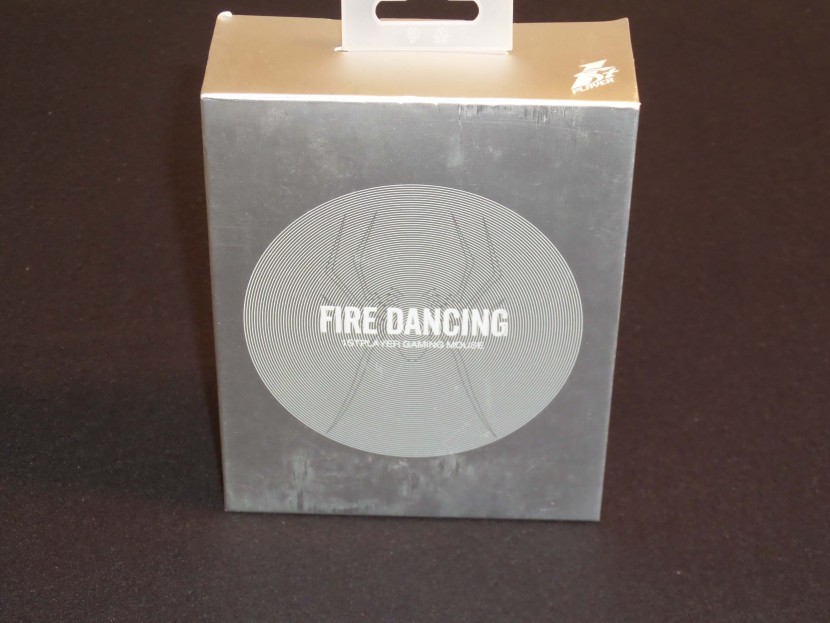 As you can see it a chrome or silver looking box but hey where not here to stare at a box are we? I didn't think so.
You can check out my video Unboxing and Review Here!
This mouse has several buttons including two on each side besides the normal right and left click buttons. You also get the normal scroll button and color changing button.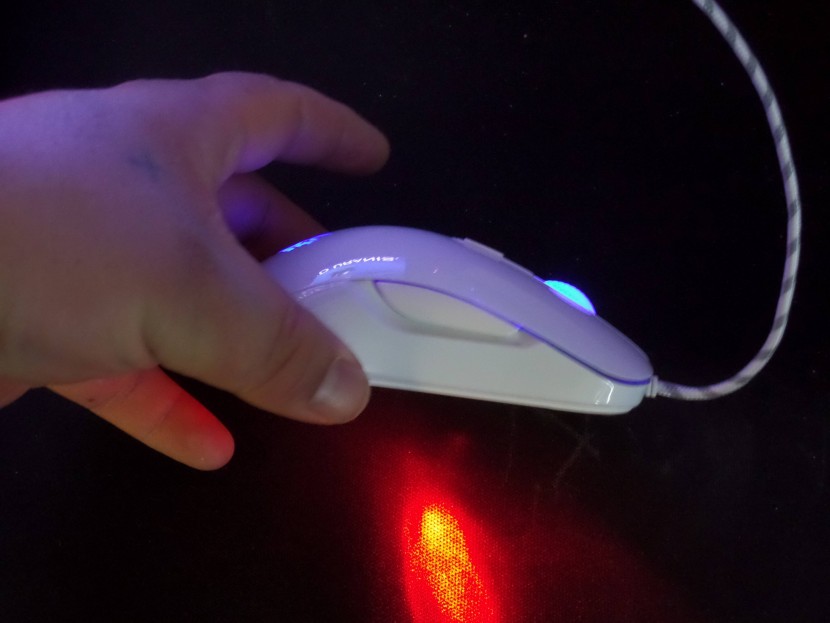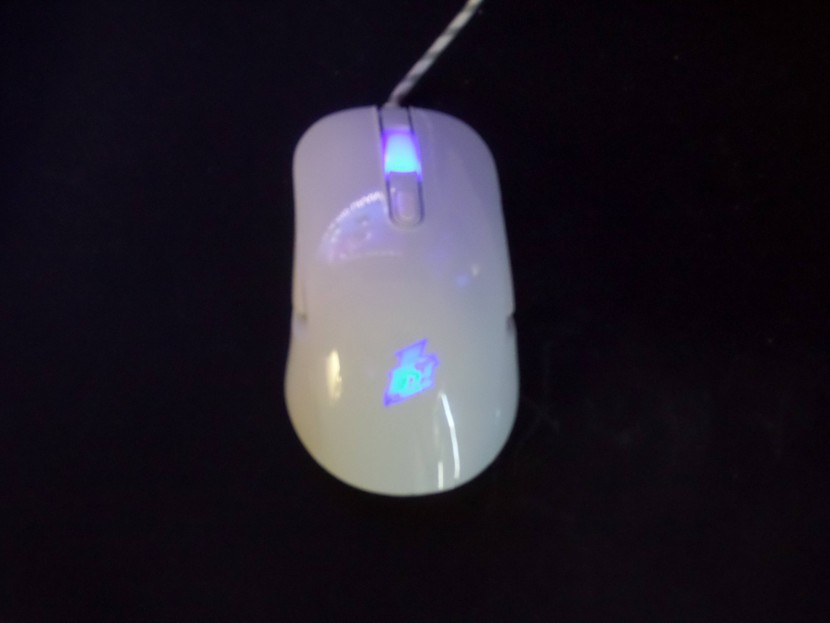 In the top photo you can see the side button. Like I said there is one on each side. The scroll button works well and has no issues. Now it will take some time to get use to the buttons on the sides. I kept hitting it and it sent me back a page or forward depending on what side button you hit. You can also see that this mouse is white in color. Which is nice for people who like to match their computer builds.You can also see that the logo and scroll button lights up. Now this glows in several colors Red, Blue, Purple, Green, and Pink. I wont show you all the colors in photos but you can see them in the video I did for you. The colors are not as intense as most people are use too but it nice. The colors also flash or have a breathing effect. I know if you like me the red is usually too intense and glares in the monitor. I can say it does glare but not to bad.
The mouse glides well on any surface except glass. Of course that will affect almost all mice you use. The cord is braided and looks nice. It is white and silver.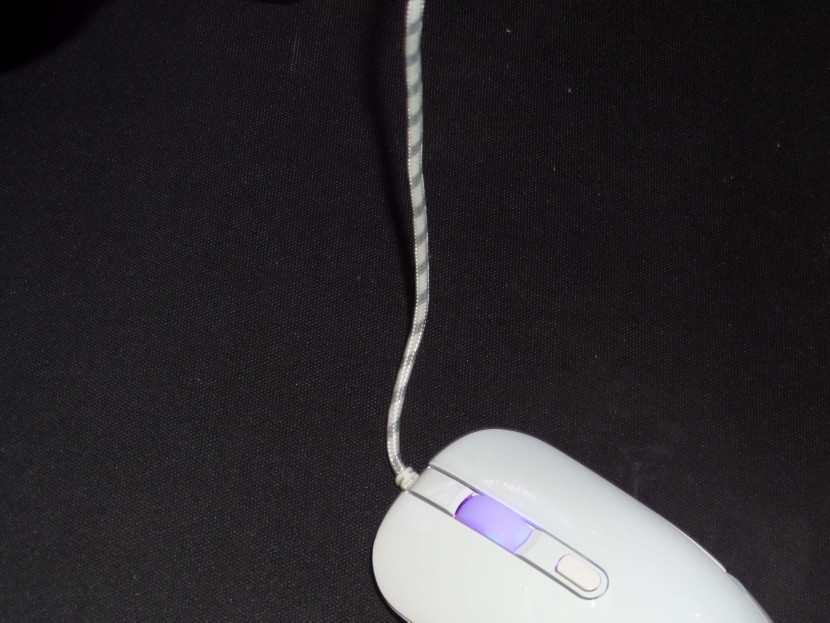 The cord is long around 6 feet so you can run it about anyways you want to keep it out of the way. It comes with a Velcro tie that you can use to tie the rest up so it not strung every where and is neater.
Now let's talk about the mouse AVAGO ENGINE. I could not find this engine I know it is there and will add a link once I talk to my contact again. I will add it so you guys can find it for yourselves. Would have loved to have had it for this review but hey things happen. Now it did not effect my use of the mouse. I tested it on a few games and had no issue. I used it first on Heroes of the Storm.  The mouse was smooth and went to where I wanted it to go. The next game I used it on was Arc: Survival Evolved (Great game BTW) the mouse again worked great with no hiccups. Now I'm use to using my Logitech G502 and I can say it is almost as smooth at going to where you want as the Logitech. I would like to see a little more weight in the Fire Dancing mouse since I personally like a heavier mouse. This does not effect the use of this mouse just a personal preference.
Final Thoughts!
1STPlayer did well in designing the Fire Dancing GM3 mouse. It worked for all applications I tested it on. The color is nice and a plain white mouse matches my case. I believe it also comes in black however for those who don't prefer white. The choice of changing colors on the logo is also nice for those who like it but does not effect use of the mouse. Now the 1stPlayer Fire Dancing mouse is rather light for my personal preference but it is not an issue for most people. I think it would make a great addition to most people collections and arsenal. If your on the market for a new mouse this just may be the one for you and cheap to boot. You can get yours for around $14.99 right now on Amazon but could go back  up to original price of $29.99. Either way not a bad price for a new mouse.
Disclaimer: 1STPlayer sent me their Fire Dancing GM3 Gaming mouse to give a honest review of. All opinions are mine and mine alone.
We are influencers and brand affiliates.  This post contains affiliate links, most which go to Amazon and are Geo-Affiliate links to nearest Amazon store.
Hi everyone I'm James Braga. I was born in Oregon and moved to New Hampshire a few years back. I love most things that have to do with video games and electronics, It doesn't matter if it for a car or a house, if it has electricity in it i will love it . I'm also in school for Information Systems Technology.