Drones are some of the most recent devices used for hobbies like photography and action recording. They have been manufactured by the military in the 1990. Nowadays, they can be purchased online and in stores almost anywhere. There are different types of drones, for multiple purposes.
Also, there are drones for beginners, intermediate, and advanced users. In this article we are going to show you some of the best drones created for beginners. These quadcopters can be used by advanced users also, but they fit better in the beginner category.
Holy Stone F181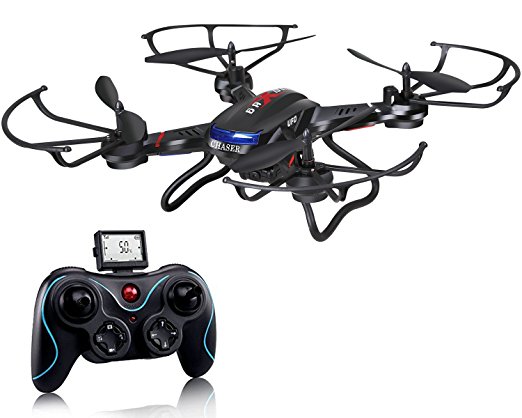 The best drone for beginners is the Holy Stone F181 drone. Holy Stone is one of the most known companies that produce drones for all users. Both beginners and advanced users can use their quadcopters and have a great time. Their products are high-quality and they specialized in mini-drones.
Main features
One of the best things about this beginners' drone is that it is easy to use, even for those who purchased as their first quadcopter. It comes with 4 engines and a special tech the prevents its motor assembly from overheating, especially after long flights.
If you are passionate about photography you will be pleased to know that it also has a HD camera. Some of its features include Headless Mode, One Key Return Home, and Altitude Hold Function. This drone fits in the mid-range UAV category. It combines good maneuverability and aerial photography. It means that it can be used both for photography and air stunts.
Most drones for beginners stay in the air for about 10 minutes. This drones also has 3.7 V 750 mAh which keeps it in the air for about 8 to 10 minutes. You need to take into consideration the fact that turning on the camera might run the battery off quickly.
For those who want to use it for photography, the drone has an auto-focus sensor that makes it easier to take photos while flying. This way, you don't risk taking shaky photos. Using it for air stunts is also a great purpose. For instance, this drone can make a 360-degree flip with a single button. Also, it can perform 4-way flips.
When it comes to the remote control, it is easy to use and it comes with a small display. It includes a 360-degree flip button. Its design is compact and while it doesn't have an anti-slip material, you can hold it without any problems.
This drone can be used both for indoor and outdoor activities. Its blade offers extra protection for when the device crashes. When flying it outdoors you need to be a bit careful if it is too windy because the drone might crash.
Cheerwing Syma X5SW Drone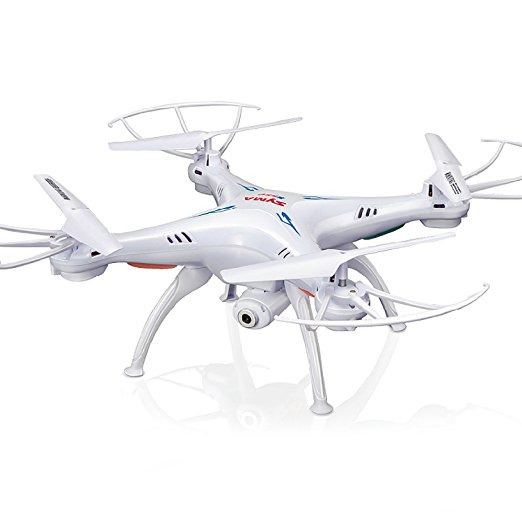 If you want a drone for beginners that it is both easy to use and affordable, this quadcopter is the best for you. This is a more upgraded version of the X5C model which comes with more features and less problems. The drone is a great investment for those who want to try this hobby.
Main features
One of the best upgrades from the X5C model is the Wi-Fi capability. It makes the drone easy to control and it can be connected to your smartphone with an application. Like the Holy Stone drone, this one also comes with 4 brushless engines and a coreless tech. This prevents the drone from overheating after flight.
When it comes to flight time, this drone doesn't excel. It can be kept in the air for less than 7 minutes. Like most medium drones, it can be used both indoors and outdoors. It has an interesting design which resembles the DJI Phantom's one.
You need to take into consideration the fact that using its camera can lower the flight time to only 4 minutes. If you are interested in photography you will be pleased to know that it has an imaging sensor and real-time transmission tech.
This drone is compatible with both Android and iOS, but it doesn't support any OS lower than Android 4.0. Cheerwing Syma is better for air stunts. Those who want a drone for photography should look into other products because most users complained about the poor camera quality.
The remote control is easy to use and it resembles the remote control of a toy car. Every button is easy to reach. In the upper part of the RC you can find the phone holder that can fit even bigger smartphones. Also, you can find a small LCD in the bottom part of the controller which shows you the inclination and thrust.
This drone is very easy to control, compared to other models in its price range. One of its problems is that it has a wind bug. Also, it doesn't have a SD card slot which means that anything you record is going to be stored in the special app for your smartphone. When it comes to air stunts, this is where the drone excels, you can make it do frontal flips, turns, and twists without any problems.
Holy Stone HS200 FPV Drone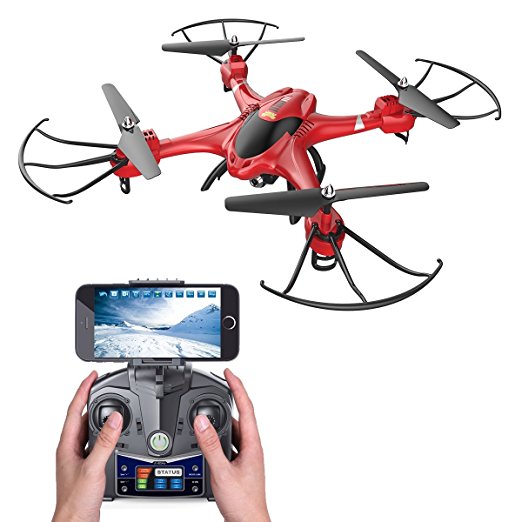 Another drone that takes a spot in our top is the Holy Stone HS200 FPV. This is also a drone designed especially for beginners. Intermediate users can also practice their skills with this quadcopter. One of its best things is that it has a first-person front HD camera. Because of this feature it is very easy to use.
Main features
While it is an entry-level drone it is not low quality. This quadcopter comes with a lot of features and great specs. The altitude hold function helps you take great pictures. This feature is easy to use. All you have to do is to release the throttle and the device is going to fly in a single position.
Compared with the other drones in the top, this device has a low resolution. Despite this fact, most users mentioned that the images are high quality. Also, the range of transmission for videos is about 50 meters.
If you are planning on using the drone at night, you need to know that it comes with LED light to make it easier for you to monitor it. Also, the quadcopter has 4 speed modes. You can choose the one best for you. The Holy Stone HS200 is great for both air stunts and videos.
You can control the drone directly on your smartphone. Because it is a lightweight drone you don't need to register it to FAA. Like many entry-level drones, this quadcopter can only stay in the air for less than 7 minutes.
The ergonomic design of the remote control is great for beginners. It also comes with a LCD screen that it going to show you the most important settings. If you want to use your smartphone as a controller all you have to do is to download the special app. It uses gravity sensors to help you control the movements.
For beginners it is indicated to use the remote control instead of the smartphones. The controls of the drone are very sensitive and the smartphone might be tricky to use if this is your first drone. Flying the drone is pretty easy, even for the first time. Using it for air stunts is a great idea since it can perform 3D flips without problems.
Cheerwing CW4 Drone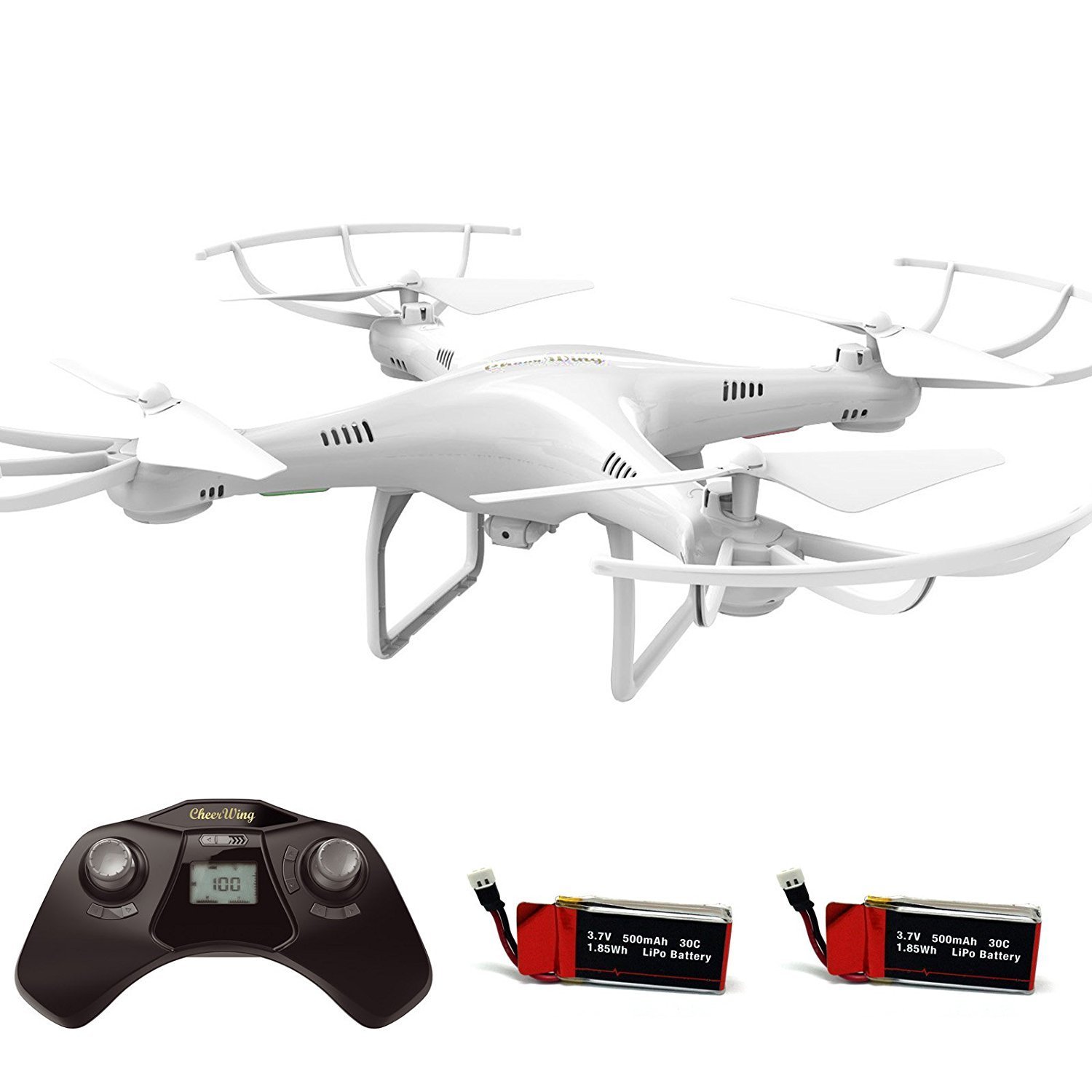 This drone is another device that took a spot in our top. The Cheerwing CW4 is a medium range drone that it great both for beginners and more experienced users. While most drones are hard to control the first time, this one is pretty easy to tackle with.
One of the best things about this drone is that it comes with a special auto-landing. This might come in handy when you lose control of the quadcopter. The drone also has a special button for take off and touch down.
Main features
This mid-level drone is great for indoor and outdoor use. Also, it comes with 2 MP 720P HD camera that takes amazing photos. Compared to other drones, it might take longer to charge. When it comes to flight time, this drone land in the middle category with 6 to 8 minutes battery life.
Unlike the other Cheerwing drone presented in this top, the CW4 model has an SD card slot where you can keep all of the recordings. Unfortunately, you can't view the recording live since it is not FPV. This drone can also be used without registration since it is lightweight.
The remote control of the drone has a great design and makes it easier for you to control the device. The throttle stick is flexible and it comes back in central position once you let it go. When your device gets out of range, the controller makes a beep to alert you.
The controls of this UAV are very responsive compared to other drones. Unfortunately, this drone can fly out of range and you can lose it if you don't know the controls perfectly. For your first flight you might want to keep it indoors so that you can learn its controls and commands without loosing it.
When it comes to photography, this gadget can take amazing photos. You need to take into consideration the fact that the camera is a bit tilted so the view is on the ground. This means that you can't take picture of the horizon.
While is can be used both indoors and outdoors, the manufacturers advise is to use it indoors if it is too windy. Because it is lightweight, it could crash when the wind it too harsh. Choose a place without obstacles for the first flights in order to avoid crashing it. Also, remember to use the auto-landing button when the battery is low.
Blade Nano QX RTF Drone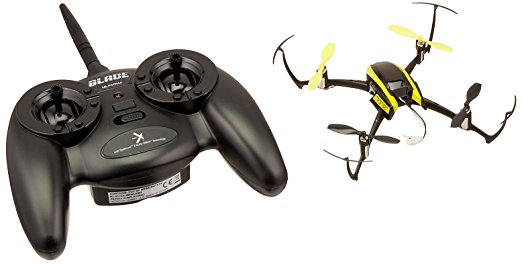 This is another great drone for beginners. One of the best things about this quadcopter is that it is extremely compact. You can even fit it in your pocket. Resembling a big bumblebee this quadcopter will amaze you with its great specs and interesting features.
Main features
The Blade Nano QX is an amazing drone that has 4 brushless engines and coreless tech. Because of its small size, it is amazing at air stunts. It also comes with a 6-azis gyro system and SAFE tech which ensure stability during flight.
This drone can be charged via the included USB cable from any computer. You need to consider purchasing other drones if you want a device for photography since this one doesn't come with a camera. The Blade Nano is a drone created for beginners who want to use it for air stunts.
It is best to keep it indoor because of its small size. You will be pleased to know that it can fly for more than 8 minutes at a time and that it can be controlled from 61 m. Its better charges pretty fast (about 40 minutes).
The remote control has a simple and a bit dull compared to the other drones from the top. This controller is divided into 2 parts. The upper one has the antenna and 2 buttons. One of the buttons is to make the drone switch from PRO mode to SAFE mode. The right button is going to help you command the drone several aerial stunts.
This quadcopter is easy to fly and control. You can perform a lot of air stunts with it because it has great stability. Unfortunately, you can only use it indoors because a pale wind can make it crash. This Nano drones is a great device for beginners who want to practice their air stunts skill without fearing that they will pay a fortune.
These 5 are some of the best drone for beginners. You need to take into consideration the fact that these drones have different specs and features. Make sure to pick the one that matches all of your needs.