We are influencers and brand affiliates.  This post contains affiliate links, most which go to Amazon and are Geo-Affiliate links to nearest Amazon store.
Billiards has been a game played by people for decades. It has been a popular choice as an activity at bars and pubs. However, for a couple of decades, the digital pool has been around. In this era of digital games, the genre has developed quite a bit. A bunch of digital pool games is available now, and mobile versions are pretty realistic. One can play several types of pool, including 8-ball, Snooker, Carrom, and a few more. You will never get bored with these games having tons of options and modes to choose from. Here are five digital pool games and a whole lot of fun for you and you don't need a powerful gaming laptop to enjoy them either.
Billiards Wizards/ Billiards Games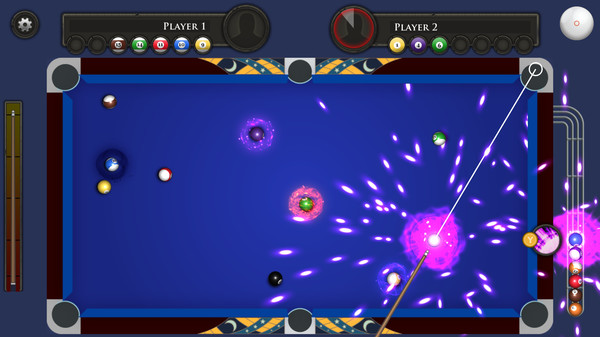 Cue sports is a kind of game involving pool cues and balls, which can be a fun experience
with friends. This popular game is played with 16 balls and pool cues. What would your regular pool game look like if a ball could attract others? Magical, isn't it? How about adding some sorcery to your regular pool game? Billiards Wizards, a game unlike any other, is just what you need. In this game, you can control a wizard and cast numerous spells to create incredible shots! There are 11 unlockable wizards to choose from. Pick one of 20 cues with various bonuses. You can play online or play local matches. Play and master over 30 different spells. Attraction spells could attract other balls, and the Shadow Canopy spell can make it difficult for the opponent to hit the pockets by hiding them. Apart from these magical spells, the game has great physics for real-life experience with the balls, tight controls for fast and responsive actions. In the online game, you always face an opponent of your level for a fair game. The local multiplayer option gives you a chance to challenge a friend and have great fun.
Snooker 19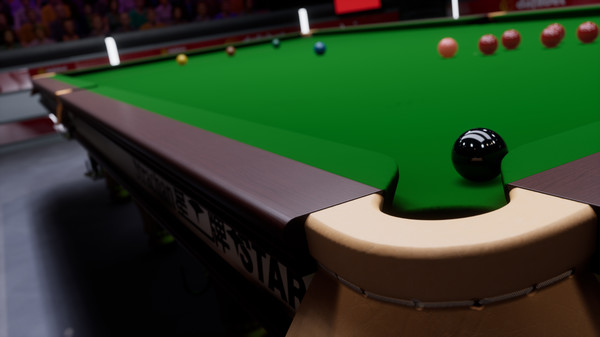 Snooker 19 is the best snooker game in the market. You can play as any of the top 128 players in the world in the officially licensed tournament. Play as any star player, including Mark Selby, Ronnie O'Sullivan, Ding Junhui, and legends of the sport like Ken Doherty and Jimmy White. Presentation and commentary, along with great physics, give a real-life experience to the player. Prosper in rankings, earn prize money, collect trophies, and unlock rewards in the hall of fame. China Open at Beijing's Olympic Gymnasium, pinnacle World Snooker Championship at the legendary Crucible Theatre, and The Masters at Alexandra Palace are among the 25 major snooker tournaments to play in. You can play offline and online modes. Quickplay in an online match and global online tournaments that correlate real-time with the live World Snooker calendar can be played. Fully customized matches of 6-red, full snooker, and Shoot Out for both online and offline modes are available.
VR Pool Game – Newton's House of Forces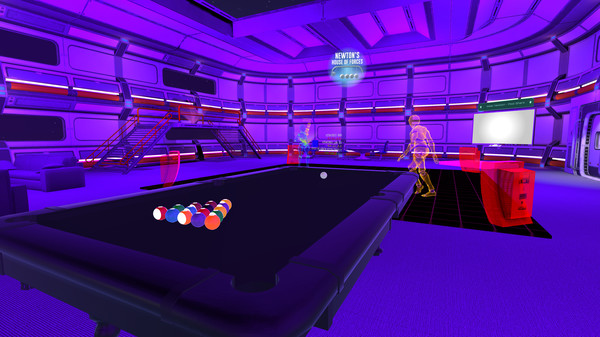 How about playing with a Tesla Coil and experimenting with Newton's laws of motion using giant circus balls, force fields, and traction beams? A fascinating story of action and reaction where you not only get to learn about the laws of physics in the game of pool but also how Newton's law of motion is a crucial part of the pool game. Experience Newton's Law in actual reality while circus balls are objects that are to be hurled, pushed, directed, and hit. Newton's law of motion and the physics of energy, electricity, and lightning has been implemented in this version of snooker.
Coming Soon – This is Pool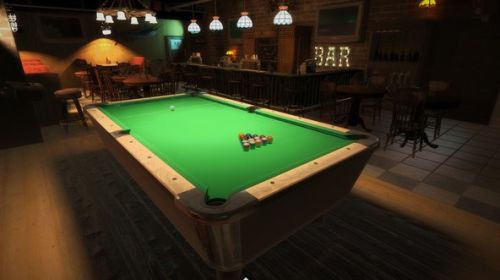 Set to redefine how good a cue sports game can look, comes the all-new This Is Pool. From the makers of Hustle Kings and Pure Pool, comes yet another genre-defining cue sports simulation. Stack the cue balls and take a shot at the world's most immersive pool game that will take over you. Great real-life game physics, beautifully detailed, and extraordinary graphics that are right on cue make this game a true to life experience. Updated and revamped world-class game and physics engine will make this game a completely new story. This Is Pool will set new standards for graphical adherence and hyper-realistic gameplay in a spectacular simulation.
Pool Panic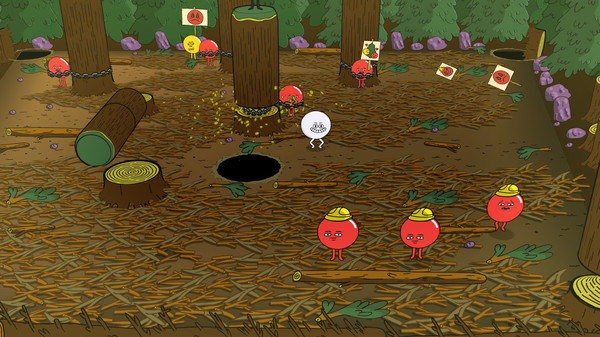 Bored with the routine pool game version? Try Pool Panic, the world's least logical pool simulator. In this game with more than 100 levels, you play as a naughty and distracted cue ball in an enormous game of pool that stumbles across a colorful cartoon world. Embark on an adventure exploring jungles, deserts, carnivals, cities, and more while hitting around a unique cast of cue balls, which are not ready for being pocketed. Every level of Pool Panic has an 8-ball, but rest assured he won't be sitting around waiting to be potted. Be ready to be occupied by lots of weird activities involving balls, while you search for the oblivious 8- ball. Each level has a different frenzy. Where in one level you ride a Ferris wheel to knock off other balls for your own gain, in the other, you are exploring caves where even the bats are cue balls. Escape the contagious zombie troop, go skiing and mountain climbing with cue balls, and even chase boy scouts in the woods, Pool Panic has it all. Line up the perfect shot and strategically hit toothy balls that can set free stomp attacks. Unlock higher levels of the central tower as you wander the world with this mischievous cue ball. There is a local multiplayer mode where you can challenge up to four of your friends for mad fun.
Sit back and enjoy these digital pool games for real-life experience in the comfort of your homes in your pajamas, at the beach, or basically anywhere.
We are influencers and brand affiliates.  This post contains affiliate links, most which go to Amazon and are Geo-Affiliate links to nearest Amazon store.
I am interested in all things technology, especially automation, robotics and tech that helps change how society will live in the future.