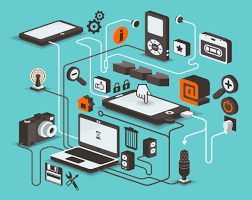 https://www.act-on.com/blog/social-selling-101-3-social-technologies-to-get-you-started/
As we reach the end of 2018, it would be useful to assess the upcoming technological trends that are able to infiltrate into our market in the upcoming year. With all the technologies already present this year, we may consider what is apt to surprise us.
That's why my mind takes into particular account the need for automation. The tremendous change of techs we saw in the past decade is letting us wish for unimaginable. Yet, how exactly the new technologies were affecting us, is another source for debate. The technological trends that we've seen so far are surely considered useful, but we fail to realise what a big impact they had on our everyday life.
Indeed, there is an increasing amount of advancements to various gadgets which made an important change in our everyday life. Our planet has undoubtedly been changing as it holds an enormous number of clever minds.
Therefore, here are the next 5 upcoming technology trends.
1. Artificial intelligence
The great thing about Artificial intelligence is that it does for you whatever you ask for. It is a science that is focused on creating clever machines that are able to operate in a field where humans fail to do so. It is basically a program that deals with various kinds of thinking, problem-solving, manipulation, and reasoning.
The important facts about AI include:
– Assisting the human brain to resolve problems
– Use a universal language by programming a certain computer system
– Categorising theoretical neurons so they function appropriately
– Measuring the complex problem
The AI is used by technological giants like Google and Uber which helps the young drivers to be assisted while they drive in the absence of an experienced driver.
2. Blockchain
With this particular trend, we must take into account that Blockchain is a record of enumerations, which are simple blocks connected and kept using the method of cryptography. Therefore, blockchain is created so that the date it contains cannot be modified. This pattern makes it the latest tech in crypto and also one of the most mentioned technologies in the Silicon Valley.
All in all, the Blockchain is used in a variety of programs, which include tracing proprietorship or dividing the documents administratively. According to Forbes, This Blockchain can altogether bloom at the beginning of 2019 in comparison to other technological trends.
3. Internet of Things
The Internet of Things is accounted to a network of a range of physical tools, vehicles, home appliances and so on, which take part with being implanted with gadgets, electronics, software, etc. giving certain patterns the ability to connect and exchange data.
Smart homes are already a thing, which is allowed only to the ability to use IoT. Additionally, Industrial Internet, connected car, and wearables have helped IoT to progress to higher rankings in the field of tech news and market. IoT is part of the bigger concept of home mechanisation that as a result will be able to improve the productivity and effectiveness of battling monetary exertions and increase monetary benefits.
4. Virtual and Augmented Reality
The characteristics of virtual or augmented reality are that it generates mutual experience in a restorative surrounding that includes auditory, visual, and various of other types of sensory response. VR technology takes virtual reality headset in use and enforces it onto multi projected environments. It can be used in the advancement of new models, communications, training, and so on.
The Augmented Reality, on the other hand, is a collecting experience of a real-world environment that include augmented elements by computer-generated non-cognitive information. The AR is responsible for superimposing videos that are being generated by computer reality onto a video captured by the camera in ways that it is then reconfigured to the 3D PC graphics where it has the appropriate allocation in the world.
5. Big Data
Big Data is indeed a huge location of data, which is yet growing epidemically with a certain amount of time. And so, Big Data is such a large system that with its complexity, it stops conventional management tools of storing and working on data. In other words, it has the capabilities of an information set that is both commodious and complex. Big Data has an additional ability to capture data and its analysis, visualisation, updating, querying, etc. Therefore, this Big Data technology plays a role in helping the talent acquisition group to employ top talents available on the market.
Conclusion
Overall, the 5 most anticipated trends that we will see in the upcoming year will surely redefine the person's ability to control the surrounding environment. And we will surely see the above-mentioned trends making the headlines in the technology markets in 2019.
Author bio:
Floyd Burton is the experienced author that is fond of writing about various spheres of life. The most recurring themes he covers are marketing, education and technology. Floyd is much appreciated by his readers.
This is the Dragon Blogger Guest Bloggers account for author's who want to submit articles and only have credit in the post instead of having to manage their own WordPress profile.