We are influencers and brand affiliates.  This post contains affiliate links, most which go to Amazon and are Geo-Affiliate links to nearest Amazon store.
Working from home is in vogue right now, and it's easy to see why. The coronavirus is rampaging across the country. If you have a skill set that allows you to work at home, there's no reason not to do it.
If you are not familiar with this business model, though, then it might intimidate you to think about making a living from your bedroom or home office. Luckily, there is quite a bit of technology that can help you if you're ready to pursue this new career path.
Here are work-from-home tech examples about which you should be aware.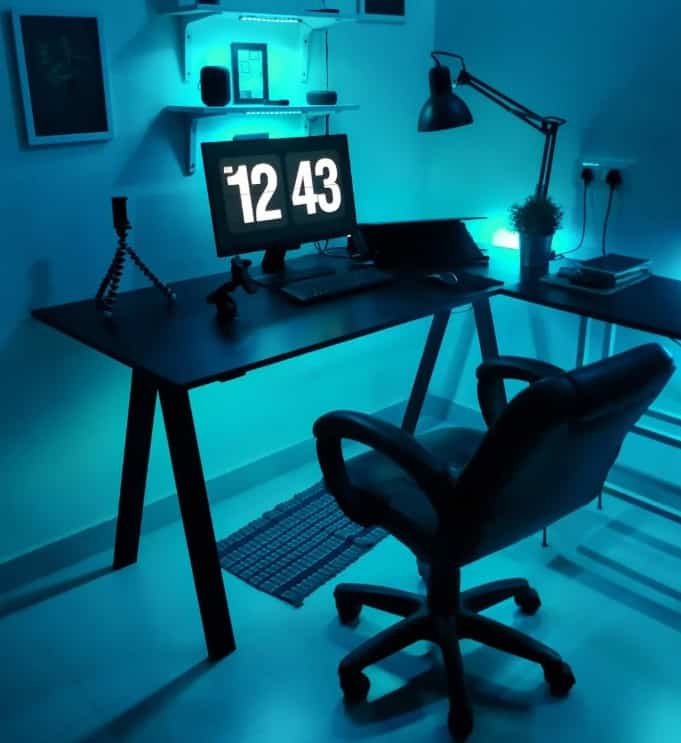 Digital Assistants
When you're thinking about work-from-home technology, digital assistants should be right at the top of your list. There are several different ones available now, such as:
A Google Assistant
The Amazon Echo
Various Siri-enabled Apple products
The more you get comfortable with this type of tech, the more tasks you'll be able to figure out that it can do for you.
For instance, you can ask it to take down a memo whenever something business-related pops into your head. If you're working, you can ask it to divert all your phone calls, texts, and email messages until you get a chance to look at them later.
Some of these digital assistants even let you conduct conference calls without all the tedious setup.
Project Management Platforms
There are also several different project management platforms that make working from home a whole lot easier. Some of the better ones are:
You can select based on what exactly it is you're doing. Some are best for customer service, while others focus more on superior workflow automation or remote teamwork.
You want one that allows you to check in regularly with the rest of your team if you're working with one. Many freelance or from-home workers look for a platform that lets you create a coherent project management plan that allows time maximizing.
You'll quickly learn if you work from home that there are never enough hours in the day.
Instant Communication and Messaging Tools
Regardless of your business model, you need excellent connectivity tools if you're going to work from home. Your clients must be able to reach you easily during your work hours, and vice versa. You can't have a messaging system that breaks down right when you're in the middle of a vital project.
You can always rely on email, but many individuals find that to be too time-consuming. You'll probably do better with an IM tool like:
Any of these lets you quickly reach out to your coworkers or clients if you need to run something by them. This type of tech truly lets you feel like the world is one big digital office.
If you can't reach the people you need to instantaneously, that's a disadvantage during this work-from-home revolution.
Video Calling
Different video calling services are also crowding into the marketplace this year. Zoom is probably the one that has gotten the most attention. It is relatively easy to use, and the basic version of it is free. You can also get Pro and Business versions that come with extra features.
You might also go for Google Hangouts or Skype. If you're working from home but still a business employee, your company might have a proprietary system they would prefer to use.
If so, you'll have to follow their lead. Just be sure you're wearing pants if the camera tilts down by accident.
Adaptive Wi-Fi
There are almost no work-from-home business models that work without adaptive Wi-Fi. If you live somewhere rural, you had better figure out how to get a decent working Wi-Fi connection, or it's going to make this type of business model almost impossible.
Adaptive Wi-Fi is not like the old-school mesh version. It uses AI to discover where in your home and when you use Wi-Fi the most. It then adjusts the bandwidth accordingly, like an air traffic controller.
In theory, this setup should give you the best connectivity available. The devices you use the most should get the powerful signal they need, so your laptop's Wi-Fi won't suddenly die right in the middle of an intense, high-paying project.
Many people who try working from home this year aren't going to want to go back. Lots of them are already talking to their bosses about becoming company satellite outposts even after the pandemic. Perhaps that's something that will appeal to you as well.
We are influencers and brand affiliates.  This post contains affiliate links, most which go to Amazon and are Geo-Affiliate links to nearest Amazon store.
I am interested in all things technology, especially automation, robotics and tech that helps change how society will live in the future.