We are influencers and brand affiliates.  This post contains affiliate links, most which go to Amazon and are Geo-Affiliate links to nearest Amazon store.
Have you ever considered solar lights? They are getting increasingly popular primarily because they are cost-effective. Additionally, by installing garden solar lights, you aren't just helping your budget but also the environment. Fun fact about the sun is that in one hour, it produces the energy, enough to cover the global needs. Using just a bit of the sun's clean and renewable energy, we contribute significantly to the protection of the Earth.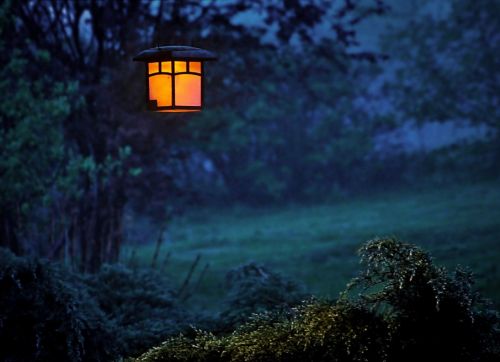 Besides, solar lights will undoubtedly add to the beautiful ambient of your garden and create a bit of festive feeling. Let's check together with the list of the best solar powered outdoor lights that homemakerguide.com prepared for you.
Best Solar Lights
When something starts to be so popular all of a sudden, many different manufacturers appear. It is the case with solar lights, as well. You might be confused about what are the best solar lights and how to choose them. That's why we selected some of them to help you know more.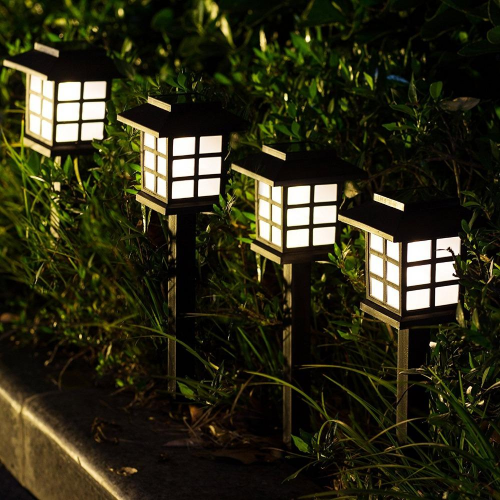 Ohuhu Solar Garden Lights
Those who like to enjoy the warm breeze in summer nights will love these solar led lights because they provide a great relaxing ambiance to your garden. Six lamps are made of durable stainless steel with a stylish copper finish. When fully charged, they can work for about 6- 8 hours.
Moonrays Solar Lantern
Whether you put them in your back or front yard, these solar decorative lights will bring an artistic touch to your garden. The lanterns go with hand-painted glass to fit various garden designs. They illuminate the radius of 360 degrees, and if fully charged, last about 8 hours.
Neck tech Outdoor Spotlights
An excellent feature of these solar lights is that they can be turned up to 180 degrees so that you can choose which part of your garden you want to lighten up. The bulbs have 200 lumens capacity and are an incredible source of energy in all surroundings. You can use them for your pool, garden, pathway, and so on.
Innogear Solar Lights
For some people, the main reason for installing outdoor lights isn't aesthetics but security. These Innogear solar lights are a great option because of the motion detection capacity. They can spot even the smallest movements within a 26-foot range and enlighten the area with up to 450 lumens of bright light.
Gama Sonic Baytown
These solar lights for the garden are incredible, primarily because of their versatility. They can be mounted in three different ways. Whether you decide to put them on the wall, in your garden or pathway, or on the lamp post, they will provide your backyard with amazingly powerful light for up to 10 hours.
UrPower Solar Lights 2-in-1
You will love these durable, waterproof solar lights because they will turn on automatically the moment it gets dark. They are super powerful and are made of high-quality materials. Moreover, they are 100% waterproof, which makes them able to endure harsh weather conditions. They come with solar-powered lithium battery and when fully charged, work up to 9 hours.
Aityvert Solar Yard Lights
These beautifully designed solar torches will look amazing on your patio, pathway, or garden. What contributes significantly to the charm of these lights is the flickering flame effect that gives you the impression of real torches around you. A lithium solar-powered battery can illuminate your garden for about 10 hours in summer and 5 in winter when they are fully charged.
In Conclusion
There you go! These are, in our opinion, some of the best outdoor solar lights on the market. We hope that you enjoyed the article and found the one you like the most. What is certain is that installing them in your garden will save you money, spare you the trouble of having to deal with cables and electricity, and contribute to the curb appeal of your property. Now if you have trouble with the garden itself you can get help from local tree care service vallejo with your garden. Do you already have solar lights? What are your experiences?
About the Author
Richard Browny is a writer, lifestyle consultant, and designer. He is writing about different home improvement ideas. Richard believes that many people don't fully understand the potential their homes have, so he is dedicated to helping them.
We are influencers and brand affiliates.  This post contains affiliate links, most which go to Amazon and are Geo-Affiliate links to nearest Amazon store.
This is the Dragon Blogger Guest Bloggers account for author's who want to submit articles and only have credit in the post instead of having to manage their own WordPress profile.